We sew a bag of old jeans with our own hands: we embody simple ideas into reality
Hurry to get rid of worn jeans pants? Do not you know that you can sew a beautiful bag of old jeans? Take advantage of our original ideas
Your jeans are already worn out, and you wantTo release their place in the closet? Do not rush to throw them away, because old things can always come in handy. Utilization with use is very exciting and interesting. There are many original ideas to prolong life Old jeans, eg, You can sew A beautiful bag.
Accessories for everyday wear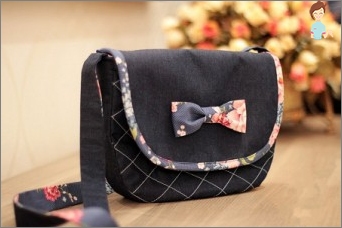 If you need a bag for every day, it shouldBe as spacious and comfortable as possible. It is better to sew it out of pants of the big sizes, therefore can, even it is necessary to confiscate old jeans at the relatives.
A miniature girl is better to take the pants of her husband, father or brother. Our bag of old jeans will be double, each side has its own design, so if you want, you can change them.
Pockets should be left on their pants untouched,Because they serve to store the right things. To give our product an elegant look, decorate it with jewelry, stones, appliqués and other decorative elements.
For reliable fixation of ornaments, useStrong glue, and appliques stitch along the entire contour. This bag with their own hands must be sewn so that the pockets were only on one - the front side, on the other side also there should be no decorative elements.
Thus, a denim bag for every daySuitable for almost all life situations. The handle of this product is also unusual - it is made in the form of a pigtail, which should be weaved from the cut denim stripes.
We sew a bag for every day
If you decide to extend the life of your oldPants, sew a bag of jeans with your own hands. Previously, such a thing could only be seen in a hippie, but now this accessory has long been included in the everyday female fashion.
To sew A bag of old jeans With your own hands, you will need these materials:
jeans;
scissors;
lining fabric;
Bright or colored fabric for ruches;
Tailoring needles.
To sew a bag you will need a pattern,Painted on paper, which you must transfer to denim fabric. The design of the bag must have recesses, because it will be capacious. If you do not need a three-dimensional product, and a flat accessory is also suitable, the recesses can not be transferred from the pattern to the fabric.
Cut the legs from the jeans, cut them alongOne of the seams. So do with the second leg, you should get two pieces of cloth. Before sewing a bag of jeans on a pattern, attach it to the fabric and circle it with chalk. Cut out the two details, fold them face to face and stitch, 10 mm from the edge of the pattern.
Dents on each cut folded in half,Perpendicular to the seam. Position the material with decorative needles and sew on the line. Cut out the grooves with one seam. As you make all the seams, they need to be ironed well by the steam, and then unscrew the bag.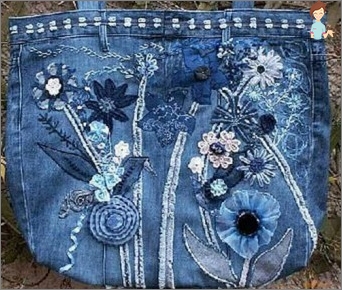 Now that you have sewn a bag of old jeans,Go to its decorative design. Cut off the pockets of pants and sew them to the product in place of the side seams on both sides. Take a fabric prepared for ruche, cut out a strip of 120 cm in length and 70 cm in width.
Sew the edges so that the material does not crumble. Manually, with a needle and thread, walk along the rim's edge, pulling it into the frill, fix it with a seam on the typewriter.
From jeans trousers cut off the belt, sew a ruche to it, and to it - the bottom part of your bag. If desired, you can make a lining, cutting it on the same pattern, and sewing to the bottom of the product.
To create comfortable and durable handles, cutTwo long strips of different fabrics - denim and colored, stitch them. Then twist them, fixing at the ends of pieces of denim material, sew on the edges of the finished product.
The idea of ​​the original clutch
Small bags always take place in the femaleWardrobe, because a great accessory can be inappropriate in some situations. A good choice of stylish and fashionable modern girls and women are clutches.
You can also make them yourself at home using old jeans. To make a clutch at home, prepare such materials:
A piece of denim, you can use your trouser leg;
White lace;
Rhinestones or any other decorative elements.
If you took old jeans, cut them offLeg, the approximate length of the denim piece should be 20 cm. Turn the inside out and pierce the cut edge from the inside, this will be the bottom of our clutch. Once again turn on the other - the front side of our trousers, take the lace and sew it around the edge.
Dark blue blends well with whiteLace, this clutch will give your image of romance and tenderness. You can wear it under a white blouse or sweater, in principle, such a product is combined with any casual clothes.
When the lace is sewn, you can proceedDecorating the top of our mini-bags. For this purpose, you can use rhinestones, laying out the pre-planned drawing. To fix them, use a transparent adhesive, for example, "Moment" or "Second".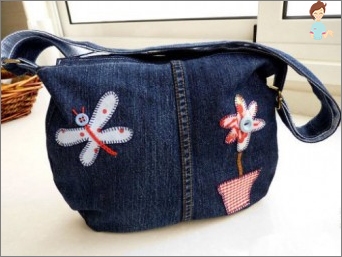 Also can be made from satin or chiffon ribbonFold a beautiful flower, and decorate its petals with rhinestones or beads, and sew on the top of the clutch. It will look beautiful not only neatly folded rose, but also a flower with deliberately frayed edges. Also, if desired, you can make an application of jeans of a lighter tone.
Usually clutches are made without pens, but if forConvenience you do not have this element, you can sew them. They can be in the form of a loop on the arm, like a barrette, or with a long strap on the shoulder. For the handle, you can buy a long chain or large beads.
If you want to get a simpler product,Make a handle of denim, for this cut a strip of medium width of the desired length, fold several times and stitch it, then sew to the clutch. Wear a handbag, sewn with your own hands, with pride and pleasure!