Easy recipe for how to make fragrant gel candles at home
Gel candles can decorate any room and create in it an atmosphere of mystery. In this article, you will find a simple recipe, how you can make this decoration yourself
Fragrant gel candles will certainly decorate themselvesYour house, create a cozy atmosphere in it and give all members of your family a great mood. Such decorations are quite expensive, and not everyone can afford them. With the help of the simple instructions presented in our article, you can create them yourself using improvised tools, taking into account your own wishes and preferences.
What materials will be needed to make gel candles?
To make gel candles yourself at home, you will need the following materials:
Candle gel - can be bought in the store or made independently from distilled water, tannin, glycerin and gelatin;
Reinforced wick;
Essential aromatic oils, except pink;
Liquid food coloring;
Glass container - a glass, a vase, a bulb not less than 5 cm in diameter;
Any decoration for a candle;
thermometer;
Stainless steel container - bucket, pan or can;
If desired - liners for creating gel candles.
How can I make a candle gel myself?
To make a candle gel, you can use the following recipe:
Mix 10 grams of gelatin and 40 grams of distilled water;
Add 50 grams of glycerol to the mixture;
In a small saucepan it is necessary to heat the resulting solution until it becomes transparent;
In a separate container, 4 grams of tannin dissolved in 20 grams of slightly heated glycerin;
Mix 2 mixtures with each other;
If air bubbles form in the resulting gel, it should be slightly heated in an oven or microwave oven. From heat, the bubbles will disappear by themselves.
Recipe for making gel candles
To make beautiful and fragrant gel candles at home, carefully follow the instructions given:
In the center of the bottom of the cup, drip some hot glue and place the wick there. Wait for the glue to freeze;
Cut the gel candle into small pieces so that it melts faster and more evenly. Take a jar, bucket or a stainless steel pan and melt the gel in it at medium temperature;
Next, you must bring the gel to 93 degrees. Keep it from overheating, otherwise the gel wax will lose transparency and become cloudy;
Using a thermometer, make sure that the temperature always remains the same. The candle gel should melt, becoming liquid, like sugar syrup;
In the melted gel wax, gently add the dye until you get the desired color;
Then add the aromatic oil,About 1/3 teaspoonful. For a stronger smell, you can increase this amount. It is best to use lemon, orange, bergamot or lavender oil. Do not add rose oil - during combustion, it emits an unpleasant odor;
In a microwave oven, heat the candle holder to 65-70 degrees in order to avoid bubbles;
If you use liners to create gel candles with your own hands, first dip them into a hot gel and immediately place it in the container as far as possible from the center;
In the center of the container place an ornament, for example, a branch with rowan berries, small flowers, pebbles or seashells;
Further very slowly and accurately we fill inContainer candle gel from the side. The first time, you probably will not be able to do everything perfectly without the formation of bubbles, but you can minimize their amount if you warm up enough gel;
Pull the wick upward, wound on a pencil;
Let your candle cool down, and then cut off the excess end of the wick. Your gel candle is ready!
How to decorate a gel candle with a vinyl plate?
A ready-made candle in a glass container can be veryOriginally decorate. To do this, take an old vinyl plate and put it in a preheated oven to 120-140 degrees. Next, you need to catch the moment when the vinyl is already soft, but not yet melted.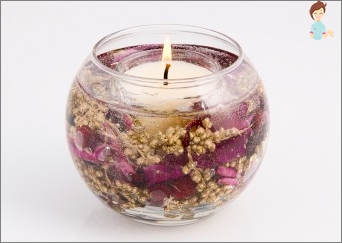 Wear gloves to avoid burns, and gently remove the plate from the oven.
Do it as quickly as possible so that vinyl does not harden. Wrap the plate around the candle, laying out arbitrary folds at its own discretion.
If the first time you have something failed,The procedure can be repeated - again for a short period of time put the vinyl plate in the oven, get it out and try to lay it around the container again.
Leave the candle to dry and give the vinylTo harden. Then paint it with gold or any other paint. Apply a few layers of paint until you get a beautiful and even color. If desired, you can glue buttons, beads, beads or other small items to the plate as you like.
Do not make gel candles yourself at all.difficult. Moreover, the necessary ingredients are quite inexpensive. So, having spent a minimum amount of money and effort, you can make a beautiful decoration for the house.
If you connect a little imagination to the case, you will get a very original gift for your relatives and friends.