How to please the most precious person: we are looking for a gift to mom
In most cases, mothers from children hear pleasant words only on holidays. But they want attention every day! How to make mom pleasant?
The most expensive person in the life of every child,Whatever age he is, Mom. And very often I want to please her just like that, without waiting for March 8 or birthday. How to make mom something nice, make her smile again, feel happier?
We refute the axiom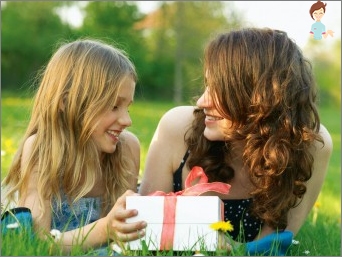 It would seem that my mother will always be pleased if her child obeys everything.
Fulfill the requirements of parents, obeyFamily rules - this is life, no more. Surprisingly, an unexpected five after a succession of threes or a washed window, which was lacking with a loaded work schedule, will more please than even a good study or regular cleaning of the apartment.
Parents, like all people, prefer surprises. This is an extra reminder that they are not forgotten.
If you want to raise Mom's mood, you should do something that does not fit into the usual way. Let it be though small, but a surprise. Of course, nice.
In this case, the search for a gift and the desire to satisfy the parents should not cause damage to themselves and can be their own family, spoil the mood, make them irritate.
If before the next holiday you swear irritated, in search of a gift, then presenting a surprise will not be pleasant for both parties.
It is worthwhile to think in advance that you can make a pleasant mother, that she really rejoiced, and the mood rose in everyone.
Expression of childlike love
Quite small children to please my mother,Learn rhymes or songs, try to make a souvenir with your own hands or glue a postcard-application. The first impetus for such attention is laid in the kindergarten in class, but if the kid does not attend the children's team, mom should push it to him. This is the only way to form a habit of thinking about how to please others.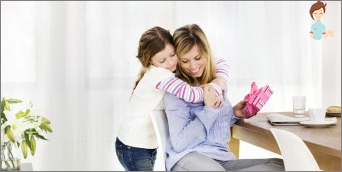 But force to force to glue or to mold congratulations it is not necessary.
The kid must create a process of creation.
First, together with the children learn to make souvenir gifts, and then you need to say: "Tomorrow is a holiday, I would like a surprise!". Any child will enthusiastically rush to use the acquired skills.
Just talking is straight - hints kidsCan not understand. Children should know in advance about the impending holiday, in order to have time to prepare. Then mother and child will be able to experience pleasant moments.
It's great if your father teaches you how to express your love for your mother. Then the children will always find the words they need to express their feelings.
How to express feelings for grown up children
Teenagers already know themselves that it is customary to give presents to family celebrations and on March 8, but it's not always clear how one can make mom happy.
To glue something or to sculpt is not age, but to buy a surprise for her mother, which she deserves, in their opinion, there is nothing.
A gift for yourself on your birthday can be done at any age.
You can consider the following options:
Sew beautiful potholders and apron;
To embroider a pillowcase on the pillow;
Nail a beautiful shelf in the right place;
Make as a souvenir bouquet of paper or ceramic flowers;
Vylepit of ceramics - ceramic clay is inexpensive - any souvenir;
Weave a bracelet;
Paint with special paint dishes;
Bake a culinary masterpiece.
Even you can cook breakfast and serve from the morning to bed, beautifully decorating the dish.
How to make mom a nice gift with her own hands inForm of a decorative postcard? Modern cards are like a work of art. So why not give your mom a similar souvenir, even if you have to spend a considerable amount of time on it?
If you do not know how to draw at all, then a glossy rectangle with a typical design, you buy in the store. And then you decorate, connecting your own imagination.
For example: On the card is a bouquet. Very carefully you need to glue a silk bow which "Connect" Flowers. Also in them you can paste beads or colored risinki paste medints, create an original frame picture.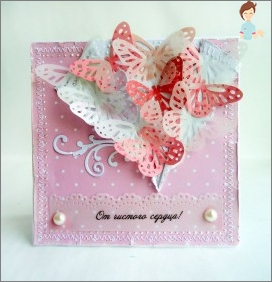 Congratulations on the New Year, you can add shiny snow to make the picture bigger.
Very original looks like a greeting, when a greeting card is opened, and from there "Flutters" Skillfully carved butterfly.
There are many options. The main thing is to know what your mother is fond of, and what will please her most.
It happens that the holiday has already come, and there is no time for creativity. Mom will be pleased if she comes home from work tired, and the apartment shines with cleanliness.
However, this way, how to make mom pleasant, it is better to apply just so when there is a mood to please her.
Birthday is a holiday, a gift to which it is desirable to prepare in advance.
Surprise from adult children
What kind of nice and necessary gift for mom can be prepared by adult children? Opportunities in adult children are more, and depending on them and make a surprise.
They can be:
Permit for the resort;
Ticket for the performance, which has long wanted to visit;
The right purchase for the house;
repairs;
Just a pleasant thing expressing love.
What if you can not give the gift personally for some reason?
Using a mobile phone or a computer, you can find it with pleasant SMS words and send it to your mom.
There are sample texts for all occasions, and you can choose yourself the words, From the heart, and even write poems.
Modern adult children prefer to give their parents money for holidays.
Handing such a gift, do not forget to put it in an envelope with a congratulation, sending by mail, be sure to send SMS with the necessary gentle words.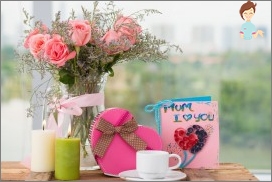 Even if the family has business relations, hastily stuck in the hands of money, can not be a worthy gift. They look like a reward.
It is unlikely that Mom will be pleased with this form of expression of love, although she will never say so.
The older the child, the more he should think about how to show his parents love. Time is inexorable, and you can not say kind words.
Adults can cook their own evening,During which pleasant words will be spoken for my mother. Let the whole family gather at the table simply for no apparent reason - an anniversary or a calendar holiday. Mom will be doubly pleased.