Common winter fashion trends
There is an opinion that winter things should be warm, and you can not think about fashion. If you take into account the trends of modern fashion, then in winter you can look as stylish as in other seasons
"What kind of fashion can be on outerwear in the winter? The main thing that was warm!"- Many think, and in part, even will be right.
Each representative of the fair sex in the wardrobe has a classic winter set:
Cap - thick knitted or fur - "That the ears closed";
Long warm coat or coat - "So as not to blow";
Boots with thick soles, preferably without heels - «So as not to slippery".
Even 20 years ago, winter fashion was exactly the way it was, but at the moment a lot of attention is paid to the convenience and appearance of the models. Although about "Did not blow and did not slide"- designers do not forget.
And fashionable, and stylish, and warm!
Young women, leading an active lifestyle,Designers offer to replace coats and coats with fashionable winter jackets. Blowing jacket-down jacket, sewn from waterproof fabrics, is easy and does not freeze even on cold days.
Those who follow fashion trends, probably noticed that the jackets in the sports style changed the model in the style of the military.
For adherents of classical style Fashion 2015 Year offers a coat of straight cut, sewn from velvet, wool, tweed. They can be worn to exquisite dresses, jeans, classic trousers. Winter models revive fur collars.
Present the women's winter fashion without a wideAn assortment of fur coats is impossible. Favorites in 2014-2015 are models made of fox and sheared mink. Fur coats are represented by different styles, styles and length.
It can not be said this season that these are fashionable boots, and this is not. In shoes, fashion is more democratic than ever. Comfortable, safe, warm, beautiful - such requirements are imposed on shoes.
In a fashion all:
Uggs;
"Moonwalkers";
felt boots;
Boots;
Boots and shoes with a steady heel;
Confident platform.
The popularity of lost hairpins - they are only allowed in the output models.
For young girls and girls designersThey proposed models of fashionable winter hats with pompons and in the form of animal heads. Older women will be warmed with hooded caps, high fur hats, similar to hats, hats made of fur.
If the figure is non-standard
Winter fashion full of women of special styles this year does not offer. Straight silhouettes hide volumes.
Nuances that should be observed:
Do not wear fur coats from fur of long-haired animals;
It is desirable to choose models of maxi or midi length.
As clothing in the office or on a visit,Knitwear is suggested. The modern style is distinguished by slight negligence. The shapes do not fit the figure, they sit freely, while simultaneously masking the excessive completeness and delicately emphasizing the pleasing shapes.
Sleeves gently descend from the shoulder, hiding their full hands. The length covers the hips.
Preferably choose models with a high collar.
Colors are one-color.
Fashionable winter footwear for full women is low boots on a steady heel or boots on a noticeable platform. Such things are ideal for the image of a modern woman.
For young people
Winter fashion for teenage girls in the season 2014-2015 has not undergone any special changes.
The same coat in the form of a malice, a trapezoidal coatForms, down jackets of all possible lengths, jacket-coats, warmed with natural fur, for tailoring of which the skin is used. Remained in fashion is a wide coat with sleeves in 3/4, emphasizing a fragile silhouette.
In a set with narrowed trousers all models look elegant and modern.
Colors of trousers and jeans any - from bright saturated to classic blue. Do not go out of fashion models in a small cell.
Wear trousers complete with knitted things of different length and blazers.
The length at which the part of the back and the navel is open is inadmissible. Such models are considered irrelevant.
In the design of knitted models - Scandinavian patterns and geometric ornaments.
Jeans with a low fit are still worn out, but they are combined with such things so that the strip of skin is not visible.
Shoes: ugg boots, boots with flat, thick soles.
Caps, as already mentioned, with the ears of animals.
Adolescent girls prefer to choose knitted models.
Parents should devote sufficient time toChoosing children's wardrobe, take into account their wishes and fashion trends. It is very important that girls develop the right taste so that they can express themselves simultaneously and learn how to conceal the possible shortcomings.
More about shoes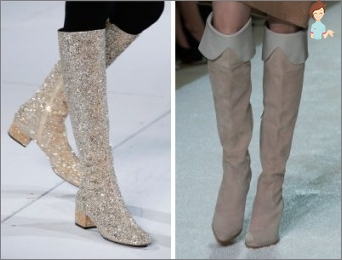 The choice of fashionable winter boots for women is a kind of ritual. I want it to be warm and comfortable.
As already mentioned, the trends of this season are a denial in everyday models from a hairpin and generally a high heel.
Winter fashion offers stable heels 3-7 cm, which is not terrible to walk on the snow and on the ice.
The heel can be of any shape:
convex;
concave;
Unconventional form;
Type-setting.
The main thing is stability.
About the wedge is not worth forgetting - it corresponds to the main condition - convenience. Miniature girls can afford a platform.
The novelty of this season is a lot of decorative elements on the shoes.
It can be:
Imitation of laces;
Buckles;
Ornaments from stones.
Along with the classic colors: dark brown, black, burgundy. The fashion includes "leopard", dark cherry, the color of cocoa.
You need to buy shoes of such colors, so that it's easy to select headgear.
Women's fashion this year dictates: the color of shoes and headgear should be combined.
Modern women dresses and skirts prefer trousers, so it is worth thinking about: is it possible to buy fashionable modern winter boots instead of high boots?
Rounded nose, thick rippled sole, steady heel. To the military style, such shoes fit perfectly.
Nuances of modern fashion
It is interesting that the fashion of 2014-2015 combinesSeemingly the most incompatible styles. Leading designers showed models of bright colors and bold styles, elegant things from the 1980s, introduced traditional male elements of the men's wardrobe into the female.
Business suits of women resemble men's, and evening dresses are decorated with folk motives.
The modern female silhouette becomes both business and sexual.
If you look at the fur coats, you can see that the retro silhouette has reappeared into fashion. Laconism in the design of products, complete lack of decorative details.
There are no large shiny buttons, flounces and hoods with colored fur.
Modest and tasteful.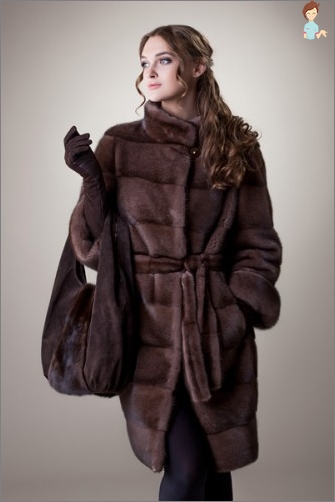 The beauty of the product is achieved through the game of fur combined with the exquisite "simplicity" of the style of the product. Assume only an asymmetric cut.
Naturalness in everything - dyed fur has gone out of fashion.
Products are represented by all shades of natural fur.
If the leopard is only natural. The cropped rabbit, painted under a leopard, was left in the past.
Collars are small, made from the same fur as the main product. A fitted silhouette, the length to the knees is a small collar.
The form of a trapezoid, cut in the form of a malice - a hood. But in this case, no finishing is possible with magnificent fur.
Despite the fact that the mink still remains a popular fur, models in lynx fur coats emerged on the catwalks.
A simple buyer should not be upset. In the trend now, any fur of natural colors. So you can always pick up your product according to the style, color and price.