White swimsuit - the embodiment of elegance and style!
White swimsuit - a modern, bright outfit attracting the attention of tourists on the beach. It can have a different shape, but always is the embodiment of style and elegance
With the advent of summer, the attention of women of fashion willy-nillyAttract things and accessories of white color. This applies to the beach suit, because a white swimsuit, like no other, will emphasize a beautiful smooth tan and will attract the attention of the male half of humanity. According to psychologists, people in white radiate a special magnetism, which means that in the bundle of this color you can feel like the queen of the beach.
Varieties of beach suits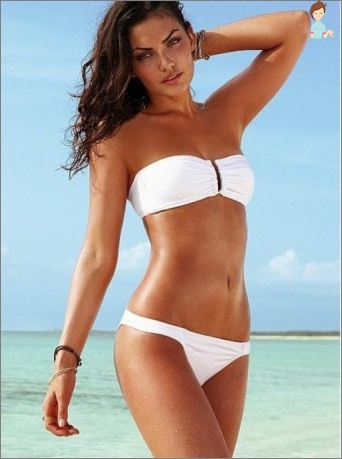 The variety of modern models of swimsuits is so great that among the kits presented on the shelves it is easy to choose a product for any type of figure.
White swimsuit pushap appreciateGirls with small breasts: cups made of foam rubber add to your size one more, and hard bones at the bases will support the shape. This bodice allows you to raise your chest and make it more spectacular, and white color will emphasize the décolleté zone.
White combed swimsuit is worth choosing ladiesAfter 40-ka. Evelina Khromchenka - a well-known fashion observer advises to dwell on such a model for all mature women, because the figure at this age is usually far from perfect, and the merged swimsuit makes it possible to correct it, hide excess in the waist region and make the latter more delicate. The only condition is to choose a product from a matte fabric, not a shiny one.
And it is better to leave on the counter models that are full of all sorts of jewelry, inserts, laces and other things. They look better at young girls.
Whiteness will advantageously shade all the advantages of the kit called "monokini". This is a lightweight version of a piece-size swimsuit, inWhich top and bottom are connected by a thin strip of fabric, chain or rope. This model looks great in photos and draws attention to the waist.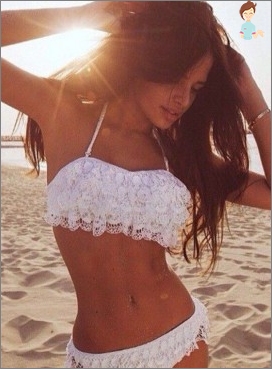 That is why it is not recommended to choose those who have superfluous in this zone. A white swimsuit called a bando was simply created for young girls with narrow hips and a small chest.
The upper part of this set is oftenDecorated with frills and ruffles, which visually increases the bust. In addition, this model lacks straps in the bodice, which means that you can easily get a tan uniform and flaunt it, wearing dresses with open shoulders, etc.
Unbelievably popular are the white bando swimsuits of 2015, in which the bodice is variegated, for example, white in red or blue peas, a strip, and the underside is monophonic.
And still in fashion bikini swimwear -The most open models that girls choose with ideal figures and without special complexes. The bodice in such a set can have any shape, and the meltings are always executed in a minimalist style and hide the very minimum of what they should.
From what to wear?
Girls in white, attracting attentionBathing suits will look especially bright and stylish, combining them with suitable accessories and jewelry. It's no secret that white perfectly complements any other colors and shades, especially contrasting. Especially expressive is a black and white swimsuit.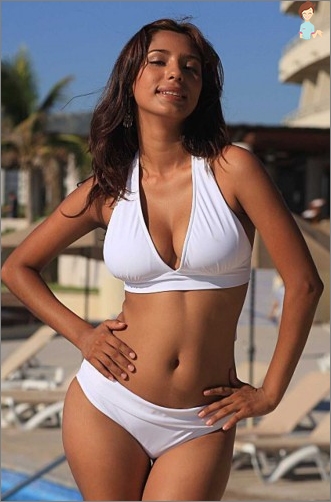 It can be completed with a hat of one of the shadesA swimsuit and plastic jewelry in the appropriate monochrome. Quite successfully the white is in harmony with the shades of metal - silver, gold, bronze, etc. It's no accident that designers actively include in the sets metal buckles, rings, rattan elements,
Under such a beach outfit, you can pick up a wide metal bracelet and clogs with elements of the same material.
Finish the image of the bag and light sundress or tunic. Special love in 2015 was won by a white knitted swimsuit. Girls who choose such models move with the times. In them they look fashionable, nontrivial and expensive.
And to become the owner of such a beachThe outfit is easy, having knitting skills. Knowing all the advantages and disadvantages of your figure, you can independently link a model that would emphasize one and hide the others.
In addition, nothing like this will never occur on another girl.
No matter, the bando you have a swimsuit or pushap, you can supplement it with a pareo resembling a mesh. And to decorate the set with beads, beads or paillettes - this is how your fantasy will tell you.
To a black-and-white model it is possible to pick up anyAccessories in this range. In general, the beach will be appropriate jewelry made of plastic, metal, wood. The bag can be made of rattan or fabric, and the shoes should be chosen comfortable, on a flat sole or a small wedge, for example, from a cork.
Guided by these tips, you will always look on the beach fashionably and stylishly, in the spirit in time. Good luck!