How to stretch suede, leather or rubber boots
Tips for those who want to stretch the ankle boots and increase the size of the shoe. What to do if you stylish new dress too tight? What methods will help distribute shoes at home?
We all know that the shoe has over timeproperty become comfortable. This law makes women buy shoes in the size or even two less believe that favorite boots in a few weeks will have to fit like a glove. We absolutely do not want to discover a month later that the couple has become brand new high, but also to walk, rubbing the legs to the blood and torturing himself, it is also not the best idea.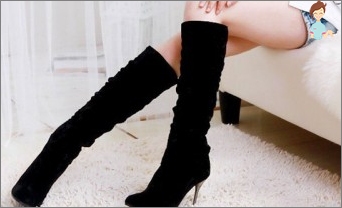 We will not delve into the reasons that prompted you to buy or get the wrong size shoes.
Let's talk about whether it is possible without harm to stretch boots at home, and how to achieve it.
It's time to learn how to stretch the rubber or leather boots quickly and easily.
Method one: freezing
Note that this method is not suitable forrubber which merely crack. Freezing is perfect for leather and suede. Make sure your boots made of genuine leather, synthetic products can be compromised by low temperatures.
What do we have to do:
You will need a bag of plastic on the clasp, which should be filled with water by half;
We let all the air out of the bag and tightlyclose the clasp. Better if it will be a container for freezing, from those that are sold in the fish department supermarkets. An alternative could provide a solid polyethylene lining. For toe and heel, and small enough liter bag. If you want to stretch the high tops, you will need a package of four liters. Conveniently, the deputy water can become a special freezer gel. This fluid is used for medical purposes and is also sold in convenient sealed packages. Avoid direct contact with water and ice to your product, otherwise the skin becomes brittle and deformed;
Put well-closed package with a liquid in the corresponding portion inside the shoe. It is necessary to stretch the ankle - put in the bottom of his boot crumpled newspaper, so as not to deform the foot;
It follows that the water is evenly distributed by sector;
Then we leave our couple in the freezer for eight hours. How it will help stretch the ankle of the boot? Very simple - water freezes, expands and forms a semblance of pads for raznashivaniya;
We take out the shoes from the freezer, waiting for the thaw water, and take out the bag;
To measure shoes, if still tight, repeat the procedure with a large volume of liquid.
Method two: heating
This technique works on the principle of the temperature difference:
We put on some socks on both feet, or one warm wool or terry;
We get into our shoes (yes, it will not be easy and not palatable);
If the foot does not fit, remove one layer of socks;
We turn the hair dryer and heat the desired area on the shoe at a maximum temperature;
Then mash legs, try to wear boots in this state home. We go there in the house, cool down, put the foot in different positions;
Warms each problem area for at least half an hour. Not Razuvaev and do not remove until cool socks, otherwise the skin will pull together again;
Check our shoe after cooling, if the size is still too small, repeat the procedure;
When heated, the skin loses its elasticity, so do not forget to lubricate our new clothes shoe cream or glycerine.
Method three: the use of alcohol
We use 70% rubbing alcohol or vodka. Know that the more concentrated solution can damage the delicate suede and leather goods.
Now details on how to stretch boots with an alcohol in the home:
bryzgalki sprayed from a solution of alcohol in the area we are interested in the boot (if not an atomizer, the liquid can be applied on cotton wool and rub);
Avoid getting moisture to other parts of the product;
after the uniform application of alcohol waiting for half a minute, until it is slightly absorbed, and quickly put on boots with warm socks;
break in shoes so another half hour.
Actually it would be better to look like in the longer a new thing. If the material is still not echoed, repeat the procedure in a few hours or the next day.
The above methods are good because they are available, cheap and do not require additional devices.
Professional
You can use special shoespray for stretching shoes. Be careful to use, be sure to read the instructions. Pay attention to the type of material used and recommendations for use.
This spray can not be used on suede and,he may not be suitable for your pair. Test the tool on a small patch of shoes to check the effect (sometimes these cans leave spots or stains).
If the stains are not evident, spray inproblem areas and around them. Tailgating in the processing and does not touch the areas that require stretching. The approach is the same as in the case of heating with an alcohol and - immediately after applying spray put on shoes and wear in a long time.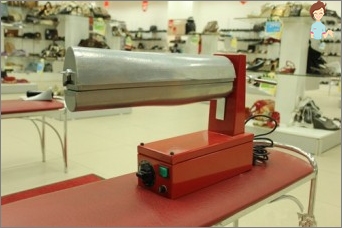 Professionals recommend the use of specialapparatus for stretching shoes. Different subtypes of these devices deform and expand some of the shoe. This unique expanders for shoes, they are called wedges.
The advantage of this method is that youalone will not break in a new thing for you, it makes the unit for several minutes. Also, devices are good because they allow you to process all kinds of materials (rubber, leather, suede and so on. D.).
These pads are used in the shoemakers,they are quite expensive. Their significant disadvantage is that without having a special experience, you can push too hard on the product, and shoes just to crack or tear. In this case, more reliable and cheaper to apply to the workshop and with your problem and try to fix a pair of their own.
As you can see, it is not suitable for the size of the new dress easilytransformed, if done correctly. Which method you choose to solve. Pets methods more accessible, but may not produce the desired result. Very often irrational use of cold, heat or alcohol leads to property damage.
Carefully follow the instructions for use or buy a couple more.