Skirt polusolntse: what to wear it
Do you want to have at least one thing that is suitable for all occasions? Then the half-sunny skirt is exactly what you need. It is comfortable to wear, and sew it with your own hands is quite simple
Most girls love to wear skirts. But how to choose a style that will perfectly emphasize all the advantages and hide the shortcomings of the figure. Important is also the question: where to find an easy pattern of the skirt and sew it yourself? The answer to all these questions can be a skirt half-sun.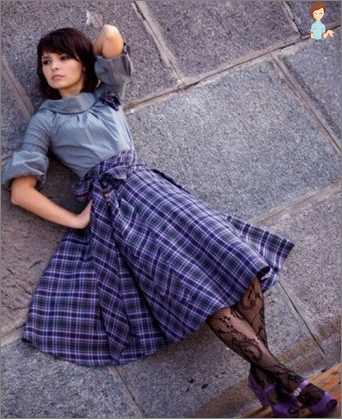 What kind of model is this that has such a positivename? The skirt of a half-sun is a universal piece of clothing, which is perfect for both full-grown girls and leaners. Its undoubted advantage is also that this style is perfect for parties, business style, and for ordinary walks around the city or in the park.
In addition, such a skirt can not onlyNarrow your waist, but also hide your wide hips. With the right length, you can even visually enlarge your chest. Yes, and sew it can be from any material, at least from silk, even from denim.
The history of the appearance of a skirt half-sun
Of course, today no one with 100% certainty will not say exactly how this style has appeared. But there is a version that the skirt of a half-sun is inextricably linked with the style of skirts "Sunshine". What is the difference you ask?
It's very simple: a half-sunny skirt is made from a cut of fabric that resembles a semicircle in shape, but the sun-klush is created from a round piece of fabric.
Another characteristic difference between the twoFittings is a coupling. In a skirt-half-sun it should be present necessarily, whether it be a seam or simply a smell. But the sun-floss is an integral product, without any connecting parts.
There is another equally popular theoryThe emergence of this style. It can be assumed that the creators of this skirt lived and worked in the 50-60s, because the shape of this style strongly resembles the type of figure "hourglass".
But apparently, this garment industry product has become so popular among buyers that it has not gone out of fashion right up to our time.
In any case, despite the history of creation, weEveryone should say a huge thank you to the designer who came up with this wonderful style, because with his help any girl can emphasize her figure, favorably standing out from the crowd.
With what to wear a skirt-half sun
Creating a new image is always hard, especiallyIf you decide to radically change your style. But in the case of this wardrobe element, everything is simple enough. Here the fact is that the choice of accessories that should be combined with a skirt-half-sun, directly depends on the length and style of execution.
So, let's see what it is better to wear if you have a short skirt:
The top one-color, the color of which must necessarily harmonize with the whole image;
Bright earrings. And choosing them, you can stop on contrasting colors, because such a decision will add to you some zest;
Sandals in Greek style. Such shoes will definitely allow you to stand out, highlight your bright personality. Do not forget about the convenience of such shoes. But if you do not have anything like this in the wardrobe, then do not get upset, you will be fine with sandals on a low wedge or on a heel;
Bag with short pens. Attention! In this case, an enormous bag does not fit at all, in which you can add up all your working papers, and there will still be room for a number of products. Handbag should be small and elegant, otherwise the whole image will be hopelessly corrupted.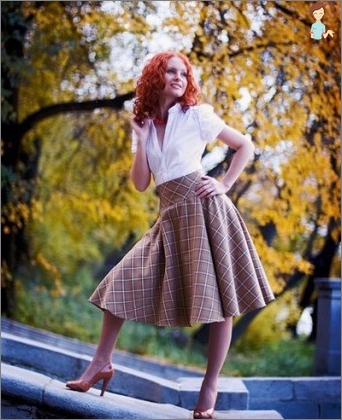 If you decide to wear a long skirt-half-sun, then you should pay attention to such things in your wardrobe:
Sweatshirts and T-shirts, the shade of which is a contrast for the color of the skirt;
Various styles of vests. Especially spectacular will look fur and denim vests. They will add to your appearance a kind of charm, which once again emphasizes the uniqueness of your style;
High-heeled shoes. Such shoes will make your legs even longer, which definitely will not go unnoticed for people of the opposite sex;
Well-marked, I would even say massiveAccessories. A variety of earrings, bracelets and necklaces will perfectly place the accents in the right places of your image, giving you a note of uniqueness and sensuality;
Clutch bag. Again, do not take a large bag with you when you put on a skirt half-sun, because it will distract attention from your stunning figure.
But remember: It does not matter what kind of skirt you choose, because both the long and short skirt will be your indispensable assistant in creating a new unique image.
Skirt semi-sun with the use of elastic
If you decide to sew a skirtIndependently, but there is no great experience, while sewing, there may be a problem with sewing a belt and a lock. It would seem that the complicated, took and yes sewn. But it's not so simple!
You will certainly need to calculate the length of the lock, the width of the belt, all of which is sewn evenly. And if anything goes wrong, the fabric will frown.
That's why we recommend you sew thisSkirt with the use of elastic bands, because it is very easy to pick and sew. And the belt will always be clearly on the figure, which is also of no small importance.
In this case, it is better to choose not ordinary thin gum, but wide, in the form of braid. The fabric will sit on it perfectly, and the skirt will not twist and wrinkle.
Dress with a skirt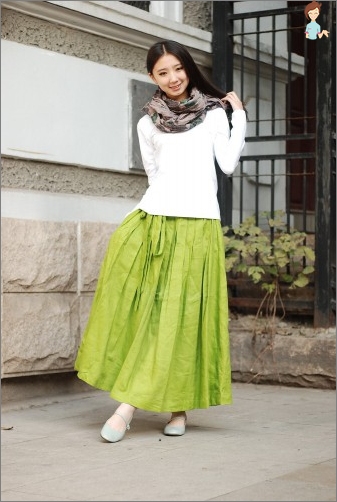 If you want to be not like everyone else, then in the form of a bottom for a dress you definitely will fit this kind of skirt. Its advantage is that the dress sewn in this way will give your appearance some kind of lightness.
You will look like the main heroine of a fairy tale, accidentally caught in our real world. So, go ahead and you will succeed!
Do you want to add a touch of originality to the dress? Then make the sleeves a flashlight, and they will perfectly blend in with the hem of the dress. Do not forget to think carefully about the shape of the decollete.
Here a wide collar will look a little like a sailor, or you can do without a collar altogether, making a deep décolleté instead.
So, as you can see, the semi-sunny skirt is exactly the thing that should be in the wardrobe of any girl.
For several decades, designersUse its form in their collections. It affects its versatility, because it can go to the official event, and to meet with friends. So, finish reading our article and start drawing a pattern of this wonderful thing. Good luck!