Leopard print: how to choose and wear a properly
Do you want to become a chic woman? Perhaps you should pay attention to things with leopard print? So you can emphasize your femininity and originality
For quite some time leopard print inClothing is considered a sign of luxury and a good financial situation. In addition, even in ancient times to wear things of such coloring could only representatives of the upper strata of society. But today you absolutely do not need to belong to the ruling family of England, that you can wear a leopard dress for a festive evening.
A little history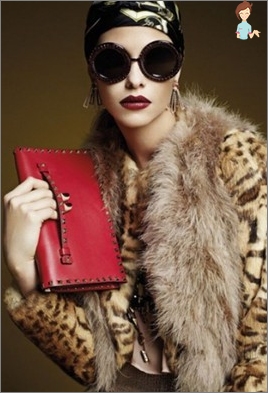 With such a coloring in clothing people often associate the nineties. Then almost all tried to demonstrate their status, and did it for some reason with the help of leopard color.
Recall that in those days welfareWas demonstrated on a very original principle: the more expensive things on you, the better. It is for this reason that things of this shade can be considered tasteless and vulgar.
But you should not forget that the leopard color in clothes is preferred by the female vamp, because a short dress in this style is sexual, and emphasizes the natural magnetism of a woman.
So if you decided to conquer the world, thenSuch a dress in your wardrobe you definitely need. But to ensure that this outfit does not look like a pathetic attempt to attract attention, you should learn how to correctly combine the elements of your image.
Fashionable leopard print: who can wear it
First of all, do not take risks and put onSimilar things shy girls. The reason is very simple: this outfit will definitely cause the interest of the opposite sex and the envy of women. So if you are embarrassed to be in the spotlight, a constant feeling of being at one's own can cause depression.
We remember that you need to choose the clothes in which you feel comfortable. And if you are uncomfortable, then it's no one's business to say that this dress is the most fashionable.
One more thing: Do not think that all passing people remember about you. You do not remember those with whom five minutes ago crossed the street. So they did not remember you. So when choosing clothes, you need to think primarily about yourself, not about others.
And now let's look at a few rules, adhering to which you can always look chic, using leopard shades:
Fabric must be expensive andQuality. The basis of this requirement is the fact that the clothes of such a shade are often tight. And if the material is of poor quality, the fabric will wrinkle and the image will deteriorate;
Use leopard print in clothes forThe part of the body that you want to emphasize. If you are proud of your breasts, but the extra centimeters on the thighs lead you to hysterics, then the blouse in the spot is exactly what you need;
Do not dress in leopard things from the feet toHead. So you just mess up the whole image. The best option would be if you only wear a dress or use two or three accessories. As for the combination of color, the best choice is black or beige;
Also remember that in no case can not combine leopard print and fabric in polka dots, cage or strip. Only monophonic fabrics. Otherwise, you will look like a marketer from the market.
It is also worth paying attention to the fact thatLeopard coloring can be different, and if you decide to use two accessories, then the type of print should be the same. So you add to your image a note of originality.
What to combine leopard print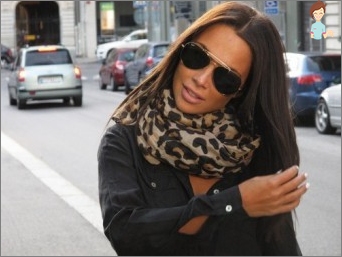 To begin with, if you are not readyChange the style, then you can go less traumatic for our psyche by. You can start with a small accessory with a leopard print. For example, you can use a scarf or bracelet.
Also in the shops you can find hoops, handbagsOr shoes with such a print. But remember that according to well-known stylists, you should not use more than two or three accessories of such coloring, since the image can become vulgar.
As for the combination possibilities themselves,Considering the fact that leopard print is quite aggressive, such an effect needs to be smoothed out. You can use black, beige or milky colors for this. And if you combine this print with blue, then the image will be very noble.
It is also worth remembering one golden rule forDo not look ridiculous: if there is a spotted print in your clothes, then all other parts should be simple. No exquisite patterns or compositions of rhinestones, everything should be as strict as possible.
In order to look amazing every day,Do not choose your choice on artificial shades. The closer the color of your outfit to the skin of a leopard, the more beautiful it will look.
Fashion 2015: Leopard Print in Clothing
After we discussed the rulesCreating an image with the help of mottled motifs, let's study the main trends in the fashion world regarding similar clothes. In 2015, on the world-famous catwalks, you could often see such a coloring.
In clothes with this, we might say, classicalModels of such fashion houses as Blugirl, Dsquared, Simonetta Ravizza, Tom Ford, Sportmax came out on the podium. Especially popular were trouser suits, outerwear and dresses.
As for the design of costumes with the help ofMottled motives, then the best option is to choose a business suit, which you can dilute with excessive severity thanks to the spotted elements. You can use shoes, bag or belt.
If the costume includes a skirt, then stopIts choice is on beige boats on a high heel. So you visually extend your leg, which can not but have a positive effect on your entire image.
Another element that must be present in theWardrobe of every woman - dress, leopard print on which will help you become a real beauty, showing the world the dignity of your figure, while hiding all the small flaws.
How to choose the perfect dress? To begin with, remember, if you decide to turn into a predator for the evening, then do not make any strict hairstyles. Create some romantic mess on your head and go to conquer the world.
In choosing a dress, you should pay attention to cut. A good option is a deep neckline that opens the shoulders and neck. Excellent will look and light flowing dress.
Now as for the dress with open arms andSlightly split with a short skirt. Only a girl with an ideal figure can afford to wear a dress of this style. And if you have a few inches at the waist, they will be very noticeable.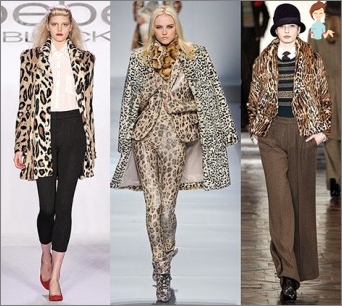 So do not stress the shortcomings, it's best to take some time to determine which particular dress will suit you.
If you can not find a style, thenIt is worth asking for help from professional consultants who work in almost every self-respecting boutique. And do not forget, do not blindly follow the fashion, you need to choose what you like!
As you can see, wearing a leopard print with nothing could not be. And before you buy a similar thing, think about whether you are psychologically ready for the fact that such a bright outfit will attract attention to you.
And most importantly - remember that an excessive demonstration of prosperity is a bad taste. Therefore, everything should be perfectly matched. So choose your ideal outfit and go to conquer the world! Good luck!