All you need to know about a women's bag
How to choose a bag? What bag to wear for each day? Handbags for the party. How to choose a bag for a figure? How to distinguish a leather bag from an artificial bag
How to choose the right bag for women? To make it look great, and comfortably worn and worked out its price for 100%. We will help you make a choice among the variety of models and find exactly your ideal accessory.
How to choose a woman's bag for every day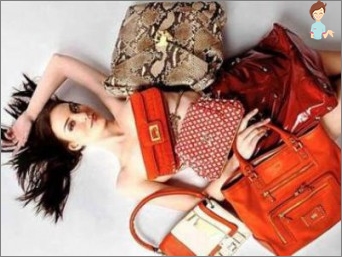 To everyday accessories we have severalRequirements: convenience, universal appearance and, of course, strength. It is desirable that even more fashionable, but many girls agree on the everyday option from the classics, most importantly, to look good with most of the things that they usually wear.
So, the etiquette of female haberdashery prescribesHave two base bags - the first black, the second - brown. Both should be without decor, rectangular or in the form of a trapezoid (hard or soft - see the tips below).
It is logical that the black version fits everything, andBrown, fashionable today brandy or chocolate shade - for brown shoes, belt and clothes in warm tones. Brown without ornaments is a must-have of girls wearing a double, whereas a fur coat always requires black.
Go ahead, the third bag in your wardrobe -White, for summer or under snow-white winter boots. If you bet on the color of the bag and shoes, with white shades be careful - hit should be tone-in-tone.
Naturally, this fashionista and this is not enough, so we have everyday bags of all colors. How to choose the right bag, if you want to be in a trend?
Try to make the everyday accessory either a restrained continuation of a bright dress, or the only accent of a monophonic ensemble:
Blue jeans + red sweatshirt + sneakers + backpack khaki / blue / gray;
Black turtleneck + black pencil skirt + dark coat + scarlet bag.
That's so easy to beat the unusual color of everyday handbags!
How to choose a bag for a party
You are absolutely right that you asked this question -No one casual bag, no matter how stunning and expensive it may be, is not suitable for the role of your companion for the evening coming out. First of all, because the role of the evening accessory is not to store all your things, but to put a spectacular point in the glamorous image.
Clutch - a universal choice for cocktail orEvening gown in the floor. Fits in it not much: cash, plastic cards, mobile, something from cosmetics, keys, napkins - more simply will not fit. The best clutch is hard, lacquered, on a snap-latch.
Envelope - an option for a cocktail dress or evening suit, for example, a skirt-year and a jacket with a basque. The size can be different - from a purse to a school notebook, and you need to wear only in the palm of your hand.
A miniature toy is a fun accessory, the charm of which is in an unexpected design. The form can be any, rhinestones, multi-colored inserts, key rings and so on are allowed. Just right, take her to the club.
The tablet is round, with a strap on the shoulder, veryFeminine and flirtatious. Ideal for a sexy short dress. Color can be anything, this accessory plays a separate role in the image. Feel free to choose golden, silvery, with sequins and rhinestones, and also fancy tablets with a fringe in the style of the 90's.
Chanel 2.55 - the classics of the evening image, a small handbag made of quilted leather, rectangular, with a zipper or with a zipper. A strap-chain is mandatory. The most spacious evening model - it will include a lot of cosmetics, a purse and other necessary things. Good with any dress, costume, even if you go to a party in leggings and a sparkling tunic - it's a worthwhile option!
We do not expect such firmness from such models, the main thing is that you look amazing. Therefore, you can not spend money on exclusive leather and dressing, and make a bet on originality.
How to choose a bag for a figure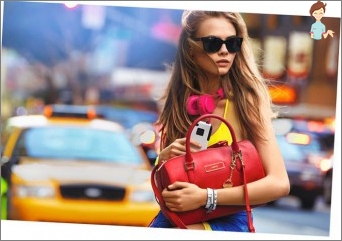 How many times have you tried on your favoriteShowcase the bag and remained dissatisfied with what they saw in the mirror? It seems to be a pretty accessory, in a trend and at a price, but in your hands it does not look - "Not that coat".
Do not despair, designers of female accessories take into account all possible types of figures, complexion and style, and for you there is an ideal handbag, yes not one, but for every your image!
It's all about proportions: the image in which every detail is an extension is harmoniously looked, and not "Foreign body". And then there are your own rules, to observe (or tastefully violate) that you will learn right now.
Rule №1
If you are the owner of a magnificent bust and hips,Choose clear shapes. Baggy bag will make your image loose and incomplete, and the classic "a la Birkin" will set the right tone, even if you are not in a business suit, but in a sports suit.
Hard lines visually collect allVague lines that can not be concealed by clothing. Your form - a rectangle and a square, and models - a briefcase, a tote (direct, for purchases), the most fashionable valise now. All with short handles, in the palm of your hand or on the elbow.
Rule №2
Skinny suffer from the fact that their form is far fromIdeal of femininity - stoop, small chest, thin arms and legs. There may be something superfluous on the hips or waist, but in general, if you look thin and angular, then soft lines of accessories will help you.
With a strict portfolio, you only emphasize the shortcomings, the image will turn out to be tough and "Prickly". It is better to give preference to round, smooth lines, the hobo (sometimes called a crescent), a stylish backpack, a torba on a drawstring.
Do not wear a bag-postman on the shoulder strap - dropped below the hip line, it will create an undesirable effect, emphasize leanness.
Rule №3
Growth also matters when you choose. If you are below 160 cm, you are counter-indicative of "Baul"The size of a package from a supermarket, even ifFashionable and very desirable. Pay attention to the middle, whose diagonal is no more than your hand from the tips of your fingers to the elbow, and small handbags with a regular book - that's your favorite size!
Your height is 170 cm? Refuse the oblong touts, wear models with handles in the palm of your hand. It will look good messenger bag, just adjust the strap so that it is located in the waist and hip (under the elbow). Also models of baguettes (stretched horizontally), a bag, a trapeze will be good.
Is it possible to violate these rules? Yes, it is possible, only the result will depend on your sense of harmony and in many respects on insolence. For example, you are a smart, tall woman of 40+, everything, as they say, with you. And here in the toy trend - miniatures in the form of a typewriter or a banana with rhinestones. I want to?
Why not take a risk, contrary to the rule thatMiniatures are not your option. Dare and go out with such a toy in your hands, amuse yourself and others, it will be a spectacular move at a party, at an event where you really need to stand out and show yourself a real fashionista. You will be the winner!
But on a date with a tete-a-tete, with casual clothes, especially in a shopping center or on a busy avenue, such a bold move will not be to your advantage. We hope you got the sense of the game with the rules.
How to choose a leather bag
We have reserved this item for the last. With such an abundance of trends in textiles and plastics, we have to struggle less and less for the opportunity to purchase genuine leather. But the need for it is still there - the skin is durable and durable, and will be an excellent investment in the wardrobe, having justified its value a hundred times.
Before you pay a tidy sum for a leather accessory, check by the points:
Smells like skin (you know this characteristic natural smell);
Slightly stretch - does not crack;
On the seams there are no threads and textile particles, only a velvety leather cut;
There is a factory bit in the form of a peeled skin;
Leather varnish does not blind the eyes - shine is moderate;
There are wrinkles on the folds;
All the accessories are of good quality (there are no bad buckles and buckles on the skin).
Remember that this will be a profitable purchase only inIf you can recognize all these signs. No matter how this model is sunk in the soul, if there are doubts, do not spend half the salary on a thing that will lose its appearance in one season. Invest in high quality.
And finally, how do you think how many handbagsShould be the girl? One or ten, to each side? Solve yourself, guided by your needs, our instincts and, we hope, useful advice!