High boots are a luxurious attribute of style for all time
How to wear high boots? What it is necessary to consider, selecting them under your type of a figure? What tricks to apply to create a harmonious image? Who is wearing the high-booted boots?
Love high boots and want to clarify the detailsThe right combination of such shoes with clothes? Or they decided to buy them for the first time, and doubt whether they will fit your figure? Today we will try to answer all your basic questions regarding this type of footwear.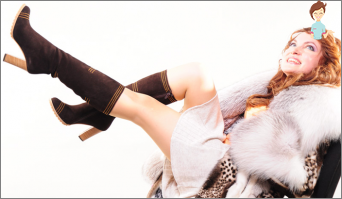 Of course, we do not claim the fullObjectivity, but we are fully confident that some of the tricks given in this material will help you to adequately beat your new image and make it feminine, rather than vulgar.
High-heeled boots with an elongated bootlegNecessarily make your legs longer and slimmer, but only if the image will be chosen the appropriate outfit. For example, if you train them with skinny jeans or a mini-skirt, their "Extension force"Will become even more powerful. But first things first.
Who should wear high boots?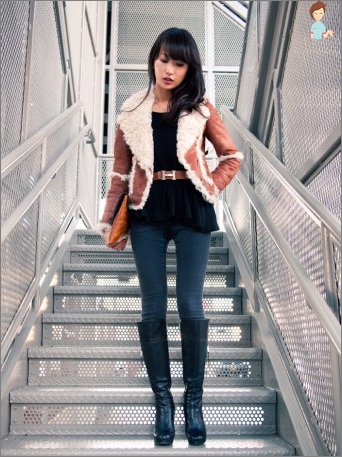 It may seem to you a blatantInjustice, but, as practice shows, high fashionable boots are mostly slender girls with long legs. If your legs can not be called a pride, unlike the chest, hair or thin waist, you should abstain from wearing such shoes. If you have excess weight, but your innate proportions tend to be ideal, you can afford such a luxury.
But who should seriously be afraid of wearing bootsWith a high top, so these are short women with rounded hips and bulky buttocks. Despite the fact that usually this kind of footwear emphasizes slenderness and visually lengthens the legs, here he will play a bad joke, "Cutting" Shape.
If the desire to wear high boots prevails andDominates over you, but you clearly realize that you do not shine with model proportions, do so. Wear these shoes only on the narrowed-down jeans or pantyhose (with dress, skirt, short overalls). In this case, those same horizontal lines that are "Cut"The length of the legs, will be less noticeable and bright.
Try also to wear muffled clothesShades if you have excess weight. So you not only will appear to be thinner, but also deftly divert attention from the vital shortcomings of the figure. Pantyhose or stockings in this case should be chosen in accordance with the tone of the shoes, the more accurate the "Hitting"In tone, the better.
Girls with short legs are not recommended to wear boots above their knees at low speed. It literally can disfigure a figure and expose its impressive flaw.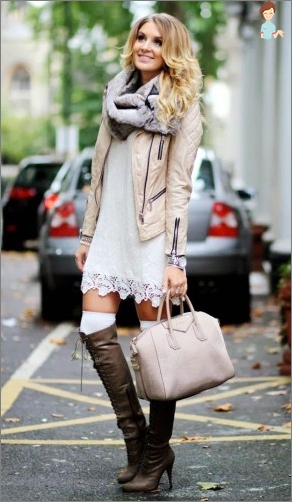 This rule applies primarily toContrasting color combinations: if the boots and clothes are neutral shades, they will not contribute to the perception of the body so striking disharmony. But if we are talking, let's say, of light ragged jeans and such boots, this combination will be truly disastrous for the whole image. The same goes for mini skirts of any color.
It is very important to remember the choice of your style - anyThe disproportion is striking. And if you do not camouflage it, you will not be decorated with any shoes, even if it just left the catwalks of designers of world size, was bought for a lot of money or is the ubiquitous trend of the season. Fashion - this is not the fact, which should be based on the creation of an ideal image. Rather, it is capable of even hindering in this matter.
We also do not recommend wearing high boots fromFelt for women who crossed the threshold of 40-50 years. This element of the wardrobe will easily age you, and besides, it will give your image an unnecessary vulgarity. Mature women often look comical, wearing such shoes, and perceived by others as "Young ladies in years".
Wearing summer high boots with a lot ofStraps is recommended exclusively to long-legged beauties, since it is in this shoe that there are many elements visually shortening the lower limbs. They can be worn with airy chiffon dresses, short openwork skirts and even torn jeans shorts with a fit at the waist.
How skillfully to beat the image with high boots?
We have already figured out that the main purpose of such shoes is to emphasize the slenderness and attractiveness of female legs.
And what things should be worn with boots to make the finished image even more complete, beautiful and harmonious?
Wear high boots with tight pants and jeans. If you do not like skinny jeans and prefer classics, buy yourself the usual narrowed trousers that fit the femoral part. It is desirable that they do not have arrows - this will make a real "chaos"Into the created image. If you are brave enough to wear leggings - here all the trump cards are in your hands! Feel free to wear them under boots and high boots. Your image will become even sexier if you have a thin heel on your shoes;
Do not bare your legs unnecessarily. High boots already create enoughSexy look. And, as you know, overstepping the brink of sexuality threatens vulgarity and vulgarity. If you already decided to show your smooth and tanned skin, beat the image so that it looks informal;
Create simple ensembles. It is desirable that clothes, combined with high boots, are not excessively bright and ornate. While they are visible, they are in the "The center of perception". And they should be worn with restrained details of the wardrobe, especially for work or study. Also, take responsibility responsibly to the choice of shoes - let it also correspond to the canons of the classics. On it there should be no rosy and insipid placer of rhinestones. At the same time, boots of felt with decorative stripes look great in winter;
Bring femininity to "Masculine»Image. For example, your choice fell on boots in cowboyStyle, which, although they give some elegance, but clearly do not become a model of femininity. Supplement them with a lace skirt or chiffon dress! Let the whole image play with new, original colors. Such a unique image is suitable for going to the office, for shopping, for a cozy evening in a cafe with friends, for a noisy party, and for a romantic date !;
Focus on the season. Do not weight the summer image with boots: It dissonates light fabrics and mottled colors of warm weather. It is better to rely on this part of the wardrobe as a fashionable need for the cool and cold pores of the year. Exceptions are summer boots, framed with all kinds of straps and buckles - they can be shod in the season, but rather in the evening than in the hot day.
Remember - moderation in everything isAn indicator of refined taste and style. All the rules given above can not be adjusted to the same standard - it is important to look at the situation and make your own choices, looking in the mirror. But still, "Gold standards"Nobody canceled, and it is not recommended to withdraw from them.
Rules for choosing shoes
Since we have already dealt with all aspectsWearing boots above the knee, it's time to start studying the rules of choosing the shoes. After all, the quality of the product depends on how long the product will last for you, and how comfortable it will be to operate it.
How to choose the right boots?
Give preference to quality shoes fromNatural materials. Let it costs much more, but only in it your feet will feel comfortable and comfortable. In addition, a good product will last you much longer than a cheap surrogate;
Pick up your boots to your height, according to the basic rules of style;
Do not buy shoes that squeeze the widest part of your foot;
It is advisable to buy boots in the evening, afterLong working day. By this time your lower limbs will be in the most "stressful" state, which means that if the boots fit you at this moment, during the subsequent socks you will not have problems with rubbing, squeezing and other inconveniences;
Before going to the cashier, evaluate your appearance in shoes, looking in the big mirror. It is important to evaluate how well the boots look on your figure.
Boots with a high bootleg - a kind of classic, which will never go out of fashion. Boldly buy them, and you will always look exemplary stylish!