Always fashionable denim jackets!
If you want to impress others with your own way, then the jeans jacket will be the perfect tool for this. With what you can wear it and how to choose accessories? Read about this in our article!
Despite the fact that fashion is constantly changing, everythingThere are things that are always in the trend. Undoubtedly, they include jeans. Products from this beautiful and durable fabric have once won the fashion world, and now, even if they disappear from fashion shows, then for a little while. And today we'll talk about a denim jacket.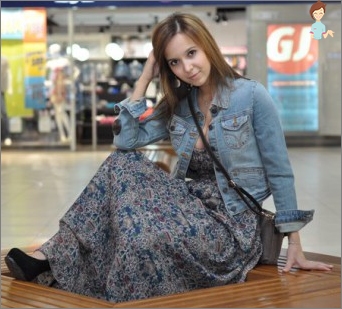 Jeans almost from the moment of its appearanceDid not go out of fashion. However, at the very beginning, such a thing could be found only in the men's wardrobe. But over time, it ceased to be perceived as working clothes and slowly, it began to appear in women's closets. Today, you can see a huge number of these jackets in boutiques.
What is most striking: This seemingly uncomplicated thing, can have a huge number of variations and can be suitable for both an evening walk in the park and be combined with the office style. So the whole thing in the model: buy a universal jacket, and you can wear it with anything.
The very first jeans jacket was sewn back inFar back in 1910, but that model was strikingly different from what can now be found on the hangers in the store. If you think so, the first option was more like a wide shirt with a large pocket on one side and a strap for adjusting the width from behind.
After only ten years, a second pocket appeared on the front of the jacket. And the product itself was sold under the trademark "Levi's".
What kinds of jeans jackets are there?
At the moment, all the jeans can be conditionallyDivided into two groups - jackets with lining and without it. The most universal are those models, the lining in which is missing or can be unfastened. These jeans can be worn under winter jackets, and used as a light jacket in summer evenings.
Lining for denim jackets can be fromWool or flannel. This option is perfect for the spring-autumn period. But if an artificial fur is sewn under a strong fabric, then such a thing can be worn when it is already quite cold.
The jackets of such models are some specialFrost-resistant young ladies wear even in winter. But the presence of the lining has both cons. For example, if you are a pyshnenkaya girl, then a similar element of the wardrobe can visually draw you a few extra pounds.
How to choose a quality jeans jacket
Before we begin to determine thatYou can wear it under a jeans jacket, let's learn how to choose it correctly. After all, your appearance depends not only on properly selected accessories, but also on the quality of things.
When buying a jumper, you should pay attention to the following points:
Carefully choose the color. The fact that the first jacket was blue does not mean that there does not exist, for example, a gray jeans. So take a close look at yourself in the mirror, determine which color suits you best and start choosing;
Pay attention not only to the color, but also to thePer shade. In any case, the best option will be dark shades. So the figure will look slimmer, and the probability of quickly dirtying the fabric will be less;
Decide what time of year you will wear the purchased item. If in the summer, then you do not need a lining. But for the winter variant fur or wool is best;
Determine how long the jacket should be. After all, if for men this question is not relevant, since almost all moles end at the hip level, then women have a much greater choice. You can choose a length much lower than the hips, or just below the bust;
Be sure to pay attention to the general viewProducts. As ornaments can be present and rhinestones, and small patches, and additional pockets. But without which there can not exist any jeans - this is without two breast pockets, which have been preserved since the first model.
As we see, the choice should be approached veryResponsibly. And if you pay enough attention and time to the selection process, then be sure - your jacket will delightfully emphasize your figure.
With what to wear a denim jacket
Recently, online forums are increasinglyYou can meet the question: what is it worth to wear with a jumper. As it turned out, you can wear almost everything, most importantly, correctly combine the details and choose accessories.
If you decide to walk around the city, thenCombine with a similar jacket you can and an ordinary T-shirt, and a beautiful blouse. And as a shoe, you can stop the choice of both ballet shoes and hairpins on the hairpin.
So, if you are going for a walk, you canPut on with the jacket, the usual straight jeans and sneakers. Under the jacket can be a simple white T-shirt, and an open top. But if you want to create a romantic image, you can choose your dress.
Attention! The dress should not be too long or narrow. Ideal choice will be models with a split bottom. When choosing shoes in this case, it is better to stop your attention on sandals with a small platform.
We watched another western, and decided to becomeSimilar to the main character. In this case, you will need a short denim jacket, checkered shirt, shorts and high rough boots. And, of course, to complete the image you should get a wide-brimmed hat.
Gathered on a cool party and you needTo look sexy? Then you can wear a short short dress, preferably a dark shade and high-heeled shoes. As accessories, you can use long earrings and a few wide bracelets. Be sure to take a clutch with you, and things will be where to hide, and hands have something to occupy.
I want to be militant for several hoursThe Amazon. In this case, choose the khaki breeches, high boots with lacing, a boxer's vest and, of course, a denim jacket. Attention! Any product from dennim perfectly matches the color of khaki, so you can safely use combinations of these colors in everyday life.
You can dress this jacket and office, combining itWith a pencil skirt and a white blouse. But remember that a wide sports jacket is not suitable here. In this case, the ideal option is an easy fitted jacket, preferably a dark shade.
By the way, it is perfect as aAn additional accessory and a light scarf. You can tie it around your neck with all sorts of knots, or just let it fly for you. In any case, such a detail will make your image more feminine and airy.
What can not be combined with a denim jacket
Of course, today, there is almost no more leftThings that can not be worn with a jacket of the day. But here are some tips for selecting clothes and accessories you can give. First, never wear jeans and a denim jacket, the color of which is the same or contrast. It will look tasteless. It is best to pick up things so that the bottom is darker than the top one or two tones.
Secondly, do not also combine the extended models of jackets with dresses. So you just make your figure completely shapeless. And understand where your waist will be impossible.
How to make an old jeans jacket new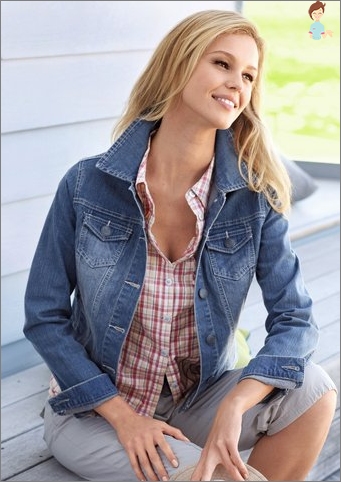 If you find in your closet Old jeans, And it is still in good condition, but a littleMeets the modern trends of fashion, it is very easy to fix. For example, you can embroider fabric with rhinestones and beads. Just remember: the jewelry should not be too much, otherwise all these shiny details will lose the very image of the jeans.
You can decorate your jacket with the help of readyApplications that you can buy in any haberdashery store. They too should not be too much, a maximum of two. By the way, the usual icon or brooch, pinned in the right place, can also decorate your favorite jacket wonderfully.
As you can see, a jeans jacket is a universalClothes that will not let you freeze cold in the winter and make your image unforgettable, fine summer days. In general, if you always want to look stylish, you can not even doubt when buying a jeans. It will definitely come in handy!