How to make a fashionable ethnic style of dress?
Ethnic style in clothes - a popular destination, allowing to create an original image and stand out from the crowd. The main thing is not to mix the different national traditions
Ethnic style in clothes becomes year by yearAll the more popular. If before the stars shone in dresses that resembled the traditional clothes of India, Japan, China, today women can be met in the streets of the city, dressed in accordance with the folklore direction. How to create an ethno-image using available means?
Who first promoted wearing national costumes?
Do not think that lovers of ethnic styleMust completely change the appearance and adhere to the traditions created by a certain people. In fact, the ethnic trend and modern fashion has always been perfectly combined.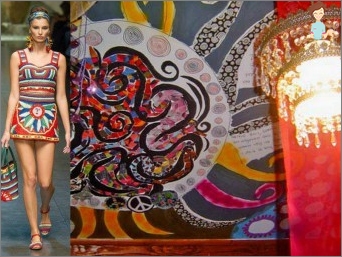 Ethnic allows you to make even casual clothes a positive note. The result is extraordinaryA cheerful image that perfectly suits young people and representatives of older generations. Although, it was the youth that once became the creator of a new direction.
In the 60s, representatives of the hippy steel movementThe present lawmakers, fashion young people and girls who do not adhere to this philosophy, were fascinated by clothing and accessories, which are clearly borrowed from generations long gone, and different peoples.
Currently, the style "Ethno" Can be perceived as a kind of protest against the general "Greyness". The desire to stand out from the crowd extends and the manner of dressing. The creative vision of the world is reflected in fashion.
As a result, a whole direction arose. Today, wedding dresses and casual clothes with elements of folklore no longer surprise anyone. A variety of accessories, bags, shoes are presented in a wide range, allowing you to pick up things in accordance with their interests. Of course, if a person understands, what is different from other ethnic style.
Differences of fashion design
How not to mix up "Ethno" With other style?
There are a number of characteristic details that make it possible to say with certainty that the image was created in accordance with the requirements:
The dress in ethnic style represents an exact or stylized model of a traditional suit for a given nationality: sari, sarafan, kimono, tunic, etc .;
A distinctive feature of any costume is the volume,Clothes practically do not constrain movements. This fashion is unusual for elegant, semi-fitting and tight silhouettes silhouettes. Rather, they are light, flowing tissues, models filled with unique femininity;
For the manufacture of items of wardrobe, shoes, bags in ethnic style and other accessories are used exclusively natural materials;
The presence of bright themed patterns, contrasting fabrics, catchy color combinations, embroidery, hand applications, weaving of beads, an abundance of leather straps and lacing - is welcomed;
In accordance with national characteristicsThe chosen style can be performed and the tattoo, decorating not only the wardrobe, but also your own body. Ethnic style and tattoo perfectly complement each other, if fully consistent with the chosen image.
To learn more about common areas "Ethno", It is necessary to take a closer look at the cultural characteristics of each people.
Fashionable styles of "ethno" style
In recent years, the ethnic fashion inherent in the Slavic peoples has begun to revive.
Although the territory of Russia is huge and it has a large number of nationalities, there are several stylized details common to virtually every Slavic group:
First of all, the Slavic "Ethno" Style can be distinguished by the presence of multilayered "On the floor" Skirts, wide and straight blouses embroidered with embroidery, sheepskin coats;
The outfits are dominated by bright colors: White, blue, red, green. Multilayered - a prominent feature of the Russian national costume. If possible blouses, sarafans, are decorated with bright embroideries and beads;
Each region was famous for its own drawing, which was invariably repeated with some changes in the objects of everyday life and clothing. Even the bags were decorated with appliqués, hand embroidery or beads.
Greek design sings the beauty of a perfect body.
At the same time, the national costumes of the country are not devoid of practicality:
At the present time a sign of the Greek "Ethno" Style was a dress with an overstated waistline, length to the floor, hiding the shortcomings of the silhouette. In addition, free tunics are popular;
Shoes are light sandals with straps that braid around the shin and, if possible, the calves;
One of the characteristic features of costumes,Spreading from Greece around the world, an asymmetry that allows one to seductively open one shoulder. Also, thanks to the ancient people, exquisite flowing creases became fashionable.
An additional decoration is costume jewelry, the ethnic style without it is clearly losing, especially when it comes to exotics:
Colorful looks an African straw skirt with low bright beads, completely uncovering the naked chest. That's just walking through the streets in a similar outfit is problematic;
therefore "African" Considered a style filled with a riot of bright colors: red, yellow, brown. Patterns stylized under the savannah landscapes, design "safari", Light clothing, allowing the body to breathe in hot summer conditions;
Bright ethnic dress involves the use of cotton and linen fabrics, natural leather. Clothes are simple and highly functional.
A special place is given to accessories. Ornaments in ethnic style give the image a completeness. The main thing is not to mix different directions. For example, a bright bag can be combined with an African style, but it will look inappropriate when choosing a sari.
Trying even an exotic image, you should observe moderation.
Otherwise, the exotic will look ridiculous and instead of admiring approval it will cause restrained laughter.