Cape on hand-made shoulder - your unique highlight in your wardrobe
Knitted capes on the shoulders of crochet and knitting needles: needlework for beginners. Schemes, instructions, tips for creating an exclusive product
Cape on the shoulders - a wonderful accessory,Able not only to warm in the cold, but also to decorate any evening toilet. Especially by the way, he comes to long dresses in the floor of velor and velvet. Modern fashionistas manage to create a cozy image even in combination with jeans and boots in the style of "military".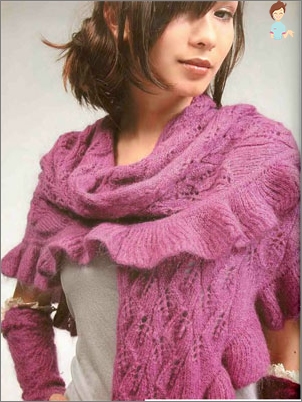 Women who are fond of needlework can affordTo itself to update style almost every month of a cold season. They knit capes on their shoulders with crochets or knitting needles. Knitted things look very airy and delicate, give your image a romantic and light.
Some tips for starting
In order to create a unique product with your own hands, a pattern is almost always required if you are not knitting. The pattern will help you create the product exactly as an example.
We recommend that you do not follow the diagrams to the smallest detail when you create a knitted product for yourself. Needlework is creativity, and what creativity is possible without a flight of fantasy and improvisation?
Pay attention to the decoration, which is notSays no pattern. You can decorate the product with rhinestones, small pearl beads or miniature hand-made articles of thin ribbons - roses and bows.
The form of the future thing is always indicated by the desiredPattern of a warm cloak on the shoulders. It can be bolero, poncho, doler, shawl or stole. And the choice of tools for knitting depends entirely on your preferences. The thing formed by knitting needles is always dense; If the cape on the shoulders is crocheted, it will be openwork and airy.
Choose the color of yarn according to your taste. We recommend that you address to calm tones: the most generous look is the cloaks created from marsh, black, mouse-gray, milky, peach and pearl threads.
Some girls prefer to use neon colors. In the event that your style is outrageous, such shades will be in harmony with any way.
We knit a thing in the traditional way
Knitting with knitting needles is a kind of discipline thatEvery girl passes, being a schoolgirl. Remember your crafts and cute little accessories related to the lessons of labor! Perhaps they were far from ideal, but even then you were not a knitting professional.
Now is the time to catch up and "To fill one's hand". In addition to the new skill, you will acquire for your wardrobe an interesting, and importantly, unique product that has no analogues on the shelves of the most fashionable boutiques.
To connect any thing with knitting needles,A certain amount of patience and perseverance. The method though is a classic of its kind, the slightest mistake can reduce to "no" all your efforts. While you are studying, pay attention to loose things of universal size. Excellent cape on the shoulders of such a plan - poncho.
If you choose for him a yarn of coffee color withMilk, such an accessory will suit any wardrobe, and even a separate image. Would you like to be warmed? Choose a coat, especially Merino. If you are only interested in jewelry, the standard acrylic will work fine.
Traditional pattern does not imply anyComplexities, but if you want to decorate a knitted thing with a pearl pattern or braids, you'll have to change the scheme a little. You need at least 1200 g of yarn.
Its type and color remains at your own discretion. Pick up the spokes number 5, and do not forget about one additional tool.
How to Knit a Thing:
Tie the face series according to the standard principle - facial loops, purl - respectively, purl;
In the reverse surface, everything should turn out the opposite: the front row with the wrong loops, and the back one with the front ones;
Handkerchief should be done according to the principle of facial loops for both rows;
Strap knit alternately: 4 rows of facial smoothness, 4 - garter stitch;
The shape for the braid remains at your own discretion. Some prefer knit fantasy ornaments, others - geometric types of braids and pearl patterns;
A large pearl pattern is knitted according to the principle of alternation of the front and back loops. Do not forget to shift the pattern to 1 loop after the end of every second row;
The ideal density of knitting is 15 loops for every 22 rows;
Create the product with a single cloth starting from the front.
Knitting with knitting needles is a painstaking and costly task.Time. However, a knitted warm cloak on the shoulders with knitting needles can fully qualify for high prices on sale. In addition to the fact that the thing is unique, it is made on the principle of hand-made, and this is always more valuable than the production accessories.
Do not forget about the details: You can decorate the finished product as your heart desires. Try to combine selected decorative elements with your everyday style. Romantic people can decorate a thing with pearly beads, sequins, ribbons and bows. And extravagant women in the style of "rock"Even thorns will do!
Hook - the creator of lacework
Crochet is significantly different fromTraditional method with knitting needles. First of all, it concerns its relative simplicity in performance. Crochet adherents assure that their favorite way outperforms the typical knitting with knitting needles because of their visual characteristics.
According to them, things turn out to be more magnificent, delicate and elegant. We do not undertake to assert anything in favor of the method, since there is no dispute about tastes.
We emphasize only that with the help of the most common tools and high-quality yarns, you can really create a beautiful cape on your shoulders with a crochet that will become a useful attribute for any image.
To create a thing,Corresponding tool. By the way, the hooks themselves quite vary in shape and thickness. There are thin metal products and large plastic hooks. The size itself depends on the size: a thick hook gives more curvy loops, and a thin hook - a tight tight knit.
The best variant of a knitted cape on the shoulders is a lace poncho. And it is this product that can be shaped by crocheting. Cloaks on the shoulders with knitting needles usually have a denser texture.
To knit a poncho crochet you will need about 800 g of yarn matched at your discretion. You will also need several circular knitting needles No. 4, No. 4,5, No. 5.
Perform the following steps step-by-step:
Tie the elastic band according to the principle of alternation of two face loops and two purl loops;
To form a square, crochet 8 air loops and enclose in circle 1 a connecting side;
Half squares and squares with a straight edge choose at your discretion: here to help you a variety of schemes, and your imagination;
The density of knitting gum - 21 loops and 28 rows, square - 12x12 cm, semiquad - 6x12 cm.
With the help of simple knitting tools, you can create a truly original thing, different from all the patterned capes made in production.
Tie with love: Pick up different sketches, patterns and schemes, improvise, decorate the finished thing to your own taste. When you learn how to knit as a professional, you can earn excellent money on a new hobby!