Boots with fur outside: how to choose and wear them correctly
Decided to buy new shoes for the winter? Pay attention to the boots with fur outside. Such amazing shoes will make your image elegant, and also protect your legs from the cold
Despite the fact that in winter the amount of clothes can beCompare with cabbage leaves around the head, look attractive all the same want. And then to us comes to the rescue nothing more than a fur. After all, you will agree that the girl in the down jacket looks a little less elegant than in a beautiful fur coat. But recently, fur was used not only for making fur coats, but also for the design of boots.
Such a model can not only significantly warm your legs, but will allow you to follow the latest fashion trends. The most popular variant of boots are boots with fur outside.
How not to make a mistake in the choice?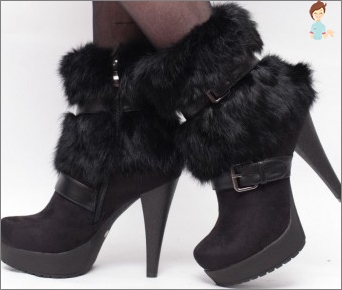 But before you buy a similar model you shouldTo learn that synthetic fur is far from the best choice. Yes, of course, this option is optimal in terms of cost. But is it necessary to save on one's health?
After all, if you buy boots made of synthetic fur, your legs will necessarily sweat. And this, in turn, can cause a huge number of diseases.
But natural fur is another matter. In addition to the absence of harm to health, such boots or boots with fur outside will last much longer.
As you already know, if you reallyWant to make yourself a gift, then you will only need natural fur. But you need to be aware that such a purchase will be quite expensive. For this reason, before you spend a lot of money on such shoes, think about whether you really need it.
Definitely you should not buy these boots,Who do not have the opportunity to purchase another pair of shoes. You in fact will not put on such beauty at a wet snow. So if you have a car, you can safely buy these shoes, but if you have to walk everywhere, it's probably worth thinking about!
With what you can wear winter boots with fur outside
Also, when buying, you should know with what you canCombine shoes with fur up. In no case should not wear such women's boots with pants that can not be filled in shoes, because in this case you will look just ugly.
So let's list the most compatible with this kind of shoes:
Jeans. But wear only those models that are narrowed down, since they will be easier to fill in boots;
Pants. They too should be narrowed down, but the cut itself can be classical;
Dress with straight cut.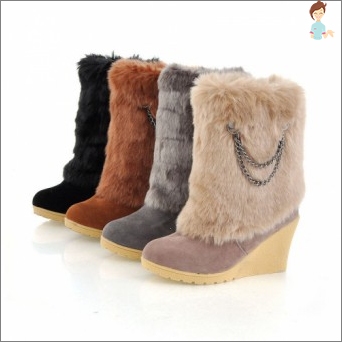 But the most advantageous option in this caseThere will be an ordinary knitted dress. If the figure allows you, then you can stop your choice and on shorter styles of dress. You can even wear leggings with long tunics with such boots.
Also worth mentioning about tights. Optimum variant will be dense monophonic tights. As for the availability of a variety of patterns, then in this matter it is necessary to rely not on the latest trends of fashion, but on the appearance of their feet. And if you are not sure, then it's better to dispense with one-color coloring.
As for outerwear, then you can chooseOr a warm cashmere coat, or a light fur coat. But if you chose a fur coat, then it should be in color with fur on boots. Otherwise, your image will be very tasteless.
Kinds of women's warm boots with fur outside
Do not think that such boots can beOnly one form. Not at all. Like any other footwear, models can differ between each other in the form of a heel, its height, the height of the boot. Today in stores you can also find ankle boots with fur outside.
As for varieties of boots, thenSpecial attention should be given to high-heeled fur boots. This kind of shoe is great if you want to look like a real lady. With such shoes it is best to combine a short coat, long gloves and a stole or scarf on the head.
You should also pay attention to the boots. Today these shoes are quite popular among young people. With them, you can safely combine jeans and short down jackets. You can supplement the image with the help of original knitted hats and mittens.
Quite an interesting option are the boots -Transformers. By the way, in this case the name fully reflects the functionality of such shoes. Such models are transformed from high boots into short boots.
So if you are a fan of interesting styles and models, then such boots are exactly what you need. And about the variety of winter boots is not even worth talking about!
Women's shoes with fur outside: pros and cons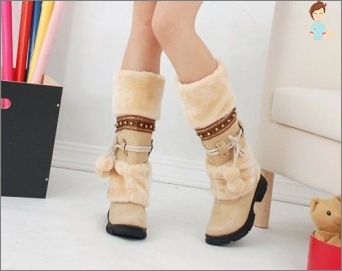 To the undeniable advantages of this type of footwearYou can relate comfort and softness. They are also quite warm. Still it is possible to tell, that having added the image such boots, you will look more elegantly.
But unfortunately, winter boots of this kind haveAnd a few shortcomings. For example, you can not wear them if there is wet snow on the street. And it's not even that they will get wet. Just if the liquid gets into the fur, it will stick together and lose its entire appearance. And, by the way, after the boots are soaked, the probability of returning to their normal form is 50/50.
As you can see, half-boots or boots with fur outsideToday enjoy great popularity. But when choosing you need to remember not only about fashion, but also about the features of your figure. So choose, buy and wear such amazing boots!