Body type "inverted triangle": what and what to wear?
Type of figure inverted triangle assumes the presence of a massive upper part and narrow thighs. Choosing a wardrobe, you must try to balance it, make it proportional
Type of figure inverted triangle is typicalFor girls of athletic build. If your shoulders are much wider than your hips, your waist is not well expressed, and your thighs are narrow, then your physique is of the above type. It is also called the type "V" or "Carrots".
Selection of clothes for the figure inverted triangle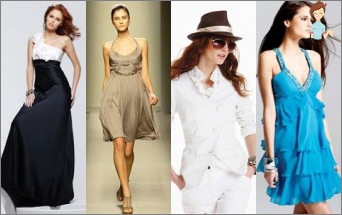 Girls with this physique need to balance the upper and lower parts, to make the figure more proportional. How to visually reduce the shoulders, and make the hips more fully?
First, give up clothes that are in the areaShoulders are decorated with any elements, for example, drapery, pockets, all kinds of ruffles, etc. In this part, everything should be as restrained and laconic as possible.
Secondly, it is worth drawing attention to the narrow thighsAnd slender legs. Any details or drawing in the field of the hips are welcome. You can even afford to wear skirts and trousers in a box, as well as in a horizontal strip, which is taboo for women of a different physique.
Skirts and trousers
Skirts for a figure like an inverted triangle will suit a wide variety, starting from a classic pencil skirt, and ending with a model "the sun". Pleated, with ruffles, ruffles, large prints and flowers - they all can take their main place in your wardrobe.
If you want to focus on the waist,Visually reducing it, choose models with Basque, which are extremely relevant in this season. Prefer direct models in a cage, if you do not have a pronounced waist and a large bust.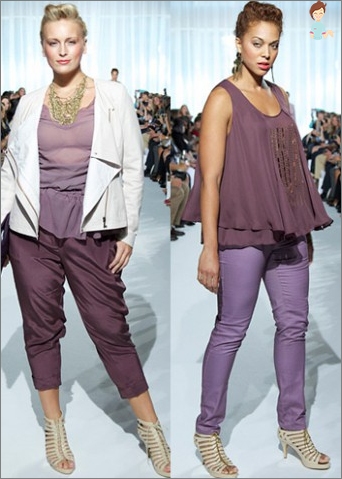 The figure of the inverted triangle is also called "Pants"Because women with such a physique are extremely trousers, very different, for example, pipes, jeans, leggings, Bermudas, and especially pants-klesh.
Leave the boring classic pants black orDark blue for women with a figure of another type: you are also allowed to wear pants of different colors and predominantly light - white, beige, light blue, mint color, etc. Pay attention to models with maximum detail - patch pockets, embroidery, pattern, texture, etc.
What to wear with such a figure as an invertedtriangle? If last season you replenished your wardrobe with models with a low landing, you can pick up clothes with high. Both of them will look great on you - in this respect, there are no restrictions for you. On a straight figure, the cargo pants and models with the decoration in the hip area sit perfectly.
Blouses and jackets
Making up a wardrobe for his figure by typeAn inverted triangle, you need to choose the blouses of the downtime, without unnecessary details. Models with a spill will distract attention from a wide chest and a lush bust. Very good models with a scent and a wide asymmetric neckline. Feel free to go to the dressing room with a blouse, the neck of which has the shape of the letter V. The length of the blouse must be up to the middle of the thigh.
Tops can be chosen at all without strapless orOne, thrown over his shoulder. Look at the appearance of well-known women all over the world: many stars with the type of figure inverted triangle wear men's shirts loose, underlined by a strap, thrown on the hips. In the area of ​​the hips is not forbidden, and such a gathering, which is characteristic, for example, for trousers of chinos.
The style of jackets and jackets should repeat your typeFigures. Choose models that are cut off by angular lines: you must achieve an elongation of the upper body, so they should reach the middle of the thigh. Lush sleeves and massive lapels are not for you. Any elements forming an angle in the form of the letter V.
Dresses and outerwear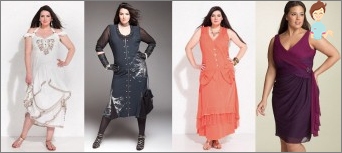 The dress for the figure type inverted triangle should meet the above recommendations. You will look good in the model with an overstated waist, the bottom of which flakes up and reaches the knee.
But a simple cut, which is characteristic for a dress-case, will suit you. You can wear it without a belt, or you can select with it a thigh line.
The last tip applies to outerwear, inParticular coat. Choose laconic ponchos, one- and two-breasted cocoons, not providing a belt. Or he may be present, but in the region of the hips. These recommendations relate to the clothes of the girl, but what about the accessories: they must necessarily pursue the goal of lengthening the upper part of the trunk.
Wear appropriate jewelry, for example, beadsOn a long string, tie a scarf around your neck. Bracelets and rings can be any, however remember that kits are not in fashion now. Guided by these tips, you can look anywhere, in any circumstances, stylishly, fashionably and elegantly.