What to give to her husband, or the guy who has everything? Original ideas!
Does your husband / boyfriend have everything and you do not know what to get him? We offer you an original and not dull the idea for a gift! Your husband / boyfriend will be happy.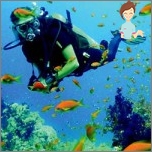 What gift to choose the beloved? This question probably every woman is given in anticipation of the holiday. And if you loved everything? And, absolutely everything, and no unfulfilled desires he does not have? The question is not easy, but still make an original gift that will be remembered for a long time, it is possible. To get started, decide which of the unusual gifts will suit your man - extreme, exotic, romantic? See also, that you can not give to anybody.
Extreme offers
What man does not want adrenaline rush by jumping with a parachute or driving a tank? And these gifts are not limited to the extreme. So, you can give:
diving lesson. One and a half hours spent under water, for sureleave a lasting impression! Alluring secret depths, stunningly beautiful pictures of the underwater world ... Few remain indifferent to this kind of recreation.
Gift Price: from 2500 rubles (depending on the venue).
Ballooning. The opportunity to return to the past, feelinga hero-balloonist early 20th century. Free flight will give you a lot of impressions and certainly will be remembered for a long time. Mild altitude change - and then you go down to the crown of the tree, it soars to the light clouds. But the main thing - the feeling of flying, unforgettable and exciting. Dedication to the balloonists Champagne is also unlikely to leave anyone indifferent.
Gift Price: from 25000 (For two people).
Control of the aircraft, a helicopter. Here is a chance to feel like a real pilot,subjugate the heavenly ocean, try on the form, to feel a surge of emotion ... List the advantages of gift can be infinite. But the fact that your favorite will be satisfied with such a gift - of course!
Gift Price: from 9000 before 16000 depending on the airline and equipment (for 1-3 people).
Riding on a tank - Not less extreme gift. Forty-minute ride on a tank over rough terrain in the crew - what else can bring so much excitement? Such a gift to the military style to remember. Personal certificate, issued after the briefing and travel in the tank, recalled the time and an unforgettable experience.
Gift Price: from 10000 rubles.
Original tours
Surely, after reading the title, many will think: "Excursions? Never! What the original can be a traditional bus journey to another city of Russia "- and be wrong. The usual tour is also possible to give your loved - if such a pastime to his liking. But the original tour of ... Oh, this is something completely different! So, you've read "The Master and Margarita"? Strange question, of course, read. And if you do not want to walk to the places described in the novel? A ride on the tram 302-BIS?
The tram tour of the center of Moscow

An interesting story about 20-30 years of the 20th century, aboutfamous people associated with the fate of Mikhail Bulgakov. Or bus and walking tour of the city center "Night at the Patriarch", where tripper not just plunge into the mystical atmosphere of Bulgakov's Moscow, but will participate in the investigation of a detective. A new look at familiar stories new discovery, new experiences from Moscow at night for sure will please your man.
Gift Price: 815 rubles (for 1 person).
"Moscow underground"

- One of the most unusual tours that youcan offer. Who of us has ever heard about the secrets of the underground city? And who would not want to touch a little while for them to see with their own eyes underground bunkers, started during the Cold War? Or look at sensitive sites, created to defend the threat of nuclear war? All this and more awaits you in an unusual underground journey.
Cost of the excursion: 1500 rubles (for 1 person).
Unsolved and the unknown is always attracted to him. Probably every city can boast of such places and excursions "Moscow's reduction" and "Moscow otherworldly" - not an exception. Bus trip to Moscow in the night, accompanied by a guide that not only tells about the mysteries associated with famous people, but also hold on mystical associated with unusual and mysterious events of the city, will be an unforgettable and very unusual gift.
Cost of the excursion: 1000 rubles (for 1 person).
And this tour will certainly please your beloved. And who would refuse visit the museum of vodka, beer or wine - Then, that someone like that. And if the same visit program includes a tasting? There are few men who do not appreciate such a gift.
Cost of the excursion: 1000 rubles (for 1 person).
Exotic gifts
Thai massage. Of course, this is not a rare procedure today, andMany beauty salons offer it to their clients. However massage carried out by a real master of the monastery of Wat Po - a truly wonderful gift that will not only remain a pleasant impression in the memory, but also give a sense of the influx of vitality, full of relaxation and inner peace. Such is the effect of this exotic gift combining deep massage with manual therapy, passive yoga and energy impact.
Gift Price: from 2500 rubles (for 1 person).
Tea ceremony. It would seem - what's the big deal? Brew tea - not great trick ... But no wonder different nations devoted so much time such a simple thing as a tea. Tea in Japanese, Indian, Georgian traditions of ceremony - choice - certainly will please lovers of wonderful drink.
Gift Price: from 600 rubles.
Romantic gift. Even the most traditional romantic gift -a date in a restaurant, it can be a memorable one if you approach it creatively and organization as close as possible to the wishes of a loved one. Candles, soft music, a separate office - though traditionally, but also can be a wonderful gift if ordered favorite foods and drinks, the music, which is like the next, and beloved woman - you.
Gift Price: from 2000 rubles (depending on the included service and restaurant).
If you liked our article and you have any thoughts about it, share with us! For us it is very important to know your opinion!