What men want to get a gift for February 23? Gift Suggestions
You do not know what to give the man on February 23? Tips for choosing the best gifts on the Fatherland Defender's Day, gift options for my husband's favorite. father, son, colleague.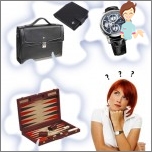 Approaching the most "manly" festival - 23of February. On this day, traditionally the former Day of the Soviet Army, then renamed the Day of Defender of the Fatherland, decided to congratulate the representatives of the stronger sex, because they just have to be advocates for all women. What man would like to receive as a gift, and as they greet - let's look in more detail at this point.
Who should be congratulated on a holiday on February 23?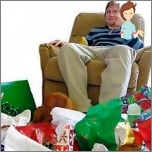 Of course, first of all - all those He serves or has served in the Russian armyAs well as the younger generation, which will serve. Do not forget that in the army serve and women - it is necessary to congratulate them, beautiful fatherland Protectors, This afternoon.
On the Day of Fatherland Defender It decided to congratulate all the men - Regardless of whether they served in the army, orno. Women always want to man was their protector, and in the holiday gifts and greetings resemble the stronger sex of their honorable and difficult mission - to be encouragement and support.
Congratulating not served in the army of men, or not- This question is still open, and he has no clear answer. Perhaps it makes sense to still greet, and congratulations must be expressed a desire to see them strong in all circumstances, serve as a protection for women who surround them in their lives.
Do not forget that in this day important congratulations and best wishes for everybody - grandfathers and fathers, sons and brothers, uncles and svёkram, colleagues and just neighbors, colleagues, friends and acquaintances. attention signs are very important to all, without exception, who is a defender for you.
It remains only to choose the right gifts ...
Choosing a gift to Pope on Fatherland Defender's Day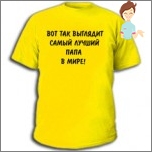 For the Pope is always very expensive children's attention. Well, if a gift from her daughter or son will be made their own hands - Be sure that your dad, sentimental at heart, will keep it for many years and enjoy remembering your touching congratulation.
To this gift was also a practical significance for your dad, can you arrange photo albumWhere he put his army photos, embroider private toweldo a collage of pictures of army, to tie a warm sweater or sew slippers made of soft felt. You can cook cakedo favorite dish.
If you still want to buy a gift for the Pope, the choice can stop at the next original and very important things for this man:
T-shirt with Dad's portrait, you make a collage or the words "World's Greatest Dad in the world!". Such a thing is not expensive, but it will take a lot of joy.
Collection of DVD-ROM drive with the Pope's favorite songs, movies. If parents have a family video archive, it is possible to organize and put on wheels, decorating the box to drive on their own to create a cover.

Pape - motorist can give things that will be useful to him in a way - car holder for your phone, mugs, stand under the laptop to the machine, set to charge the phone in the car, the MP3-player, back massager in car wraps for covers Papin with initials, emblems of their favorite team, etc.

Pope-gambler fan can give things with the symbols of his favorite team - T-shirt, scarf, cap, towel.
The active dad who loves to travel frequently to the nature, you can give Set for a picnic or BBQ.
Congratulations grandpa on February 23! Choosing a gift
Mature man will like the soft and warm clothes, which he will use every day. Give your grandfather sneakers made of genuine sheepskin, wool socks, warm sweater, jacket made of genuine sheepskin. You can opt for rug, the rug under the feet of the chair, a soft pillow. Even better would be to give bamboo pillow.

Grandpa undoubtedly be pleased unusual gifts - for example, home planetariumThat he will show all your friends.
If the T-shirt with a photo of my grandfather may be present out of place, then cushion with family photos It will be just right! Make a pillow in a serious interior, good quality, and your grandfather will always be before your eyes is very memorable photo from the family archive.
If grandpa loves to read, give him eBookPreviously uploaded to drive those books that will certainly like dear person. If the vision brings Grandpa, you can give him a good MP3 playerPre-recorded on the several audiobooks, music (after finding out about the grandfather's preferences as much as possible).

Body Massager It will be very useful if your grandfather is experiencingsometimes pain in the back or joints. There are different types of massagers, and to the choice of gift you need to go thoroughly to cater to an older person. There are special massager with heating or cooling, with different functions and different purposes, they can be very different, both in quality and price.
A gift for a loved one, a husband on the Defender of the Fatherland Day - avoid stereotypes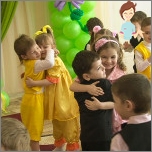 Gifts for men on the Motherland Defender's Day, many limit the choice of toilet water, shaving foam, men's socks, Panties, shaving sets. However, a survey of men found that the majority of boys do not want to receive a gift it is these things, considering them as commonplace.
What to please her lover?
Jacket or suit for a ski holiday hint to your loved one, it's time to gowith you in a romantic journey. Choosing a very necessary quality clothing, the exact size of your loved one. If you want to spend a romantic holiday by the sea, give him set for navigation, a stylish hat from the sun, bathing shorts and a beautiful beach slippers.

Business men can give bag or backpack for his faithful working companion - a laptop. Choose a stylish thing that comes to your clothes lover.

We are mindful of the fact that men are always in the soul remain children, and this explains their passion for toys, trinkets and beautiful things. You can give a young person flash cardIssued in the form of a small exact model of car, or radio-quality model helicopter, vehicle - And you will see this boy, who is hiding in the heart of your loved one.
Choosing a gift from the category romantic and very cozy things you can stop at the rocking chair or chair-ball for the home, pillow with your photos, blankets for the sofa, soft slippers for home.
Men who have a hobby, you can give a thing, which is related to a favorite hobby - spinning, Barbecue, set for fishing, tool kit.
Present on February 23 for the younger generation - the son, grandson, younger brother
If not stepped youngest son in the family for morechildhood threshold, it will please, of course, any toy. If the son, grandson, brother, is on the threshold of adolescence, it is worth more thorough approach to the choice of his Gift for February 23.
Teenagers, interested in computer and everything connected with it, you can give practical and useful gifts- the latest generation of the keyboard for gamers, beautiful mouse pad under the keyboard, the label on the laptop bag tablet, a USB flash drive.

Adolescents with an interest in trekking and travel, can give sleeping bag, tent, portable grill, spinning.
Sporting youth cater easily - should give him football or volleyball, sneakers known firm, horizontal bar or home exercise machine, tracksuit.

Win-win is a gift for a teenager Radio-controlled toys good quality - albeit it a little longer pobudet carefree child!

The young man February 23 can give eBookBy first placing it on a fewinteresting and exciting works - then he will be able to master this unit, and at the same time - to become an avid reader. Rest assured - this gift is very useful to him in preparing for the exams, and in the coming student.
Ideas original gifts for colleagues on the Motherland Defender's Day
Colleague, boss at work it is not necessary to give personal care products (Shaving foam, toilet water) - this may be incorrectly perceived them around. Should you opt for inexpensive, but very original presents options for February 23 - Any non-binding, but bringing him joy.
Clothespin-holder for cups on the desktop will allow your colleague or supervisor to always have on hand a mug of tea, not taking them right area of ​​the table.

Souvenir photo holder allow your colleague to put photos of their loved ones in front of you, on your desktop.
Heater for cup of tea with USB-connection It will keep the tea at work for a long time hot. This group may include gifts desk lamp with USB-connection with fan.
Flash drive It will never be superfluous for the business person. A flash drive is a good capacity, beautiful and original design will be a perfect gift for male colleagues on 23 February. You can add this surprise stored on a USB flash drive beautiful music placed on her card holiday greetings.
There are many toys, puzzles - Funny and very cute knick-knacks, which not onlydecorate your desktop counterparts, as a souvenir of metal or wood, as well as allow him to focus, get rid of stress, briefly escape from the workflow, to relax. These artifacts resemble three-dimensional jigsaw puzzles or Rubik's Cube, they are very like even very serious and busy men.