Interesting ideas for curtains in the nursery
Various models of curtains for the nursery.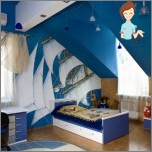 Children's room - an unusual world, whichIt is filled with the most important moments of your child. After all, children - this is the most functional room in any home. Where baby sleeps, he plays, and has been welcoming guests. Therefore it is very important to create in the room kind of atmosphere in which the child will feel cozy and comfortable. And since one of the main decorations of the room are the curtains, it is about them today and we'll talk.
10 ideas for curtains in the nursery:
These blinds are made of two types of fabric: light tulle and cotton denser material. Bright colors and fun cartoon characters Characters will be to give your child a happy mood every day.

this room seaman.

Easy multi-layered curtains of transparent tulle pastel shades make children more comfortable and cozy.

An excellent option for a child's will curtains with pocketsIn which you can place a favorite toy of your baby.

Flower theme fully disclosed in the original curtains made of curtain fabrics. At the curtain pelmet and applique was applied in the form of flowers and butterflies.

Beautiful curtains, which are well suited for rooms girls and for boys. Curtain is made two layers of tulle: Pastel and blue hue.

Cornice hidden gold original lambrequins.

Room a little princess. blinds fabricated from delicate pale pink tulle and curtain fabrics of a darker hue. The tone of it is picked up pelmet original form.

Original and unobtrusive blindsmanufactured Natural linen. The fact that this is a children's room, saying only a few toys on the windowsill. Many parents believe that a lot of bright colors in the room for the newborn to anything.

children's room African style. On the sand-colored curtains, made the original application in the form of a giraffe. Perfect for the creative development of the child.

Great design for a boy's room. Love for the sport the child will be vaccinated since childhood.

Curtain and pelmet made of natural cotton. At the top is made applique in the form of balls of different sports.

Bright original Curtains for the girls room. Easy transparent tulle with applique of colorful flowers will raise the mood in any weather reminded of the warm, summer, sunny days.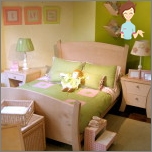 Dear Mom do not be afraid to dream at the time of registration child's room for your baby. So you can create for him an incredible fairy-tale atmosphere and give a feeling of coziness and comfort.
If you liked our article and you have any thoughts about it, share with us! It is important for us to know your opinion