5 best models Transformers beds for kids
The best model for cots transformers for kids according to their parents. Descriptions, prices, reviews. How to make the right choice?
Nowadays, an increasing number of parentsacquires for their babies crib transformers, giving preference to saving, as a place in the apartment, as well as funds. Bed-transformer can last for many years.
Cots-transformers and their features
As long as the child 2-3 yearsIt will be a clever design that combines the very bed, changing table, chest of drawers for clothes and many different boxes for all kinds of needs.
When the baby gets older, The front wall can be removed, andremove the side cover. Thus, the bed is converted into a lovely and very comfortable sofa. Komodik becomes an ordinary chest of drawers for clothes and changing table, as well as the side cover, you can detach.
When the child is more than 5 years a chest of drawers can be removed at all, and thus lengthen the sofa. So initially whole interesting design will be a separate bed and a dresser. Agree, it is very convenient.
Models and variations beds Transformers
There are different models of beds, Transformers.
For example, some models

You can make out the low nightstand and bookshelves

. After dismantling the structure, moreover,Details remain cots. For example, changing the board may be a cover for tables or counter tops for the desk. Here already all depends entirely on your imagination.
Now is also well represented in our market Bed Toys. Although they can not be called transformers in fullsense of the word, by themselves they are very interesting for kids. These beds are in the form of machines, locks, marine vessels, animals. Yes, what they did not happen. Typically, such a bed of bright beautiful colors and kiddies really like to sleep in them. Many bed-toys have additional functions. For example, the bed in the form of the machine can be switched on the headlights, which can be used simultaneously as a bedside lamp.
Advantages and disadvantages of transformer-cots
It is worth noting that the advantages in purchasing the crib-transformer is much more than the minuses. However, consider in order.
Pros:
Durability. This bed is literally "grows" along withYour baby. As mentioned above, when you are buying a bed, it looks like a special design that combines multiple tools. Over time, the various parts are disconnected and their beds may be adapted for different purposes. So, convertible bed can last from the birth of the baby and to school, and some up to 12-16 years.
Savings. Buying a crib-transformer - it is veryeffective and convenient option for you. After all, when buying it you save yourself from having to buy more beds larger when the child gets older. It is much cheaper than the child and adolescent beds together.
Save space. Normal baby cot, separate chest of drawers for clothes and a table occupy much more space than a bed-transformer.
Beautiful appearance. For the production of such beds asthe materials used, as a rule, trees such as beech, birch and aspen. They differ in color, and it gives you the opportunity to choose the most suitable for your interior color. In addition, you can choose a crib, which is decorated with carved with exquisite patterns, or vice versa, classic smooth design. It all depends on your own preferences.
Minuses:
In different models of transformers, cots yethas its disadvantages. For example, the size of the dresser in the boxes can not be too large, and they will not fit the required number of items. In this case, it will take up more space. When buying a watch carefully to the boxes size was appropriate.
5 most popular models of cribs, Transformers + reviews
1 convertible crib of SLE-7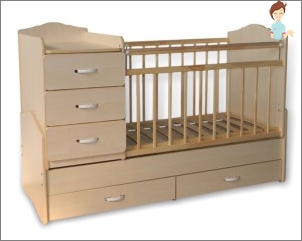 This bed is very practical and good atuse. If we consider the fact that it has three large drawers, and in some models, and cross the pendulum, we can conclude that this is an excellent investment funds. High-quality bed made of decent components, such as the German and Italian hardware fittings. This simplifies assembly and thus extend the bed life.
The average price of a model of SLE-7 - 7350 rubles (2012)
Reviews parents:
Tatyana: We bought this for a second child. Externally - High-quality and very beautiful. Importantly, chest of drawers and a shelf at the bottom are very comfortable clothes, diapers and other different things and go quietly. The teenage bed length of 170 centimeters (chest is removed and it becomes a bedside table). It will be necessary then to buy a new mattress, but we still like to live to do this. If someone is going to use as a commode Langering boards, I personally would not count too. With my height of 170 cm is still not very much and convenient, I would like to just below. So I adapted the bed.

Anastasia: This model of the crib as a whole is very good: beautiful, comfortable, stable, stylish. My husband and I took a special bed with a pendulum mechanism, to shake a baby. For more bed and chest of drawers fastened, so that's me personally to store all the necessary things for children too small dresser. The first box I fold all small things (children's combs, nasal aspirator, cotton swabs, etc.). In the second folded children's clothes, and in the third a diaper. Now the truth thinking of the third drawer to remove the diaper and use it for the children's things, because I obviously do not have enough space for this in the second box.
2. The convertible crib "Chunga-Changa"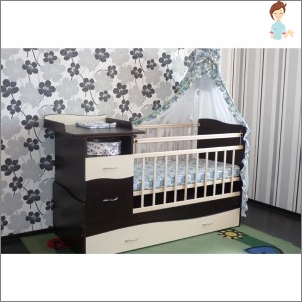 Cot-transformer "Chunga-Changa" combines a crib for a newborn size 120x60 cm. With a changing table and a bed 160x60 cm., Cabinet and a table with borders.
It made a bed made of wood (birch and pine) and secure LSDP.
The bed has:
orthopedic base
roomy drawers, cabinets
large sealed box bed
protective lining on lattices
lower the bar
The average price of "Chunga-Changa" model - 9500 rubles (2012)
Reviews parents:
Katerina: Ideal for parents and their young children. Baby changing table at hand, all sorts of drawers for small items and babyveshchichek. Very comfortably. I bought a baby and she was delighted. Many functions, beautiful and stylish, and for little money. I even think that it will be worse, I was pleasantly surprised. Most liked the special protective lining on the gratings, special thanks to the developers of this model.

Lina: In general, a good bed. From the obvious advantages: beauty, practicality, ability to change the location of the cabinets, service life up to 10 years of age. Now, with regard to shortcomings: assembly. assembly gathered Master bed about 4.5 hours, we had to adjust many details. Boxes for things not designed just for children's things. That is of course possible to put napkins, diapers, diapers, etc., but for clothes need additional dresser. Price is obviously overestimated. Changing table, we also did not come as the child's position is too high. And narrowish bed, child nowhere to roam. If you choose, of course, the appearance and quality of the materials, then yes, it is an ideal option. But alas, many shortcomings, at least for us.
3. Crib convertible Vedruss Rice (with a chest of drawers)
Cot transformer recommended for Raisatoddlers from birth to 12 years. Bed-transformer with a chest of drawers for changing easily converted into a separate teen bed and nightstand. In principle, a good option for practical parents. For it fits standard mattress 120x60 cm size. Included are two large drawers for clothes. Safe for children, as it has no sharp edges. Wood treated with non-toxic varnish beds, which also speaks of marginal product safety.
Vedruss model average price Raisa - 4800 rubles (2012)
Reviews parents:
Irina: Bought this bed is not so much because of the convenience,but because of the functionality. The apartment was we had a little and buy a separate bed, wardrobe, dresser and changing table is inappropriate, because it simply would not fit. So when we saw a bed in the shop immediately decided to buy it. As for the advantages, it must be said, which saves a lot of space, it's true. Many boxes, room for baby stuff is more than enough, on its own bed is a very interesting and nice. Of the minuses - not raised bed, ie, there is no provision for very young baby, so my mother would have to bend over so many times to put her baby. Also, the bed did not survive our first move. Collate - was dismantled and a new house to collect it has not turned out, all it came loose, shake. My husband had all the new twist, bind, glue. Boxes all broken. So instead of the five years, the bed we had served only two.

Anna: The thing is, of course, a very good, practical,multifunctional. Great saves, which is very important in small apartments. There is only one thing: when the baby grows up, as soon learn to get up on its feet, whisk all that is on the dresser. So a warning to young parents that only safe things there were, the best toys.
4. Cot transformer "Juliana"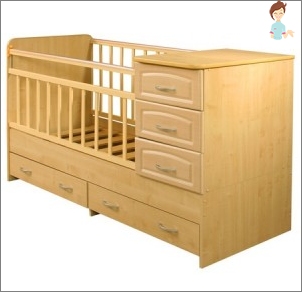 Bed-transformer "Juliana" combinesbed, chest of drawers and a teenage bed for older children. When your child gets older, the model can be easily modified and converted into a standard normal teenage bed. At the bottom of the bed, there are two fairly large drawers for clothes and three drawer chest directly allow you to place a variety of creams, powder, diapers, diapers, etc. This model has a removable crossbar and two bed-level height that will allow you to change at will the height position of the baby. The bed is equipped with a pendulum swinging cross that will greatly facilitate the process of motion sickness remains.
The average price of "Juliana" model - 6900 rubles (2012)
Reviews parents:
OlesyaVery long searched for a bed-transformerher baby and now finally got it so. In general, the assembly of the cot my husband took about two hours and that is because we do not look right in the user manual. Pros of it is that wide drawers at the bottom, side drawers are very roomy. Opens the box easily and quietly, which is important for us. The main drawback of the bed that she unregulated bottom. Had to buy a thick mattress in it, the child is not lying too low. In general, buying happy.

Sergei: We in the bed of the holes do not match,so somewhere uneven, tormented with drawers, again due to the uneven markings. Straps front and rear painted with paint that superficially make the model cheaper. The inner walls of the boxes did all colors, not like buying beech color. Here it is our domestic "auto industry"!

Mila: Yesterday bought and assembled the crib. Our color - "Maple", we liked. And in general, collected bed looks very nice. Collected quickly, questions have to assemble practically emerged. As a result, it looks good, we'll see how to show themselves in the operation.
5. Cot transformer "Almaz-Furniture" CT-2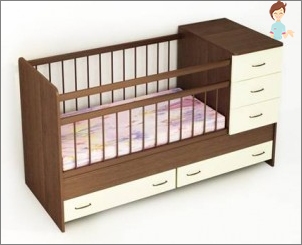 Cot transformer CT-2 mayused from birth and up to 7 years. Particularly useful such a bed in a small room. It literally grows with your baby, transforming and changing their sizes.
In the crib-transformer smoothed all the corners,that can only be accessed by a curious crumbs. It has a removable capacious chest. In the adult position dresser removed and placed on the floor next to the bed.
Average price model "Almaz-Furniture" CT-2 - 5 750 rubles (2012)
Reviews parents:
Karina: Cot is very strong, with borders, is regulateddepending on the age and ability of the child. Excellent chest of drawers, the upper part of the use as a changing table, in the top drawer store ointments, powders, etc. All things baby and bedding are in one place, do not need to be worn around the apartment and where to recollect this time put diapers or socks. Very convenient and practical.

Elena: There are no words - some solid admiration. It is true we have a small incident took place when the crib we delivered and assembled, the eldest daughter, who is now three years old looked at the bed, lay down and proudly said: "Thank you." Here, we have decided that the cot for her to be bought, and youngest daughter anything else will pick up.
What kind of crib bought or intend to buy you? Advise readers lady-magazine.com!