Woman and Career: What mistakes should be avoided on the road to success
The most pernicious errors in woman's career. Learn from what you need to get rid of on the way to success. The typical female mistakes in his career - a reason to work on themselves and a different attitude to their work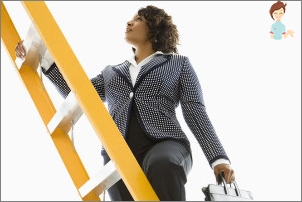 In a career of strong and weak sex has its owncertain differences, which are known, and the townsfolk, and professionals - from motivation to work and ending with the methods of promotion on the career ladder.
For career women, because of its natureemotional and other female factors that may have an impact and incidents within the company, and world events, and even family circumstances. So often, instead of a dizzying rise in the career of a woman forced to watch the same step at which it is vain to expect and increase job satisfaction. What is the reason? Which mistakes become a barrier to women on the path to success?
Inactivity and lack of initiative

Passivity in the work and life, the lack ofactivity and persistently interfere in the work of many. One principle waits authorities finally notice her abilities, talent and a fantastic ability to work, appreciate it, and instead of the career ladder will offer high-speed elevator to success. Another just shy of state management, its contribution to the company is estimated too low. In fact, the authorities of the veil of the problems you may simply not be overlooked. Or consider that you are cozy and the place that you occupy. Therefore, we must understand that success is only in your hands.

Too low self-esteem

This issue has long been noted by psychologists asthe most common. Women, unlike men, often underestimate their own in the eyes of their talents, experience, qualifications, and so on. Simply put, we are confident and shy, even when there is good reason for career growth. This "samoprinizhenie" becomes a very high barrier to move up and wage increases.

Fanaticism in bringing all things to perfection

50 percent of women make this mistake. Any task they tend to perform so flawlessly that no detail is left out attention. Unfortunately, in most cases, this tactic does not play into the hands of a woman. Why? In the quest for the ideal we drown ourselves in the details and forget about the whole situation and wasting time. And not to mention the concept of "ideal" that is at everyone. Therefore, one important task is the ability to stop in time.

emotionality

Excess emotions does not benefit in anysituation - let alone the even more. It is understood that the woman - by nature very emotional creature, and transformed into an iron lady, crossing the threshold of the office, it is very difficult. But it is important to remember that the emotions and career - are incompatible. Emotions do not contribute to the correct solution of business problems, relationships with colleagues and partners, current affairs. Therefore, you should develop the habit - to keep his emotions with his cloak on the peg.

Uncertainty in order

The error that often goes next to the previous one. Rare woman knows exactly what she wants from life. As a rule - "all at once". But the issue of career all at once to get even more complicated than in other spheres of life. We need a clear definition of its priorities. Only to determine their own purposes, you can eliminate most of the mistakes and disappointments, as well as to secure the most intuitive way to success.

Pathological honesty

Nobody says that the authorities need tolie with the three boxes, writing colorful history of your rich experience and so forth. But if you ask, "Do you know how to ...", then the logical answer is "know how" or "learn fast" than pre-sign for your incompetence. The manager must see that you are confident that they are ready to work and ready to grow.

Indecision and fear

Fear - ask for a higher salary and generaltouch on this question in a conversation with his superiors. Keep in mind: the salary - it is not a favor to you your head, it is the payment of your work. And if you have the confidence that you have earned the right to higher wages, then mention it in conversation will not be superfluous. It is desirable, of course, back up their words with their achievements in the company, and do not forget about the correct choice of colors and time.
The path up the career ladder is accompanied by many obstacles, but most of the errors can be eliminated, if we approach the issue of career competently and without emotion.