Do you have to celebrate his birthday at work?
Celebrate your Birthday whether at work? Difficulties with the team or put down? Our advice to those who wish to celebrate a birthday in the office, but at the same time - without disturbing the order and subordination, as well as for those who want to celebrate a birthday at work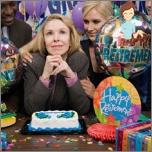 Many companies decided to celebrate birthdayscolleagues. Quite often, the birthday falls on a working day, and we have to meet him surrounded by colleagues. But whether it is necessary to make them a part of their celebrations and to celebrate a birthday in the office? On this question in each team will answer differently.
To organize a holiday or not - what to decide?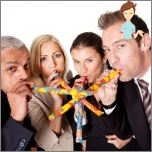 When you decide - to organize the celebration of his birthday in the office or not, must take into account the unwritten rules of the companyIn which the work. There are organizations with strict regulations, which do not welcome any holidays, because they believe that work - this is not the place for fun. In some firms workers so busy during the day, that does not even have a free minute just go to drink tea with a cake. But there are groups that do not just celebrate every birthday, but they can also remind you that you are "squeezed date." Most large companies are trying to congratulate our employees in small batches: born in January, February, etc.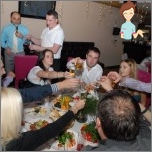 If you work for a long time in his company, to determine how to spend the holidays here adopted, will not be difficult - it simply watch for celebrating a holiday. And here if you got a job recentlyAnd your birthday is around the corner, you need toconduct reconnaissance among colleagues, try them to find out what rules prevail in their team. Whatever it was, noisy feast new employee roll is not necessary - the authorities may decide that you have not earned.
If the team's position and direction is clear for you, the decision is yours. It's still your birthday, and You want to celebrate it or not - it's your own business.
As noted DR with colleagues?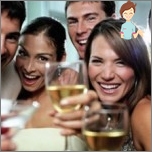 Birthday celebration in the office - it's a great an opportunity to establish relationships with colleagues in an informal setting. And that celebration was a success, we'll give you a few tips:
The best way to plan a holiday in the off-hoursSo you do not run the risk of displeasingauthorities. If you organize small gatherings of tea, they can spend at lunchtime. And if you have plans to arrange a buffet table with alcohol, it is better to hold the event after the end of the working day. Some offices are very strict rules prevail, in such a case a holiday is better to move to the nearest cafe. But if your budget does not allow to pay for everything, this nuance discuss with colleagues in advance;
It is not necessary to organize a holiday surpriseAs your colleagues during the day may be very busy, everything quickly disperse home in the evening, and you will be celebrating alone. Therefore, its plans to warn colleagues in advance;
The standard for buffet menuBread, sliced, sweet and fruit. You can buy sodas and juices. Alcohol bring only if you are sure that the team is appropriate. If a good cook, entertain colleagues own pastries;

To the effects of the holiday it was easier to clean, you need to buy disposable tableware and napkins. Remember that clean office after the celebration - it's completely your concern;

Number of guests depends on the size of your company. If it works up to 10 people, you can invite all, and if more - limit to their department, office, or people with whom you cooperate closely;
The question that concerns many: "Do I have to invite the boss?". Yes. In any case, you must notify the head of the upcoming celebration, to ask his permission. In such a situation does not invite him just ugly. But this is not the fact that he will visit your event, subordination all the same;

Even if your celebration gradually grew into a friendly gatherings, do not start discussing the bosses or start conversations on personal matters. It is not your close friends, just colleagues. Do not forget that everything you said can be used against you. The best topics for conversation are operational issues, funny situations in the office life and general themes (arts, sports, politics, etc.).
I do not want to celebrate the DR with colleagues - both from otmazatsya put down?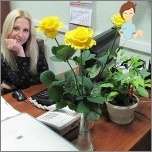 There are quite a number of reasons forWhich a person may not want to celebrate his birthday. For example, you do not like to mix personal and work, or in the company of colleagues feel uncomfortable and want to avoid an unpleasant situation. Whatever it was, but Holiday with the team can be avoided:
Day off for a birthday - this is the best way out of the situation. It's a great opportunity to have a grand holiday with family and friends. If possible, it is better to take two days off - so you can rest after the holiday;
If in your organization no one watches the birthdays of employees, then Try not to focus on your holiday - perhaps no one will remember it;
If all the holidays in your company are monitored, simply In advance, warn colleagues that you do not want to mark my birthday. The standard excuse is: "I do not want to celebrate a day that brings me closer to old age for a year." You can think of something else, or just say that you do not want to celebrate, and that's all;

And you can do, as in School. Buy in advance sweets and fruits, put in the kitchen on the dining table. On the general dispatch, inform your colleagues that they are expecting refreshments. Let everyone wish to celebrate your birthday;

If it is customary in your organization to give birthday gifts, This does not mean that you have to arrange a holiday For the whole team.
Celebrating a birthday, or not - this is a private matter for everyone. First of all, a person does this for himself, so Blindly inheriting other people's traditions is not necessary.
If you liked our article and you have any thoughts about it, share with us. It is very important to know your opinion!