Mask with vitamin A for damaged hair
Very effective and simple vitamin mask for dry hair
What is retinol, or vitamin A? It is a vital fat-soluble vitamin that provides our body with powerful protective functions. In addition to their direct "Responsibilities", The substance plays a decisive role in maintaining female beauty, strengthening the skin, nails and hair.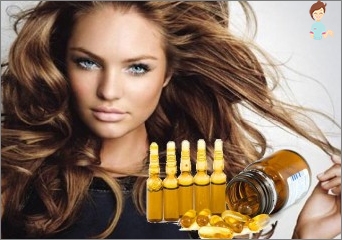 Retinol increases the elasticity and elasticity of hair, deeply nourishes and moisturizes the cortex, fights against the negative influence of free radicals, activates growth and protects against ultraviolet radiation.
He quickly restores even the most dry, brittle, dull and damaged hair.
Today we will tell you how to properly apply it in the treatment of locks with house masks.
How to choose the right product for home use?
A pure solution of vitamin A is traditionally realizedIn pharmacies and pharmaceutical shops. It occurs in several forms: capsules, tablets, injectable and oily solutions. Of course, the tablet preparations are definitely not suitable for your purpose.
If you decide to use retinol inside - thisIt should be done with great care, because the concentration of matter in the body is almost constant, and it is easily replenished with food. Excess of the vitamin, like its deficiency, equally detrimental to the health and appearance.
The best option for your case -Encapsulated vitamins, or a ready-made oil solution in ampoules. If you purchased the capsule - just pierce it with a needle and take the contents into the mask cooking container. For this purpose, capsules "Aevitum", Where retinol is mixed with tocopherol.
Masks with vitamin A will suit you if you are faced with such problems:
Diffuse alopecia of established or unclear genesis (age, hormonal, associated with hypovitaminosis, acquired against the background of diets and starvation);
Hormonal failure (eg, after pregnancy or breastfeeding);
Age changes in the cortex (thinning and prolapse in the background of chronostenia);
Problems with the thyroid gland (in particular, hidden).
Damage to hair against the background of these factors can rarely be successfully adjusted by rationalizing nutrition.
In addition, external application of vitamin concentrate is necessary.
If you pursue the goal of growing a long braid,Vitamin is rubbed directly into the scalp with massage movements. The solution can be used in its pure form, and can be supplemented with various natural stimulants - coffee, essential oil of conifers, pepper tinctures, mustard powder.
But be careful - zealous with restraint, you can burn the skin! Itself is not recommended to apply retinol externally to those with stable seborrhea, dandruff and dermatitis.
The retinol oil solution can be combined withDimexidom, vegetable and essential oils, nutritious products - egg, cottage cheese, sour cream, onion juice, etc. Some women add a few drops of solution to a shampoo and conditioner portion directly during washing.
Do not forget about the main rules of using a hair mask:
Curls should be clean, and preferably moist, so that the scales are opened for
Penetration of valuable elements;
The scalp should be periodically cleaned with coffee or salt scrub;
After applying the composition to the hair, you need to create a head greenhouse effect. To do this, wrap it with a plastic bag or food film, and cover it with a warm cloth;
To wash off a mask it is necessary without application of aggressive shampoos;
Treatment requires an integrated approach and regular execution. Conduct the mask courses with a small interval.
Sour Mask for Damaged Hair
You will need:
Fatty sour cream - 2 tablespoons;
Oily solution of vitamin A (retinol) - 1 ampoule, or 5 capsules;
Extra virgin olive oil - 1 teaspoon;
Honey natural honey - 1 tsp.
Instructions:
Intensively rub the ingredients together until a uniform consistency is obtained;
Pre-wash hair with warm water with a desulfate shampoo. When applying the mask, they must be clean, moist and warm;
Apply the composition, evenly distributing it along the entire length;
Cover the head with a food film in several layers, place a warm towel on top;
Soak for at least 40 minutes, then wash off with a lot of warm water without cleansing agents.
Vitamin mask with onion juice for intensive nutrition
You will need:
Onion juice - 1 tbsp.
The yolk of an egg - 1 pc;
Oily solution of vitamin A - 1 ampoule;
Burdock and castor oil - 1 tsp.
Instructions:
Whip the ingredients together until a homogeneous liquid is obtained;
Pre-peel the scalp (it is recommended to do once in 10 days);
Apply the compound to damp hair. First, rub it into the scalp, and then distribute it along the strands to the tips;
Fix the hair in a food film and wrap it with a towel;
Soak the hour and rinse. To neutralize the smell of onions, you can rinse your hair with water with the addition of vinegar or lemon juice;
This mask is suitable for those whose hair is inReally deplorable condition. It will quickly strengthen, restore and moisturize even the thinned and dried hair. For intensive treatment, it is recommended to apply the mask 30 times at intervals of one day. It takes exactly 2 months for the whole process. After that, do not forget about maintenance therapy. The mask should be applied at least once a week.
Masks with the addition of concentrated vitamins are excellent tools for active hair reconstruction. If your hair is significantly damaged byInfluence of chemical and thermal influences, they literally need such a valuable food. Home-made vitamin preparations are good as prevention. Therefore, they are suitable for relatively healthy hair. When preparing a mask, do not forget about possible contraindications and individual intolerance to the components.
Allergy sufferers should refrain from self-activity altogether, without consulting a doctor. Let your head of hair shine with health and beauty!