Treatment and ingrown hair removal - the best means
How to remove ingrown hairs and deal with its consequences? Learn about the most effective means of best-known cosmetic brands and traditional medicine, allowing to remove ingrown hairs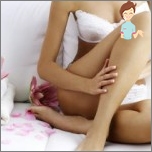 Epilation - Not the most pleasant procedure. And nothing about the consequences of this procedure and can not speak: a burning sensation, redness, discomfort and other "victims", which requires a beauty. Deteriorating business the appearance of ingrown hairs, facing practically every girl takes care of her appearance. How to prevent the occurrence of ingrown hairsAnd what tools exist to remove them?
Methods for treating and removing ingrown hair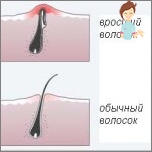 It is understood that the most complete and the individualinformation about the problem of ingrown hairs is easiest to get at the cosmetician, but this problem is so intimate that not every woman wants to talk about it even with a girlfriend, let alone with a stranger. Is it possible to get rid of ingrown hairs yourself at home? Of course you can! But it is worth remembering that much it is easier to prevent their occurrenceThan to waste your precious time and nerves in the fight with them. Among the methods of treatment of ingrown hairs are the following:
Topical antibiotics.
Gels, creams, sprays, scrubs, wipes.
Chemical depilatories.
Home peeling.
Mechanical removal of ingrown hairs.
Medical removal.
Photoepilation.
Bioepilation.
Mechanical removal of ingrown hairs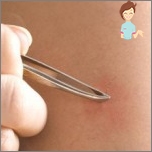 This method is used ingrown hair manicure tweezers or fine needle (With deep ingrown hairs). Naturally, the tools must be pre-disinfected with rubbing alcohol.
skin steam using a shower or wet warm compress to expand since.
With the help of a scrub or a hard sponge remove dead skin layer.
Area ingrown hair handle medical alcohol.
Caution to pick up a needle or tweezers hair and release, then remove.
Edit skin creamThat slows down hair growth and prevents ingrown hairs.
Alternative methods of hair removal as a method of dealing with ingrown hairs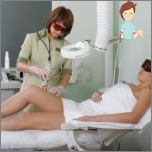 Hair Removal - the procedure by which the refusenot be able to most women. But to apply methods of hair removal, the effects of which - growing hair just does not make sense. If ingrown hairs become a permanent problem, it is worth to reconsider their views on the methods of hair removal and choose another, more suitable option of hair removal. For example…
Photoepilation.
The impact of light on the hair follicle,whereby the hair roots are destroyed, and ingrown hairs are eliminated. On the whole procedure takes about five weeks (delete at one time all the hairs is not possible). The result - a healthy smooth skin for a long time (or even forever). Contraindications: fresh dark tan, pregnancy and lactation, oncology, inflammation of the skin.
Bioepilation.
Hair removal wax with onion. It is preferred to carry out the procedure in the salon, in order to prevent brittle hair and allergic reactions. Result: getting rid of the hair (including ingrown) for three to four weeks.
Laser hair removal.
Reducing the amount of hair and prevent ingrown hairs. The method of laser hair removal It used mostly for dark hair. Secure, fast, effective procedure. Minus: the risk of skin discoloration.
Electrolysis.
Irreversible destruction of the individual hair follicles. Suitable for skin, hair of any color, for all sizes of the skin. Expensive, complex, time-consuming procedure.
The best means of disposal and treatment of ingrown hairs
Neet and Nair.
Chemical depilatories. Loosen the hair structure. It is undesirable to use constantly. In case of irritation should use hydrocortisone ointment.

Tretinoin (Retin-A).
It helps reduce clogging, prevent delay of hair growth in the bulb, reduce the layer of dead cells, the subtleties of the epidermis.
Antibiotics topical.
The fight against secondary infections and bacteria. They are used in complex cases with abscesses and ulcers. Erythromycin, clindamycin, benzoyl peroxide, chlorhexidine. Before use, consult a doctor!
Antibiotics internal use.
Tetracycline, cephalexin. Before use, consult a doctor!
Cream-based eflornithine hydrochloride (13.9%).
Applying it twice a day for a month, it is possible to reduce ingrown hairs.
Kojic acid, azelaic acid (15-20%), hydroquinone (4%), hydroquinone (2%).
Cosmetics combat ingrown hairs: Kalo spray, lotions Tend Skin, Skin Doctors Ingrow Go.
Scrubs (With sea salt, tea tree oil, with the coffee grounds and so forth.).
Folk remedies to combat ingrown hairs
Baked onions.
Baked onion halves attach to the rightsection of skin cut and wrap. After four hours, refresh slice (cut off part of the bow that touches the skin) and wrap again. Change until until after inflammation.
Compress from the bow.
Onion boiled in milk or baked in pastry. Mash and apply as a compress to the sore area of ​​the skin.
Ointment from onions and honey.
Rub the flour (a teaspoon), baked onion and honey. Lubricate the affected areas four times a day.
Onion with grated soap.
Mix (two to one) and apply a compress on the inflamed area.
Aloe.
Crush list into mush, attach to the inflamed area, apply a dressing.
Compress with aloe and oils.
Mix equal proportions of aloe juice, almond and olive oil, a decoction of flaxseed. Wet the cheesecloth in a mixture, make a compress to the sore area of ​​the skin, apply a dressing.
Therapeutic powder.
Grind rose petals, incense and dried leaves of aloe. Sprinkle powder inflamed areas five times a day.
Tools for removal of inflammations after hair removal with ingrown hairs
Antibiotic ointments.
Tannin, infusion of oak bark.
Medications containing cortisone.
Lotion from glycerol and aspirin (Forthcoming own - three pills on a small amount of glycerol).
Alcohol tincture of calendula.
Chlorhexidine.
Furatsilin (solution).
Antibacterial lotions.
Miramistin.
Important recommendations for the removal of ingrown hairs
To slow the growth of hair and to protect themselves from the problem of ingrown hairs, use special funds. They can be purchased at the pharmacy. The structure of funds include special components that provide the desired effect on the cells of hair follicles. Usually it is - sprays and lotions, having the inscription "to slow the growth of hair."

The inflamed follicles strongly it is not recommended to open. When entering in the wound infection consequences can be much more serious, until the skin disease. Not to mention the scars, get rid of that then it will be almost impossible.
Use scrub to remove ingrown hairs only in the absence of inflammation on the skin.
Using a razor, do not skimp on the blades. Dull blade - a direct path to inflammation.
Prior to epilation, use creams or gelsThat contain aloe vera, D-panthenol, allantoin and bisabolol. They warn irritation and help to slow down hair growth.
After the procedure, hair removal necessarily Use moisturizersComprising components for retarding hair growth.
Website Lady-magazine.com warns, treatment and removal of ingrown hairs, especially in the presence of pustules and inflammation, to perform better in the office of a professional beautician or dermatologist. Before using drugs should consult with a doctor!