Every woman simply has to give time to her hands, and with our advice to make the handles well-groomed and attractive easily
A woman's untrained hand gives the age of a woman andCreates about her not the best impression. Hand care is as much an integral procedure as facial treatment. Every woman simply has to give time to her hands, and with our advice to make the handles well-groomed and attractive easily and simply.
To hands were beautiful, and attracted attentionHis well-being is worth following the following simple rules: Hand care should, first of all, start with protection. Do homework, especially in the garden and with chemicals only in rubber gloves.
If you want to not only do homework,But also to look after hands before putting on gloves put on a brush a thick layer of a nutritious cream - the skin will absorb a cream during cleaning or washing and becomes more soft and gentle.
Caring for hands in winter requires more careful attention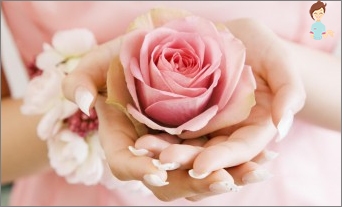 In the cold season, always wear glovesOr mittens and do not forget to apply the nourishing cream as often as possible. In summer, you need to apply moisturizing cream on your hands. In the old days, our grandmothers wiped lemon juice in the summer and wetted them with fresh milk in the winter.
Wash your hands only with warm water - cold water dries the skin, and hot water makes it red. Hands should be washed only with mild soap. After washing, always apply moisturizer.
Now hand care products allow you to check out
hands Leather, Like the skin of the face and the body needs a regularExfoliation and additional nutrition. Once a week, it is worth making baths for hands of warm vegetable oil, potatoes broth, with sea salt and iodine. Such baths help soften the skin of the hands and prepare it for peeling.
After a bath it is necessary to make a peeling of a skin of hands which can be combined with massage of brushes. For
A lot of scrubs are produced in the hands, but you can make a home scrub from ground coffee or sugar.
Exfoliate your hands with scrub for fiveMinutes, trying especially carefully to clean the outer side of the palm and knuckles. After peeling, the dead cells are removed and the skin is optimally prepared for applying the mask.
Masks for the skin of the hands - this is a great waySoothe the skin, make it even softer and more tender. You can use a ready mask, or you can make a mask yourself, boiling oatmeal and immersing your hands in a warm porridge.
To prepare masks for the skin of the hands, you canUse yolks and honey, sour cream and cottage cheese, vegetable and fruit purees, yogurt and vegetable oils. To make an excellent mask for the skin of hands can be from warm mashed potatoes, which remained after dinner, simply applying a thick layer of mashed potatoes on the skin and leaving it for 15 minutes.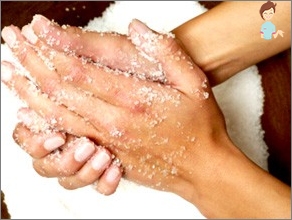 If the hands from work are much darker, then youWill help wipe the skin with half a lemon, and if the skin has become very rough or weather-beaten in winter, then it is necessary to warm up the olive oil, lubricate them with brushes and put on cotton gloves, which need to be removed only in the morning.
The skin will become unusually soft and tender.
Correct hand care is the guarantee of a healthy and beautiful hand skin. A well-groomed woman's hand is not only a healthy and beautiful skin of brushes, but also well-groomed nails.
Therefore, a manicure should be done at least once in 10 days, and it is necessary to cover the nails with varnish as soon as the old varnish loses its luster.