To always nails were beautiful, healthy should be a lot of effort. It is important to nourish the nails from the inside, using vitamins and outside using a mask for nail growth
To always nails were beautiful,strong and healthy - should make a lot of effort. If you are supporter of natural products and care products, and want to make your nails look great without interference, do not accept the building and cover the gel - note baths and masks polish- Namely, the fortress, and for their rapid growth.
Some of us even got recipes from grandmothers, but there are those that are used in today's beauty salons and health centers.
Where to begin
To start with, what are theour nails. This keratinized skin fingertips, designed to protect them from unpleasant external influences. For primitive people, they were a means of survival, but now they have become an ornament and an indicator of well-groomed and healthy lifestyle.
So what now hinders our nails grow strong and beautiful?
Firstly, it is stress: active social and public life often leads to depression, hassle at work, feelings of relatives and close friends;
Secondly, the lack of the necessary vitamins and minerals: spinning in the bustling pace of life, we do not always pay enough attention to our diet, which adversely affects the marigolds;
Third - household chemicals: often in the detergent includes components that provide the surface of the nail plate and the skin of the hands the harmful effects, leading them to dryness, allergic reactions and flaking.
That's why it is very important to feed and nourish ourMarigolds are not only from the inside, taking vitamin and mineral complexes and eating wholesome food, but also outside, making a mask for the growth of nails and vitamin baths.
Getting to the action
Very useful mask for nails for rapid growth on the basis of the marine food or salt, iodine, lemon, all kinds of vegetable and essential oils.
Mask of olive oil
Take a couple of tablespoons of olive oil,add to it a few drops of lemon juice and the same amount of iodine drops. The oil should be slightly warm on a steam bath, all components are thoroughly mixed together and applied with a brush on the nail plate. To sustain 5-10 minutes, rinse with warm water without soap. This mask is great strengthens nailsIt stimulates rapid growth.
lemon mask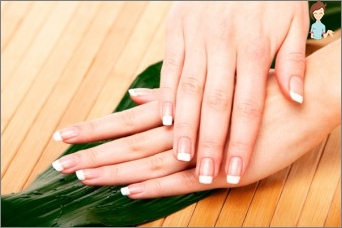 From whole lemon I cut two slices, not lessone centimeter thick. Dip the nail plate in the flesh and hold for five minutes, then wipe with a damp cloth. At the end of the procedure to grease hands with a nutritious cream.
Daily mask
For its preparation should be to take one teaspoon of glycerin, a few teaspoons of lemon juice and three tablespoons of rose water.
---
All components mix and apply on your nails every day, do not rinse. After a few weeks of marigolds will light and strong, yellowing leaves and dark spots.
Mask with pepper polish
To start steam out nails in a warm bath with sea salt. For the mask will need: ground red pepper - half a teaspoon of mineral water - half a teaspoon of low-fat and hand cream.
All components mix and heat in a waterbath for ten minutes, it is necessary for them to better interact with each other. After the mixture has cooled, apply it on a good layer of the nail plate and give soak for 25 minutes, then wash off with warm water.
Mask with pepper polish significantly accelerate the growth of nails, making them stronger, but be careful - it should be done no more than once a month.
Excellent mask based on wax
Melt wax on a steam bath until the liquidstate. Dip the tips of his fingers in a lot of fast and move your fingers in a bowl of cold water for instant pour wax. On the fingertips will be a kind of caps.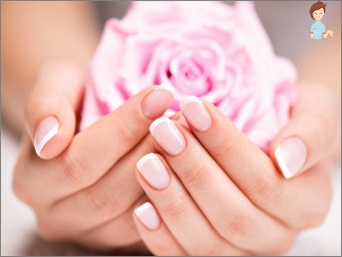 This mask for nails done before going to bed,therefore, pre-wearing cotton gloves special, go to sleep. On the morning of the caps can be easily removed. If you use it for six weeks, twice a week, your nails will become stronger and more resilient for a long time.
The mask on the basis of salt
From half a lemon squeeze juice into a container,add to it a good pinch of salt and stir thoroughly. Nails dipped into the mixture and held for about 20 minutes. Excellent tool for rapid growth.
Mask based on blackcurrant
Take a few handfuls of black currant,mash it into a homogeneous slurry, add flour a spoon and a little cream. The resulting mixture is applied with a brush on the nails and leave for two hours. Then my hands and we put hand cream.
The result will not wait long after the pair of procedures you will see the result in a rapid growth of healthy and strong nails.
Nutritional product based on herbal infusion
Take a teaspoon of mint and chamomile flowers, herbs brew boiling water in a glass and leave for two hours.
Next, the cooled infusion filter and addto him one-half teaspoon of flour and half a teaspoon of peach butter, all mixed to form a homogeneous slurry. The resulting mixture is applied to the nail plate for 30-40 minutes, then wash off with warm water and lubricate hand cream.
practical tips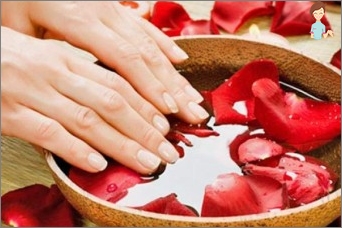 Before applying the mask to quickly polishgrowth nails should first clean the coating and to steam in brine, this contributes to easy absorption of nutrients and minerals;
Always choose the method that is most convenient and affordable for you, and if you alternate between a few of these methods, the effect is simply stunning;
Try to perform domestic work gloves, thus preventing the nails from breakage and separation;
Try to wash restorative compositions not hot water, and warm, it will prevent the skin from peeling of hands, the soap in this case it is not necessary to use.
Watch your nails, pamper their nutritional and vitamin funds outside the goodies inside, and they will thank you with its beauty!