How to quickly grow nails
How to quickly grow nails, using simple, affordable and effective methods - you can learn in our article
On the eve of the holidays, women are often askedA question - how quickly to grow nails? A neat and beautiful manicure emphasizes the elegance, refinement and chic of the fair sex. The causes of brittle nails are many: many chemicals are used, women are often carried away by diets, new-fashioned cosmetic procedures, doing homework without gloves and protective equipment.
All this leads to the fact that the nails becomeDull, brittle, spots and cracks appear on them. They are deformed and puffed, and a poor quality manicure can even "give" a woman a fungus of the nail plate.
In order to nails were strong, long andHealthy they must constantly experience care and concern for themselves. To do this, you need to do baths for hands, massage, apply a nourishing cream, feed the nail plate.
To quickly grow your nails, use our tips
Baths:
Make a bath for your fingers. You will need: 1 tbsp. L. Lemon juice and 5-6 drops of iodine. In this solution, the fingers should be lowered for 10-15 minutes. This procedure should be done daily for a month. In addition, during this period, you need to lubricate the nail plate with iodine for the night. First the nails will be yellow, but by the morning this effect will disappear;
It helps to grow long nailsFrom salt and iodine. A tablespoon of salt without a slide to dissolve in 200 ml of water and also add 5-6 drops of iodine. At night, you need to lubricate your fingers with cream. Carry out such procedures within 2 weeks;
Sea salt is more concentrated, so for a bath with one tablespoon of sea salt should take 500 ml of water and iodine. You can use this method for two weeks.
Growth stimulants
Rapidly growing nails will also help ready-made cosmetics from pharmacies or shops, or cuticle massages with the addition of vitamins A and E.
Take any ready-made hand cream and add the contents of one capsule of vitamin A and E. Carefully apply the cream on the skin of the hands and cuticle with light massage movements.
Healing herbs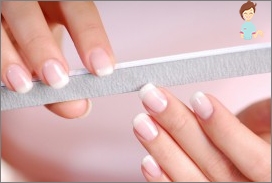 A nutritious decoction of medicinal herbs will also help to quickly grow long nails.
For one glass of boiling water, take 2 tablespoons of a mixture of dried camomile herbs, St. John's wort and burdock root.
Constant decoction and strain the fingers into it for 15-20 minutes.
Repeat the herbal baths 2-3 times a week for two months.
Massage
To grow your nails for a week add toThe aforementioned procedures massage based on olive or almond oil with the addition of essential oils. You will need 1 tbsp. A spoon of base oil and 2-3 drops of essential oil.
When brittle nails recommend eucalyptus, sandalwood, patchouli, bergamot, tea tree. If the nail plate is broken - it will come in handy lemon, rosemary, myrrh.
Quality manicure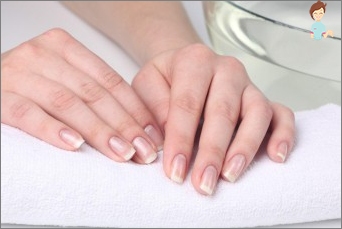 To avoid getting a fungus and getA qualitative service it is necessary to remember that only a competent manicure made by a professional and accurate master will allow you to grow long nails, and also to preserve their beauty and health.
In the salon you can also take advantage of services such as hand masks and paraffin therapy. These procedures have a nutritional and rejuvenating effect.
vitamins
Take specific vitamins withPurposeful action. This mainly applies to complexes containing vitamins A and E. These components improve the condition not only of nails, but of hair and skin.
This is especially important in the autumn-spring period. You can also use biologically active additives, but you must be sure of their safety and effectiveness.
Food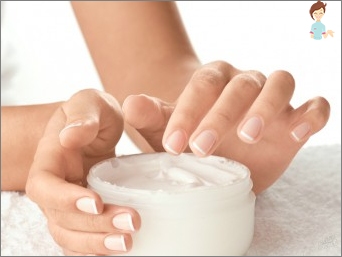 Vitamins coming into the body from naturalFood, digested much better. To grow long nails add to your diet liver, greens, dairy products, butter, fresh fruits and vegetables, cheese and eggs.
Often eat jelly and jellied. Since iodine and vitamin D play an important role in the formation of the osseous system, include in your food seafood, broccoli, nuts and figs. A full meal will allow you Strengthen the nail Plate naturally.
Stimulating growth
The more intensive the circulatory system, theFaster to update and grow cells. Playing the piano, charging for hands and fingers, even a simple "drum roll" with fingers on the table will stimulate blood flow and improve nutrition and tissue growth.
As you can see, the ways to grow nails quickly,Stated in our article, are simple and accessible. Have patience, do not be lazy, and then, at the behest of your gentle, elegant hands with healthy and strong nails, men will fulfill all desires.