Have tried all the shampoos that add volume, remade all the styling, to add splendor to your hair, and the result is still not there? Try the hair extension method
An accustomed hair is a procedure suitableWomen who do not like to wait. Unfortunately, nature does not reward all with perfect hair, and many girls take care of their hair for hours, spend a fortune on masks, serums, oils, false strands, lamination and other methods without obtaining the desired effect. Before you the way to change!
The essence of technology is to attach to the rootsNatural hair sites at a distance of 0.5-0.7 cm artificial. As a result, you get the right length and volume, a beautiful hairstyle and a well-groomed look.
Methods of building
There are many types of adding curls:
Hot build - occurs with the participation of keratin capsules andElectrical apparatus. Keratin, as an organic substance found in human hair, is a natural fixer and does not cause harm. This method requires about 120 strands, they are successfully glued and worn for a long time. Attached hair can be dried, curled, straightened or stained;
Cold. Glue and fixer work. According to Spanish technology is carried out, suitable for light girls more, since the glue has a white tint. The attachment point is almost imperceptible to the touch, combs well, does not fall out, lasts up to 6 months, when correcting the hair extensions - longer;
Ribbon - is that the silicone ribbonsFastened to the client's head. Usually it is a wide tape with a double-sided tape that tightly presses against the head and is thus fixed. It can be used many times, regularly changing the adhesive tape. A special liquid is needed to remove the tape;
Ultrasound. This is a novelty in the field of building up. Here, too, keratin capsules are used, but they are acted upon by ultrasound energy. Under the action of thermal energy keratin melts and sticks together strands. From the side, this kind of buildup looks very natural;
Metal rings. A specialist, using a hook, passes a part of the client's hair into the miniature ring and adds it and fixes it. This build-up involves the least traumatic actions.
The choice of one of these methods depends on the generalCondition of the hair of a woman, their weakness, density, health of the scalp. Certainly, all materials for these technologies should be high-quality, strands - natural, and fit the structure and color.
Tapes for fastening should have a soft,Elastic surface, otherwise they will give you discomfort. Their length should be uniform, without emerging short hairs, which will help to avoid frequent entanglement. Excellent quality, donor locks are easily combed, easily curled, they do not have to melt when exposed to ironing.
Care for hair extensions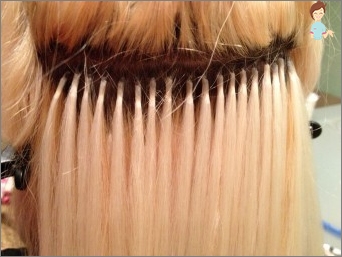 That the hairdress looked naturally, aesthetically and beautifully it is necessary to care for the accrued hair, as well as for natural strands. Donor strands need moisturizing, like any long hair.
For care, use a shampoo for the hair, preferably moisturizing, but note that it does not contain oils.
It is better if in the composition you will find a dairy protein that revitalizes and cares for both natural hairs and donor ones, giving them a healthy appearance.
Acidity of the shampoo should be neutral, without excess flavors and impurities.
After each wash, use the balm inLarge quantities. Dry naturally, and if you are going to the sauna - grab a cap, of course, so as not to overheat the hair. When you go to sleep, braid the hair in a braid, after combing it.
Inevitably, the roots will grow, and they need to beWill stain. If you build on the Italian hot technology - no problems arise, in the case of tape build-up, dye hair is recommended at the time of correction.
For combing, choose combs with sparse andWith long teeth. Start the process from the tips, gradually rising higher and higher. Carefully comb the roots. Stack the cautions carefully, without grasping the attachment points.
If donor strands of good quality - they are treated as natural. Too solemn hairstyles are best entrusted to professionals who know how to handle your new assistants.
If these uncomplicated recommendations are observed, the condition of the hair does not deteriorate. Strands can last a long time if they are corrected in time.
How to make correction of hair extensions?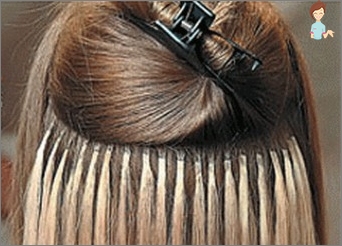 For its implementation it is necessary to pass alsoProcedure for removing hair extensions, which is one of the stages of correction. On the example of capsular additions I will tell you how the removal with the help of forceps and special liquid is realized.
This liquid should cover the capsules on the head, then, under the action of the forceps, dissolves them, and the artificial parts are easily removed. As natural hair Constantly grow and fall out, there is a possibility of tangling artificial strands.
Therefore, after removing the capsules, they are combedComb with small denticles, which allows you to comb out all that is not needed. Old capsules are cut off and replaced with new ones. You can not reuse old ones. Re-encapsulation occurs with the use of a new keratin and a device for building. Capsule alloys are heated and a new strand is formed.
It is possible that the corrected hairs will be shorter and you will need other additional strands. In the process of these manipulations, the part can be lost or becomes shorter than a centimeter by three.
Correction should be performed after 2-3 monthsAfter building to have a well-kept natural look. The total time taken to upgrade is about 2.5 hours. Too often to use this procedure is also not worth it. You can repeat it up to 10 times.
The procedure for adding donor strands is availableAnd an effective method that allows you to give your hair a chic look. Spent forces on this time-consuming process pay off after the enthusiastic views of the fans and your confidence. After all, your hair is now long, thick and attractive!