Properly make up the diet of the child up to a year
For all-round development they need to eat healthy children, and the importance of food quality and frequency of its administration. Learn how to be a mode of a baby up to a year
Your baby turned six months old, and you heard,That at this age you need to introduce complementary foods, but do not know what should be the diet and diet for a child of 6 months? For the development of your baby it is important to properly form a diet, and its diet is also important.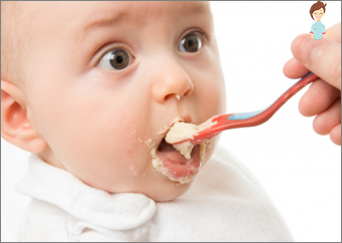 The maximally balanced diet will allow the growing body to develop correctly and harmoniously.
We compose a nutrition plan in 6 months
From the age of six months, one has to startSwitch to complementary foods, if there is no medical contraindication for this. At this stage of the development of the child's body the digestive system of the baby has strengthened, so it can already absorb not only the mother's milk, but also more solid and thick food.
At this age, children have dairyTeeth, so solid food will help them learn how to chew it properly. Nevertheless, despite this readiness of the digestive system, the main meal of a six-month-old baby, like a 5-month-old baby, remains breast milk. For weight gain the baby needs a balanced diet consisting of vitamins, minerals and other nutrients.
Correct formulation of diet for the setWeight is of paramount importance, because with malnutrition, the body weight begins to decrease rapidly. Certainly, it is better that in the diet of a five-month-old baby there should be only mother's milk, because it helps to form a strong child's body.
If before you did not overfeed yourBaby, then start luring with fruit juices and mashed potatoes. To start to enter them it is necessary from small portions, first having given the child a floor of a teaspoon, and next day it is already necessary to increase quantity of a product in half.
Children who are breastfeeding, the diet should be designed so that before going to bed, they received mom's milk, as before.
The main rule that parents should know,Says: the correct diet assumes that the infant should eat food 5 times a day every four hours. Following him, the baby needs to be fed at 6, 10, 14, 18, 22 hours.
If you do not know what to feed him, and what exactly should be the diet regime for a child of five months, use this table:
| | |
| --- | --- |
| Time | Mode |
| 6.00 | 1 feeding (200g mixture) |
| 6.00-8.00 | Wakefulness |
| 8.00-10.00 | sleep |
| 10.00 | 2 feeding (150g 8-10 percent porridge, 12 yolks, 30g fruit juice) |
| 10.00-12.00 | Wakefulness |
| 12.00-14.00 | sleep |
| 14.00 | 3 feeding (20 g of vegetable broth, 150 g of vegetable puree, 20 g of meat puree, 30 g of juice) |
| 14.00-16.00 | Wakefulness |
| 16.00-18.00 | sleep |
| 18.00 | 4 feeding (150 g of kefir, 20 g of cottage cheese, 60 g of fruit puree) |
| 18.00-20.00 | Wakefulness |
| 20.00-6.00 | sleep |
| 22.00 | 5 feeding (200g mixture) |
To not harm your child duringComplementary foods, new products must be introduced gradually, waiting between them for an interval of 10 days. If your baby is eating properly, has no health problems, then in the sixth month he should recover by 600 g and grow by 2 cm.
How many times to feed in 7 months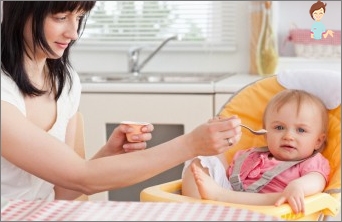 The baby's diet for 7 months remains the same as before, but the menu changes significantly. Your baby can already eat meat and fish puree, cheese, biscuits, cookies.
Do not rush to introduce a new product into the baby's diet,First pay attention to his health, weight gain, propensity to regurgitation, bloating and the manifestation of allergic reactions. If the child is allergic, its diet should consist of the most dietary products.
Mode and diet can not be made according to a single table, it is important to take into account the individual characteristics of the child's body. For 7 months of life, a healthy baby adds 550 g to weight, 2 cm to height.
When it was 8 months old
At the child of 8 months a diet consists of 5Feeding at intervals of four hours, as it was before. If your milk is not produced in the same quantity as before, do not worry, because at this age children can already eat more dense food. With good lactation, it is advisable not to deprive the crumb of morning and evening breast-feeding.
If earlier you started to give a seven-month-old crumbsMeat, now its amount can be slightly increased, because this product is a rich source of amino acids, protein, fat, vitamins, necessary for the full development of the child's body. Add meat to cereals and vegetable puree.
During this period, there are fewer differences in nutrition in 8-month-old children who are breastfed and fed. For this month, the kid should gain 500 g and grow 2 cm.
Feeding frequency of the baby 9-12 months
The diet of a 9-month-old baby consists of4 meals a day. Until a year, still in the baby's diet should remain breast milk, but now this is not the main food of the baby. Children are useful at this age, low-fat oceanic or river fish.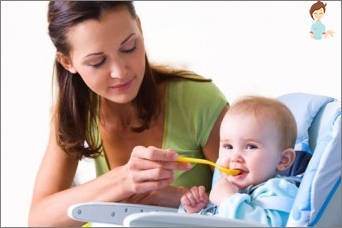 Do not deprive your crumb of morning and evening breastfeeding, because he still needs it. By the end of 9 months, the baby should recover by 450 g and grow by 1, 5 cm.
Not always the diet of a child per yearMeans breastfeeding, now your baby will be able to do without breast. Number of times eating food remains the same, you can only increase the dose if your child does not eat.
In a year, lunch and dinner should be sufficiently satisfying, especially feed the baby in the evening, because at night he can not refresh himself with mother's milk.
If you have appeared in the process of entering the productsQuestions - ask your experienced mothers for help or ask your local pediatrician for help. Correctly make up the diet and diet of the baby, and it will grow comprehensively developed and healthy!