Nutrition after birth: we eat to good use - to grow healthy
Meals after childbirth is aimed at restoring the body, maintaining breastfeeding and the child's development. It must be complete and without food, causing gastrointestinal problems
Proper nutrition after childbirth lays the foundation for the recovery of the body, protects against depression, chronic fatigue and helps in later to lose weight.
Problems of the first year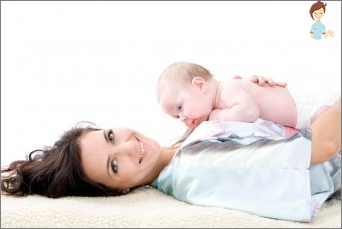 All women know that weight is gained during the first year of breastfeeding due to the fact that:
A young mother does not get enough sleep and sticks to sleepy sweetness;
Caring for the child takes all the time: it's easier to make a sandwich than to cook buckwheat or cutlets for a couple;
Eating is possible only during a child's sleep, for example, late at night, and these calories are inevitably stored as fat.
Therefore, the transition to proper nutrition becomes possible only in the presence of assistants who will provide the woman with food during the first two months of continuous caring for the newborn.
Features of the menu for lactating women
Norms of nutrition for a nursing mother immediately after childbirth are associated with increased milk production. You need to consume 500 calories more to preserve breastfeeding.
There is a minimum number of portions of protein, carbohydrates and fats, with which you can bring the figure in order and provide enough milk:
Seven servings of protein food per day for a nursing mother: 30 grams of low-fat meat or fish, egg, half a glass of beans, beans, chickpeas or lentils;
Three servings of dairy products: 150 ml of milk or unsweetened yogurt, 100 grams of cottage cheese, 30 grams of cheese;
Four servings of cereals for 130 grams, 1 sliceWhole grain bread, 100 grams of pasta or half a pita - the total number of portions of carbohydrates should not be more than eight, and only one of them can be sweet or sweet in the form of a cracker or bagel;
Vegetables and fruits with vitamin C: 150 ml of juice of orange, grapefruit, tomato, one fresh orange, kiwi or two mandarin, two tomatoes or 150 cabbages;
Sources of vitamin A: carrots, a salad of Chinese cabbage, 100 g of potato or pumpkin puree.
Other vegetables and fruits, which include apples, bananas, pears, corn, peas, onions, carrots, beets - any three options to choose from;
Unsaturated and saturated fats: a tablespoon of butter and one teaspoon of butter in porridge.
What is impossible after delivery?
In the first days after giving birth,Maternity hospital, preparing dietary dishes: mucous porridges, light soups and borsch. Some women are allowed only broths, compotes from dried fruit, oat broth, if it is necessary to restore the body after a difficult birth or a cesarean section.
In the rest it must be remembered that childbirth isA natural process, and feeding a child is not a disease. The family history of allergies, which can be found in fish, milk, nuts, certain fruits, can also respond to the fact that you can be allowed to eat after the birth. Of course, products prohibited by the mother should be avoided.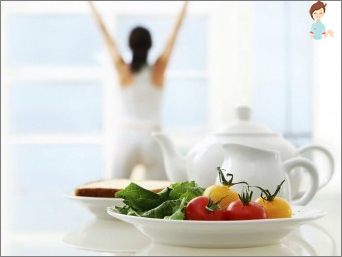 Modern moms eat more difficult becauseFood bought in stores contains many chemical additives that are not absorbed by the body and enter the breast milk. Therefore, you should avoid baking, multicomponent dishes (salads with mayonnaise, lasagna, pizza), ice cream, caffeine and carbonated beverages, sugar and white flour, cheese, desserts and yoghurts with sugar, canned goods, ketchups and sauces - everything that is sold In packages, processed and not part of a healthy diet.
Products that are difficult to digest are alsoAre excluded for the first two months: fried potatoes, fat pork and beef, fried dishes, mushrooms. The use of these products is associated with bloating, constipation, depression, insomnia, irritability. Because of them increases the risk of colic in a child, the development of thrush.
Safety of vegetables and fruits
Vegetables and fruits are healthy carbohydrates, whichProvide energy right after delivery and in the feeding of a nursing mother, give the body vitamins and minerals that are needed by a woman and a child. They also contain fiber to prevent constipation, especially after cesarean And administering painkillers.
Approximately 500 grams of cooked vegetables and 300 gramsGrams of fruit per day - the norm for women after childbirth. When choosing a plant food, you need to remember about the pesticides used in growing. The top ten most polluted plant foods include imported apples, celery, strawberries, peaches, spinach, imported nectarines and grapes, imported peppers and potatoes.
The least is pesticides in onions,Squash, melons, corn, asparagus, green peas, melons. Allergic reactions that occur in a child when consuming fruits are related precisely to the chemicals that farmers used. In the early days, it is necessary to avoid all fruits, except apples and pears, and then introduce them gradually, checking the reaction of the child.
How to say "no" to your favorite food?
Sweets and caffeine deceive young peopleMothers, give temporary cheerfulness, after which fatigue rolls with a new force. To avoid mood swings and postpartum depression, you should follow the principles of proper nutrition.
After birth, you need to clean the diet of harmful products or at least minimize them, as well as establish a convenient mode of eating:
Start the day with one cup of coffee, but say "no"Second, third, fourth;
Instead of chocolate and biscuits, choose whole grains "Hrustiki"Or solid grades of cheese;
Repeat after the baby - to eat after the birth generically, how to divide the meal into 5-6 portions to keep the energy level at altitude, and the sugar level stable;
Snack foods high in protein and complex carbohydrates: eggs, vegetables, low-fat cheese, dried fruits;
Drink plenty of water, because the fluid is lost both during childbirth and during milk production: the norm can range from 8 to 10 glasses per day.
By observing these rules, you will retain the attractiveness of your figure and the health of the body. Health to you and your baby!