We choose a means for washing children's things
What powder is suitable for washing children's clothes? What should I look for when choosing a powder for children? How to choose a safe means for washing baby clothes?
Children are flowers of life. And the first duty of every parent who loves his child, to surround them with care and provide quality care. Speaking about leaving, I mean not only a balanced diet, compliance with the regime, but also the rules of hygiene. As they say: "Cleanliness is the guarantee of health". And to see your baby happy and healthy, is this not what parents dream about?
Hygiene is the guarantee of health!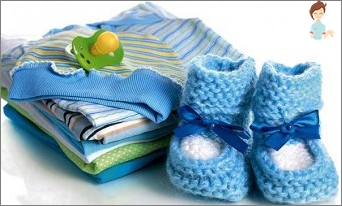 Hygiene, namely the purity of things, at all timesPaid increased attention. In the days of our grandmothers and mothers, this procedure was a kind of ritual that took away an impressive amount of time and effort.
They were deprived of such delights as diapers andAutomatic washing machine. Everything had to be done manually. And the women of that near past did not have a question, the better to erase the things of the newborn? They washed what was near at hand, but the choice was not great: children's and household soap.
The process itself resembled rather some kind of magicalRitual. Soap was rubbed on a grater and dissolved in water. The baby's things were soaked in this solution, then they were boiled, several times rinsed and wrung out.
Looking as it was, our now with you realityDo not look so frightening. To our common happiness, automatic washing machines are equipped with a delicate washing mode, which completely replaces hand washing. And about the soap, rubbed on a grater, we hear only from our grandmothers, when they indulge in memories of their youth.
Progress, which as we know on the spot is not worth it, has done everything possible so that we can save our time, energy and nerves. But this is how a person works: the solution of some questions generates others.
And modern moms and dads, now having a lot of free time, decided to occupy themselves with such questions as:
What means to choose a newborn for washing clothes?
What should I look for when choosing a powder for washing children's clothes?
And can not bother and use the old fashioned soap?
Let's understand!
Powder or soap?
There is an opinion that if soap laundryDue to its composition can not cause an allergic reaction to the skin of the child. And usually it happens, but it contains alkali, therefore it is impossible to assert with absolute assurance that this drug under no circumstances will cause an allergic reaction.
The assortment of powders is very large. And for parents this seemingly simple task, how to decide on the powder for washing the things of your child, in most cases causes difficulties. Modern powders in their composition began to introduce bioadditives, which do not destroy the structure of the fibers, of which the material of children's clothes consists, and thus preserve the color and shape of the product.
Some powders have in their compositionConditioner based on aloe vera. Under its influence, the fabric becomes soft and tender. On the packaging it is usually indicated that natural and environmentally friendly raw materials were used to make this or that washing powder.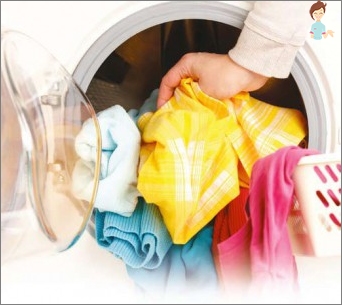 Modern companies specializing in children's hygiene products, when creating a powder, choose the formula taking into account exactly the pollutants with which they will have to face.
Vegetable puree, fruit stains, cereals, clay, paints, grass and street mud - it's definitely impossible to say that this or that powder is ideal for all these types of pollution.
The reaction of the skin of each baby to detergents is very individual. But with the modern variety of not soap and powder, the store shelves are one. What alternatives are there?
Soap powder. This composition does not contain flavors, dyes and synthetic additives. It has antibacterial and disinfectant properties;
Liquid means. More convenient to use, does not dust and it is convenient to dose. Effectively copes with such spots as grass, juice, chocolate, fruit. It is liquid formulations that recommend the use of a newborn baby for washing clothes.
Soap. Nowadays it includes high-quality oils and fats. Such a product has a high degree of purification. Even if you decide to wash by hand, natural supplements will not only take care to the fibers of the fabric, but also to the skin of your hands.
Only by the method of selection you will gradually choose a tool with the qualities suitable for you. And in order to minimize the search time, listen to the following tips.
We choose a children's washing powder: what should I look for?
Surfactants are surface active substances. Their content should not be higher than 35%, as they are poorly rinsed and often their presence on the skin causes an allergic reaction;
Choose powders with a soap base, so you can clean children's clothes as much as possible from pollution;
Check that there is no chlorine in the powder. Especially if you are going to use this powder from the first days of your baby's life;
Make sure that on the packet with the powder there is an inscription "Hypoallergenic", Even if your baby is not allergic, reinsurance, first of all;
Because the children's goods market is veryProfitable, in recent times cases of forgery of the goods of the most demanded firms have become frequent. Take this responsibly and buy the goods in specialized stores or pharmacies. Do not risk your child's health;
Be sure to check whether the period of use of the detergent has expired;
If in the composition of this tool you foundPresence of optical brighteners, safely put it on the shelf. The invisible film that they form on top of the laundry can not be rinsed, and with prolonged contact with the skin, the probability of allergies in the newborn is more likely;
Acid bleach is an order of magnitude higher and better than optical. It is they who will easily remove any traces, even from children's surprises;
Better, of course, do without smells, but if you really want, stop your choice on the lightest scents;
Choosing a conditioner for clothes it is desirable to give preference to the same manufacturer whose powder you are using at the moment.
How to wash children's things?
Finally, let's say a few words about the features of washing children's things.
In the first months of a child's life, this procedure should ideally be carried out using only baby soap, or powder free of surfactants and phosphates. The latter is not cheap.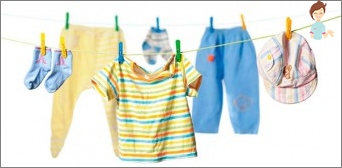 Despite the fact that now every company that produces hygiene products, positions itself as exclusively "Hypoallergenic", We can say with confidence that this is far from the case. And the choice is yours. Is it worth a small speck of juice on the blouse of an allergic reaction to the skin beneath it.
Therefore, ideally, up to three months of age,Things are recommended for washing with the use of soap or soap solution. This applies to the outer clothing of blouses, sliders, etc. Speaking of T-shirts and panties, the time span here is up to six months. Powders containing such elements as bleaches and enzymes are preferably held up to 6-9 months of age of the child.
Here, perhaps, that's all. Based on all of the above, we hope that you now have a clearer idea of ​​what a powder for washing should be, and it will be easier for you to make your choice so that your baby feels comfortable in clean clothes.