Educational mats for children: play, learn, explore the world
One of the most popular toys in recent years for young children is the developing mat. You can buy it at any store, or you can make it yourself
The appearance in the family of a long-awaited baby changes inLife of parents is everything! Now all the free time, all the strength and all attention is meant for only one most important member of the family. All parents aspire from the first days to provide their baby with not only high-quality beautiful clothes, high-grade food and worthy "mode of transport"Which is not a shame to go for a walk, but also by high-quality, useful and necessary toys.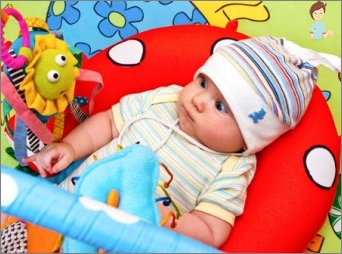 Among these things you need is a developing mat, which can now be purchased at any children's store.
Is this "a toy"Is so useful, what points need to be considered when purchasing it?
Up to what age and for how many months can you use developing mats?
What it is?
Developing mat, designed for childrenOf different ages, is a complex toy, consisting of many game elements. Its main purpose is to develop a sensor in the baby, fine motor skills, tactile sensations and coordination.
In addition to these basic tasks, such products perfectly cope with the role of a large entertaining and enticing toy, the use of which allows you to distract the attention of the baby from the mother for a while.
The undeniable advantage of this developmentalToys is that you can use it almost from birth. Developing mats for kids can differ in the number of parts, the material from which they are made, and the presence of certain toys.
"EquipmentSuch a toy product directly depends on theThe age of the child who will play with it. How many months will the child play with him? Everything will depend on the individual characteristics of the child's character and from "Bundling»Products, because the more interesting and functional it is, the more time it will take to study it.
To each age its own
For the youngest children need similarEducational toys and accessories with a particularly soft base and a minimum of protruding and protruding elements. They are equipped with special arches, on which it is convenient to place various toys on ropes so that the baby, lying on his back, can examine them and touch them with handles.
If you decide that you need such a thing asDeveloping a mat for newborns, pay attention to the material from which it is made. Such products for the smallest, by and large, are not particularly different, they all have support arcs for fastening a standard set of toys.
Different colors and pictures of the base can be different, andAlso its form. For the youngest, "game litter" is available in square, rectangular, oval or round shape, as well as a contour of some little animals. Most models of such developing devices for newborns are equipped with bumps, which can eventually be omitted.
For children older than six months, rugs need to choose more functional, having many small, firmly fixed, parts of various shapes, sizes and made of materials of different textures.
Such game litter can contain the mostA variety of opening, fastening and folding in separated shapes and details. Kroha will be interesting to touch, grab, fingernail and knead all these toys.
Two-sided developing mats designed for games with children older than three years, most often represent a kind of 3D-map or puzzle, on which "Come to life"Animal figures,"Are being built"Houses and"Drive»Toy cars.
In addition, educational toys for older children often contain images of numbers and letters, which allows you to quickly and in game form to study the alphabet with the baby.
Sew our own hands
Beautiful, safe, multifunctionalDeveloping a mat for a child can be made by yourself. To do this, it will take quite a bit: several hours of free time, flaps of colorful fabrics, various accessories and, of course, a great desire to make the right development mat for your beloved baby.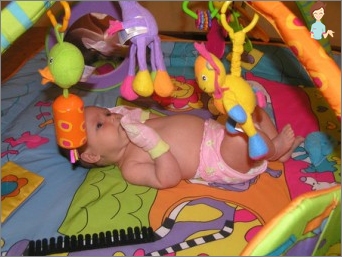 The first thing to do is determine whichIt is the rug you want to sew and design a future product design. There are many variants, models and varieties of this educational toy, you can study them by going to specialized shops in your city or by taking a tour of the vast expanses of the Internet.
After the image of the future toy is alreadyWas formed in your head, it is necessary to transfer it to paper in order to facilitate the subsequent process of assembling the product together. It is necessary to think everything over, to calculate the number and size of all the parts and then to stock up with all the necessary materials and tools.
Materials and fittings
The choice of materials and fabrics for the future toy should be approached responsibly, taking care at the same time not only about the beauty of the product and its brightness, but also about how safe it will be for the child.
The most commonly used materials for the manufacture and decoration of such products are:
Thin fabrics for the front side, such as calico and coarse calico;
Sweaty monophonic non-slip fabrics for the base, because the mat should not fidgeting on the floor;
Sintepon for filling and softness;
Adhesive and cushioning materials to impart strength;
Plashevka, drapes, jeans, felt, satin, silk, corduroy, velvet, as well as cloth and terry fabrics, suede, fur and leather for decorative design.
Fabrics must be selected bright, colorful, with different texture and interesting design.
As for the hardware, the following "The elements»: Buttons, zippers, Velcro, ribbons, buttons, elastic bands, beads, laces, patches, braid, etc.
In addition, a variety of tissueAppliqués, polyethylene elements, toys-pishchalki, "singing elements" on batteries (if you are planning the making of a developing musical rug), various cereals for filling volumetric elements, woolen threads, mirror film.
We embody the plan in life
When all the necessary materials, decorative elements and other accessories are purchased and prepared, you can start working. Conditionally the whole process of creation can be divided into two parts:
Work with large parts and parts using a sewing machine;
Handmade with small details, decorative elements, etc.
The creation of an educational toy begins withPattern and fabrication of the base of the lower part and the upper part - the main background. For the upper part, where a lot of details, appliqués and sewing elements are supposed to be arranged, a dense, monophonic costume fabric is most often chosen.
If it is a developing mat forNewborn, it is best to choose a multicolored calico or chintz. For the underside of a one-sided product jeans fabric is perfect. Between these two layers a layer of sintepon is laid.
First, on the already cut "Background"Are in the right order and pinnedWith the help of pins or small needles, all the elements of the composition (for example, the sky, the sea, the forest field, etc.), and then stitched on the machine with a zigzag line along the edges of the parts. As a result, you get a smooth multi-colored cloth with a lot of seams.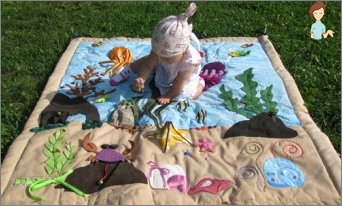 Now on the back of the upper panelIt is necessary to fix with an iron an adhesive basis. Then you can start fixing all the other parts that can be fully or partially sewn, fastened on Velcro, buttons, etc.
Before you put the toy together, you need toAttach the sintepon to the back panel to prevent it from slipping inside the product. After that, the front panel with applications and the back with attached synthepons add up "face to face"And sew together.
In this case, it is necessary to leave one edge of the product or part unshielded, in order to be able to unscrew it on the front side. After it must be sewn by hand.
Remember that such a rug, as well asOther children's ordinary and educational toys, requires periodic manual washing, before which it is necessary to remove all detachable parts, pull out the singers and singing elements (if it's musical). In addition, it is necessary to monitor the integrity of all parts and in time to carry out current repair of the product.