Children's clothing for newborns - create a wardrobe?
How to prepare for the birth of the baby, what clothesfor newborn to choose? Tips for choosing a wardrobe for the unborn child, depending on the season, sex, baby, table clothes sizes for babies. Buy children's clothes wisely!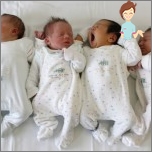 It is no secret that many parents waiting for babyadvance trying to provide everything that is needed, and can be - and often need to buy things. They say in advance for baby costs nothing to buy, and it is rather not on what a bad luck, but from the fact that Gifts for the birth of a child from numerous friends and relatives canIt is just what you have previously purchased. Whatever it was, and to outline a list of acquiring the necessary things for the baby just need to avoid confusion in this important matter.
Determine the size of clothes for newborn baby
Expectant parents do not need to guess the size of clothes for your baby - there special tablesTo help "dowry" to choosenewborn in strict accordance with his height and weight. Of course, the purchase of clothing a child is best to do after he was born, knowing its exact weight and height. But it does not matter if the last month of pregnancy, the parents will be stocking mother everything necessary, as the doctors say the woman in advance, any size and any weight will be about her child.
Table of clothing sizes children: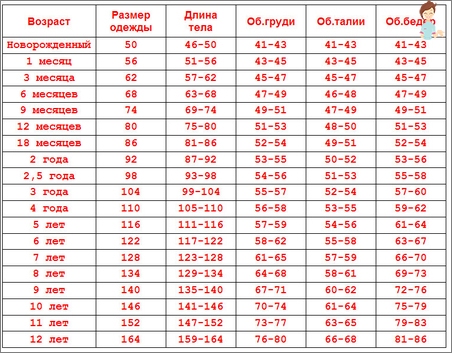 Important supplements for the selection of clothing for the newborn:
Seasoned moms not advise parents to buy a lot of clothes for the small sizes. Children in fact grow very, very fast, andbaby will soon grow out of their "dowry", again puzzling parents buying a new wardrobe for the growing child. For newborns need to buy a few sets, and the rest take 1-2 sizes larger.
Keep in mind that the smallest size of clothes for newborn baby - 50-56 - From different manufacturers may be referred to size 36 or size 18.
caps for newborns designated of 1. If the child is born premature or very small, the cap must be purchased size "0" - There is such in the children's departments.
We make clothes for newborn baby
In the modern store is represented asclothes for newborns babies that inexperienced parents literally dazzled: they can find things for every taste and budget, most diverse quality, color, destination. And, unlike the well-known time total deficit of Soviet times, today raises another problem: how not to get lost in this variety, and really need to buy, without spending money on something without which you can easily do without? In the matter of the choice of children's clothes the young mother did notshould be guided by the advice of consultants in stores, advertising, advice or girlfriends of the older generation. It is best to trust those mothers who have grown longer a child, and know exactly - what a newborn will need a miracle.
List of children's clothingNeeded for a newborn baby on the very first time, compiled by experienced moms reviews:
diaper warm (Diapers size - 1m x 1m 20cm 50cm) - 15-20 pieces if no diapers, 3-4 pcs if with diapers..
diaper thin - 15-20 pieces without diapers, 3-4 pieces, if with diapers.
Envelope for a meeting in the hospital (according to season).
undershirts calico blouses or light (can be knitted) - 3-4 pieces.
warm blouse (Flannel, jersey fleece) - 2 pcs.
The sliders for diapers - 2-4 pcs.
Cotton socks - 2-3 pairs.
warm socks - 1 pair.
Bonnet, cap - 2 pcs.
warm cap (If the child was born in the winter) - 1 pc.
Overalls, envelope-transformer for the season - 1 pc.
Body with long or short sleeves (for the season) - 3-4 pieces.
Varezhki- "Scratchy"On the handle - 2 pair.
Warm mittens (If the baby appears in the winter) - 1 pair.
Pinetochki - 1-2 pairs.
This list is heavily dependent on the time of year when the baby is born. Learn tips on seasonal selection of clothing for the newborn.
Baby Clothing for girls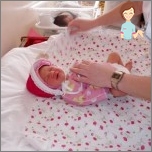 Earlier clothing for babies has not beendivided into clothing for boys and girls - it was the same for all children, regardless of their sex. Today, baby clothing exists in a wide variety of options, including - and respectively sex of the child. Clothing for girls is different, of course, pale pink, colors with a delicate flowers, dolls, clouds.
If the parents already know exactly what theyexpecting a girl, you can buy things, "a girl" wardrobe - they are distinguished by the presence of sets with dresses and shorts, lace trim and embroidery, a variety of pajamas, blouses with ruches, pinetochkami.
Complete with an envelope for newborn girl: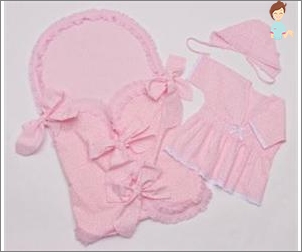 Set years for newborn girl: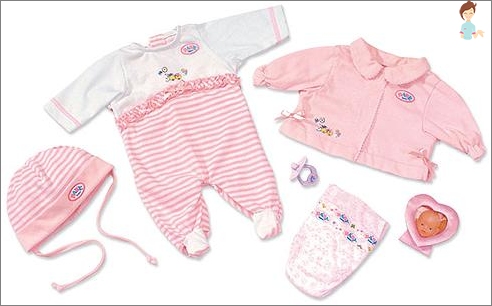 Suit warm for newborn girl: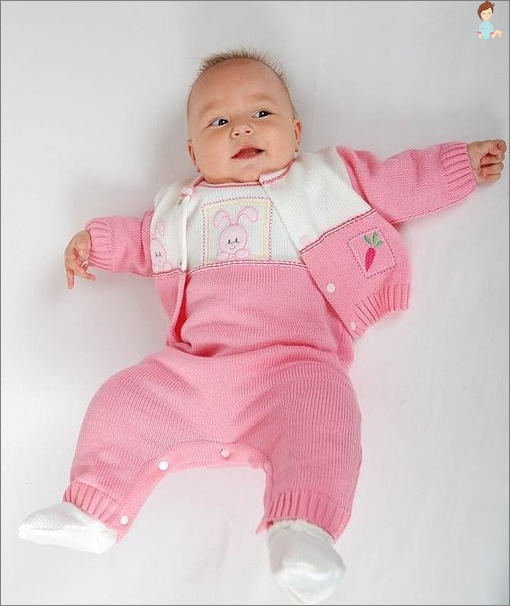 Envelope on the statement for the newborn girl: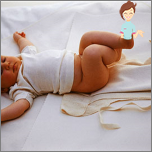 Set of clothes with cap for newborn girl: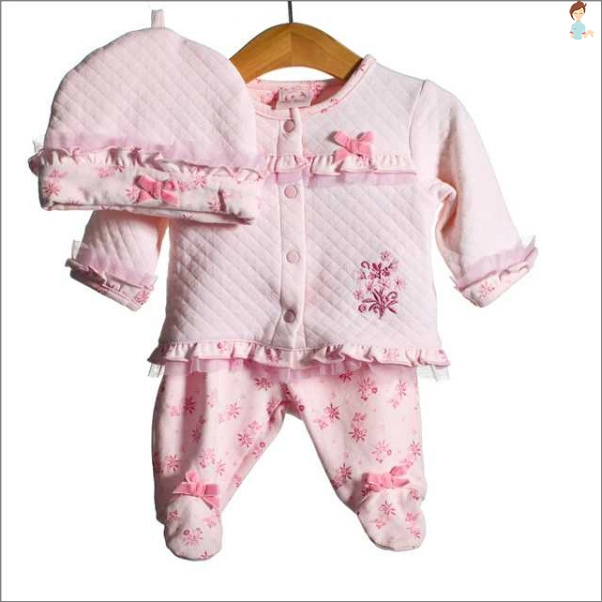 Caps for newborn girl: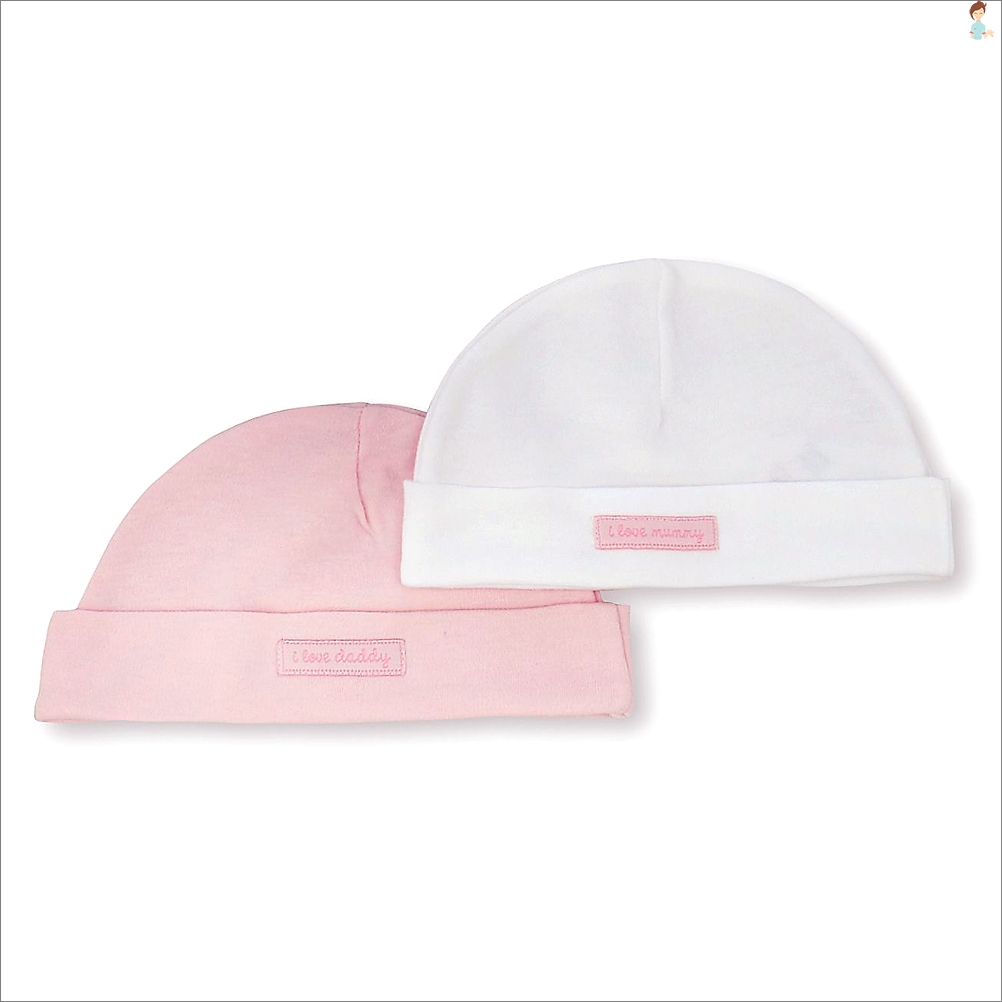 Baby Clothing for boys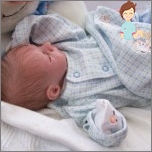 Clothing for boys different from girls' things, of course, the color - it has a blue color, coloring in blue. In the wardrobe of a newborn baby boy can appear openly "male" things - sliders, stylized jeans, suits with necktie, trousers and "jackets", overalls, shorts and shirts. For everyday wear these things, of course, does not represent a practical value, but as the clothes output, these wardrobe items may well be.
Kit with body and clothing pajamas baby boys: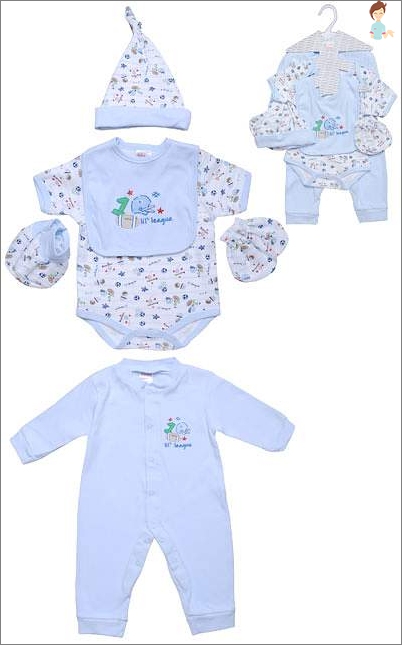 Jeans Baby Boys: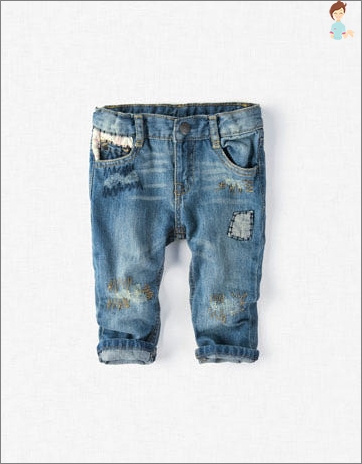 Complete with clothes for newborn boy pajamas: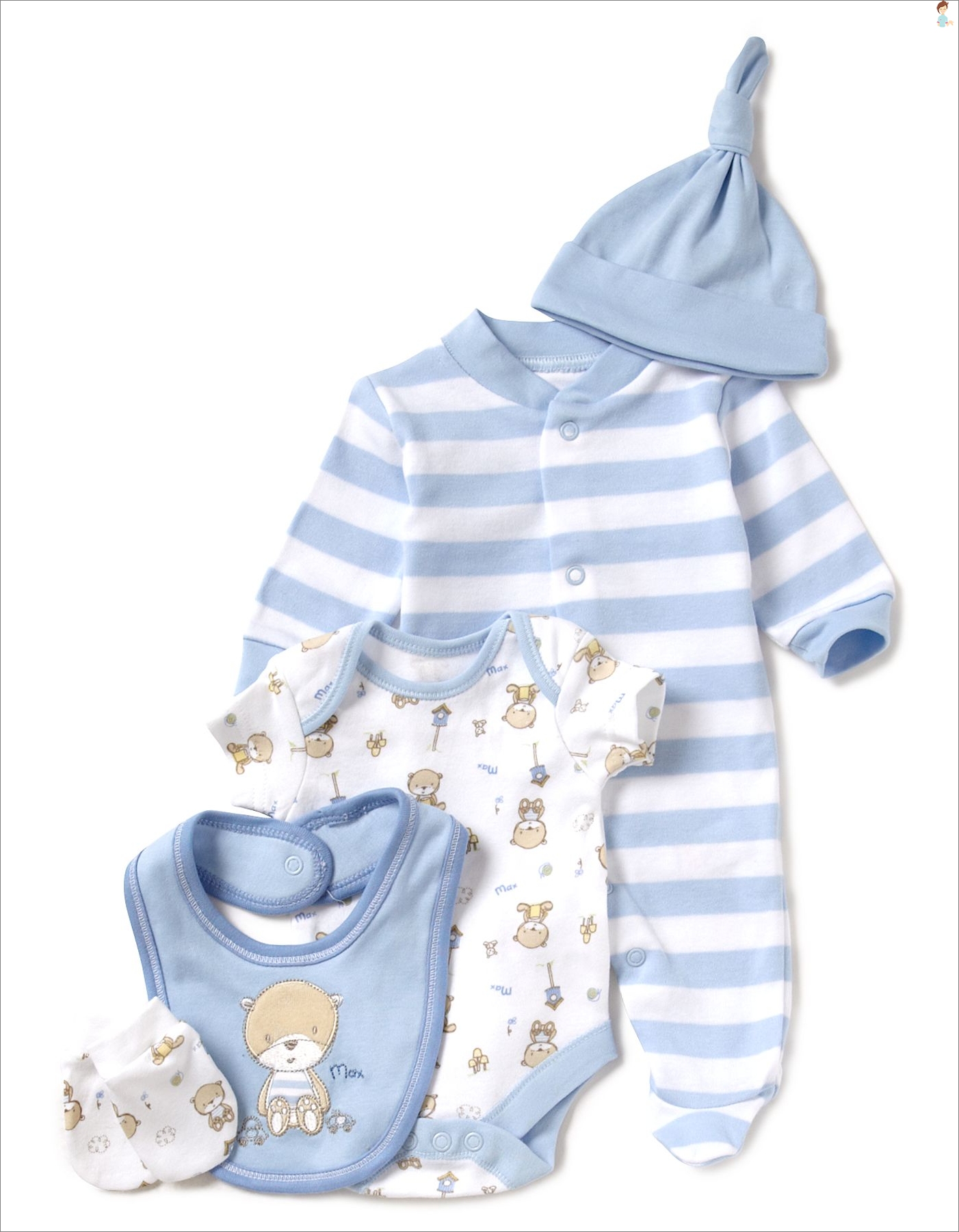 Jackets and trousers for a newborn baby boy: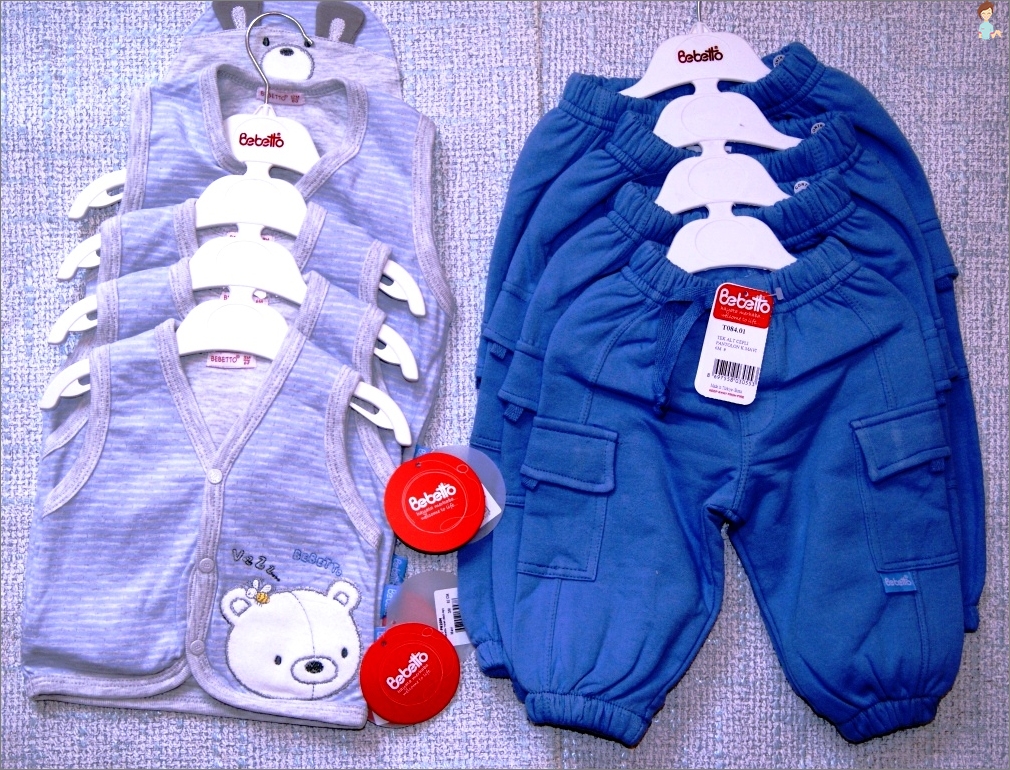 Coverall with knitted booties for newborn baby boy: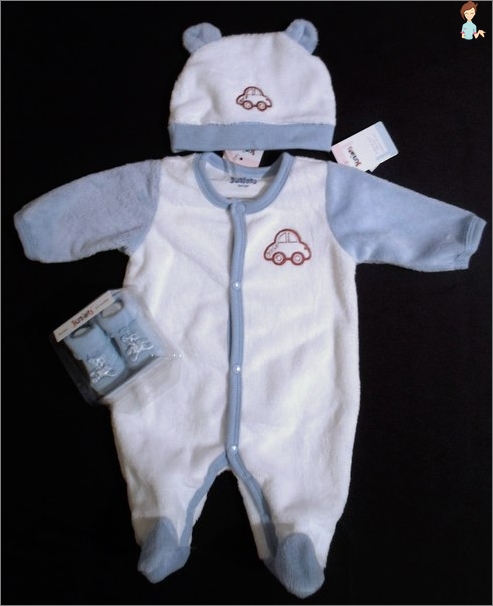 Set with jeans for a newborn baby boy: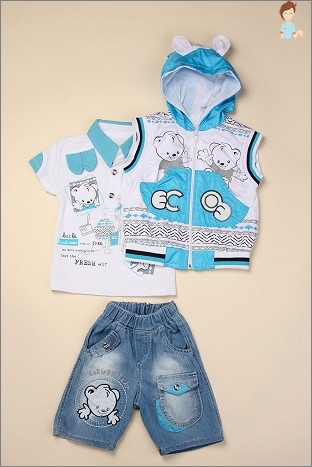 Tips for the selection of clothing for the newborn baby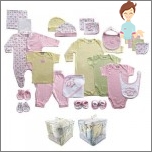 Parents not worth a small child to buy things are very bright colors, which are very harmful to eyesight kids canannoy them, "crush" on them, disturbing and frightening. The same rule applies to the selection of strollers, crib sets in, toys. Things for the newborn child should be bright, pastel colors.
Go to the store for clothes for the baby is necessary to go with a pre-written list, Or very likely to purchase a lot of unnecessary because the things you liked.
Before you buy clothes for the unborn child, it is necessary explore the range of more than one shop, Primerivayas the price, the quality of products, selecting the most profitable and best garments.
Ease clothing It is still the most important criterion bywhich should be selected clothes for the newborn baby. Avoid drawstrings tight and rough, tough finish, prickly fabrics, synthetic fabrics, buckles, buttons and metal buttons.
Choose clothes from 100% natural materialWithout the presence of synthetics.
Because newborn clothes will be many times prostiryvatsya and iron, it should be quality and not "crawl" after the first washing. Hinges and joints must be well sealed.
Undershirts and blouses better to buy with buttons on the shoulder - They are more comfortable for the baby and more convenient fastening.
Sliders with straps preferably with an elastic band sliders becausethey would not press his tummy and pupochka area. There are sliders with adjustable straps, which are just a child, and even a few months.
Socks need to buy a little more than stop the babyThat they are not squeezing the leg. The same rule applies to the bootees.
If you are buying for a child body, choose those models that have elastic neckFor easy dressing the baby. If the neck is stiff and uncomfortable, it will give the child anxiety.
Do not buy a lot of hats - Baby's head is growing faster than other parts of the body, and the cap will quickly become small.
napkins - Very functional piece of a newborn baby's wardrobe. They can serve as a bed sheet and towels after a bath, and Blankets on a hot day.
rear closure on clothes newborn baby undesirablebecause the baby will often lie on the back, and they will crush the delicate skin. For this reason, should be avoided on clothing behind rough seams, quilling, finishing.
Smart dress or suit for a newborn baby, you must have one, just for the "publication" and photo shoots.