The best models and types of changing tables for children
How to choose a changing table: types, characteristics, prices, reviews. Reviews of the best models. Why do we need a changing table and a buy - parenting tips.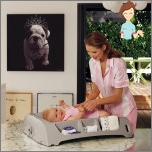 After birth, the baby's parents beginthink about which elements of furniture are extremely necessary and what you should pay attention to him. Recently, before the young parents often question whether to buy a changing table or try to get by any other means necessary, such as a desk or dresser. And if you do decide on a purchase, it is better to choose? Which model to choose?
What are they?
Most parents presently not tooclearly understand that it is a changing table and why is it, strictly speaking, necessary. After all, in fact, you can use the "improvised means" and not spend extra money. But if we turn to a specialty store or browse the various articles on the Internet, you can see how many different models can offer the modern market. Let's take a closer look.
The classic changing table. It is a wooden tablequite high legs, with specially equipped with a changing place, which is surrounded by special bumpers. In addition, under the sink can be a small shelf. If they are, then the table becomes more like a cabinet, bookcase, where you can place diapers, diapers and various hygiene items without any problems.
Swaddle table-transformer. table The name speaks for itself. Multifunction table, countertop height is adjustable shelves can not only change, but also very clean. Depending on the mode selected a changing table can be pedestal-stand, table for games and creative activities, etc. Naturally, for a long-term service and the exceptional quality of these tables will have to pay a lot of money, so that only you decide whether it's worth it.
Changing table for the bathroom. In many respects its appearance is similar to theordinary bookcase. Given the fact that it is intended to be used in the bathroom, where humidity is almost always make these tables of materials that are not afraid of moisture - plastic and metal. Such changing tables are compact and lightweight. Many changing tables equipped with special built-in tray, which greatly simplifies the process of baby swimming. Tray is located at the most convenient height for you, so do not have to bend down low to her.
Suspended changing table. This table is securely fixed to the wall onchosen height and displayed only when you need one. All the rest of the time he leans up without too much space and not disturbing anyone. We have special wall Pelenators roomy pockets so that all essentials are always close at hand, and for the safety of the baby at the edges fastened skirtings restrictive.
Changing dresser. Unlike conventional chest hasspecial, fenced bumpers, a place for changing a waterproof soft bedding. A chest of drawers served more than a year, reliable and very stable. It's worth noting that he has a fairly large size, so if your apartment does not have the necessary number of places, give preference to anything else. Of course, the broad chest of drawers to use more convenient, as in this case, provided more room for the baby and for mom. The kid is very roomy, because there is additional space for charging, massage and growth crumbs.
Langering boards. The popular and very practical option for thosewho are not prepared to provide a lot of room for Pelenators. Due to its rigid framework, this board can be used anywhere: on a table, on the chest, on the washing machine, on a side bathroom. To secure the board has grooves, by which it can be attached to the bed or any other piece of furniture. After use, you can clean swaddling board in the closet or hung on the wall.
What to look for when choosing?
When choosing a changing table, you should definitely pay attention to the following points:
Natural materials. Also important the fact that the changing tableit must be made from natural materials that are safe for the baby's health. For example, latex, wood, etc. The mattress should be made of water-repellent and easily cleaned materials.
Convenience table. It can be equipped with wheels and brakes.
Stability. It is important that he was steadily fixed pelenalnik
Spacious. Try to choose the most spacious table, because the child will grow up very quickly, and on a small pelenalnike it will be closely
The presence of the shelves, pockets, racks, etc. All this is in every Pelenators, but itan additional advantage in the selection table. They can accommodate everything you need so that the right things were always at hand without difficulty.
Moisture resistance. If the selected table is made of wood, then ask how moisture-proof material and what is its warranty period.
How much is the changing table?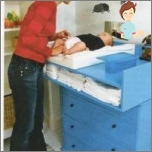 As the price of changing tables, herediversity varies in the same wide range as the choice of the piece of furniture. The cheapest solution would be, of course, changing board, it can be purchased in the range from 630 before 3500 rubles. Quite a budget allocation of funds, agree. Folding table for the bathroom will cost you from 3600 before 7950 rubles, but do not forget that this model is not suitable for each apartment. Wide range of choices swaddling drawers, also a huge variety of prices. From 3790 up to 69000 rubles, it all depends on the manufacturer, size, materials and other factors. Suspended changing table can be purchased for as low as 3299 before 24385 rubles. Again, it all depends on the manufacturer. After all, the same domestic tables will cost much cheaper than the Italian. But here you have to decide what is better for your pocket and requirements.
Reviews parents
Olga:

We bought a changing table made of wood withwide counter tops and bumpers. Then very easy to buy in addition to it a flexible mat. The table stood in the nursery near the crib and we used it from birth to 1 year. I recently just literally dismantled it and took to his parents for storage until the next replenishment of the family. A mattress I still lying on the washing machine in the bathroom. Keep it wipe your baby

Arina:

Before the birth of the baby clearly set itself the goalbuy a changing table, because I know how it is convenient. From the outset, I decided that it should be compact, but roomy, so you can easily disassemble and rearrange it. As a result, together with her husband decided to buy a changing table with bath, now generally on the choice of his not regret. It is perfectly entered in all the requirements that we originally set. At the same time, which is very convenient, because it can be easy to pour the water, it is placed with us everywhere and he still has two additional shelves. There's still the way and all the necessary accessories for a baby changing mat placed.

Sveta:

We are in the birth of friends gave a table with 4 drawersand a folding shelf. Change clothes baby is on it, because the back does not hurt to use. Quite conveniently, all the major things like sliders, bodykit, and so are at hand, and in the bottom drawer rattles pile up for the night.

Lydia:

Before the advent of the first child boughtchanging table combined with a chest of drawers. In fact, we only useful for storage of children's clothes for some time, and even a massage course. Then I think things will not fit in itself komodik too small for this. Simply take longer for that special shelf in the closet. The first course of massage we had 3-4 months and everything is fine, and the other for 6 months is worse, because the child is placed there completely stopped. So, for these purposes, you can use a regular table (as actually changing mat) - still a while it all. Putting a child can be on the bed. Now there is pelenalnik - shelf on the bed-arena, which bought specifically for the second child. Somehow more like, as tilted to the side, if you do not want to use, and more often it has put to bed the child, especially the first time. It is convenient to put the baby, something like a cradle turns. Not the most necessary thing in the house, of course, but not bad and can be very, very useful.

Alexandra:

I have never had and do not have a changingtable, I think it's a waste of money. Veshchichki children lie on a shelf in an armoire. Some most necessary cosmetics - the same place and the rest of cosmetics (in my case, it's everywhere). Pampers - a big pack - is leaning against something. Swaddle the baby on her bed. Massages do on the washing machine immediately or on a bed. Another heard a lot about where the kids with these pelenalnikov fall.
If you are in search of changing table or have experience in his choice, share with us! It is very important to know your opinion!