How to restore the figure after childbirth
After delivery, almost all women with a figure are not entirely pleasant changes. Your figure after birth will be ideal if you change your diet and exercise
Pregnancy and childbirth have a heavy load onThe female body, which inevitably affects the figure of the young mother. Almost all women, standing in front of the mirror soon after the birth of the child, are dissatisfied with their figure. One can upset excess weight, which was not there before, others - a sagging belly, and thirdly - a breast, because it usually loses its elasticity. How to be? Can I return a slender and attractive figure? Learn how to restore the figure after giving birth!
Normalize weight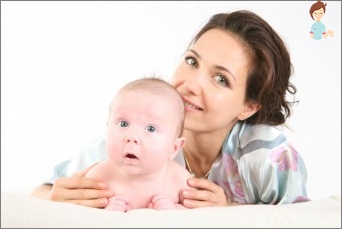 Changes in the figure after childbirth are caused by hormonalReorganization in the body of women, which occur even during pregnancy. It is for this reason that often even the most persistent physical exercises, the fulfillment of which is permitted during pregnancy, often do not bring a positive result.
Of course, after a while the figure will become a little more slender and the forms will acquire clarity and expressiveness, but, nevertheless, they will not become ideal, for this you need to make a lot of efforts.
You noticed that after you leave the hospital you alreadyOn the size does not fit your clothes? Do not worry, because this change occurs in most parturient women, maybe you do not even need to make an effort to get rid of hated pounds, because often this weight goes away by itself. If your weight requires normalization, it is worthwhile to seriously approach this issue, since during breastfeeding the usual methods based on dietary nutrition are strictly prohibited.
Sometimes some women in the postpartum period,Especially after the second birth, begin to grow stout. But do not panic, because properly selected food will help you to restore the figure. First of all, adhere to the recommendations of nutritionists, they will help you to solve the problem with being overweight without dietary methods.
Fractional power
To normalize your weight, you must eat 5Once a day in small portions. Only in this way the food will be fully absorbed in the body, and not postponed in some areas of the body. When there is a feeling of hunger between meals, eat something low-calorie, but useful.
It can be:
fruit;
dried fruits;
yogurt;
kefir.
Breastfeeding mother should not give up meat, eatThis product, but choose low-fat and cook it in the oven or a couple. Do not deprive yourself of breakfast, in the morning it is better to eat porridge, it improves the digestion process.
Eat less harmfulness
Fatty products, sweets, smoked foods, pickles are notShould be in large quantities to be present in the diet of the mother, especially if she is nursing. These products are the main enemies of a well-proportioned figure, with whom one constantly needs to fight.
There is an opinion that to increase caloric valueBreast milk should be eaten fatty foods. This is a big misconception, because a child needs a balanced composition - vitamins, minerals, trace elements and other useful substances for full development. Fat that enters your body "To saturate your baby", As grandmothers often say, turns into subcutaneous fat on your body.
To provide the baby's body with fats, enterIn the diet of nuts, vegetable oils, fish. So you improve the state of your body, weakened by pregnancy and labor, and ensure the proper development of the baby. In addition, thanks to this approach to nutrition, your figure will quickly recover after giving birth.
Choose the right products
Experiencing about his appearance and tryingTo restore the lost form, after giving birth, some women forget about children who need high-grade breast milk. Of course, a big mistake will be a complete rejection of fats, but they should not be too much. They should not exceed 40% of the total calorie content of the daily diet.
Do not forget about the protein, you shouldEat 1.5 grams per kilogram of weight. Especially in the protein, those women who daily perform physical exercises aimed at weight loss need. Useful and low-calorie cereal products - porridge on water or skim milk, whole-wheat bread, brown rice.
Drink more fluids
In the process of restoring the figure afterPregnancy and childbirth water plays an important role. The fact is that an insufficient amount of fluid in our body leads to a slow metabolism, so we notice how fat the sides, stomach, legs. Water is also important for the production of breast milk, so drink at least 2 liters of water per day. You can also drink juices, fruit drinks, compotes, but that they do not have a lot of sugar.
Physical exercise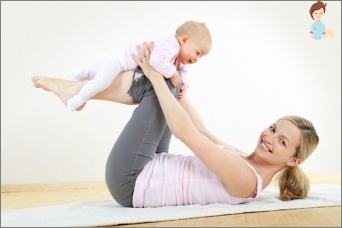 When restoring a figure after delivery, the exercises are perhaps the main role. Simple exercises can be done at home, but you can start gymnastics not earlier than 4 weeks after childbirth.
In some cases, physical activity is prohibitedWomen for a long time, so you must first consult with a gynecologist to make sure the safety of classes. Serious sports are banned for lactating women, since toxins will enter their milk. It is not necessary to spend a lot of time doing exercises, you can just walk fast at a pace for 20-30 minutes.
If you do not have the opportunity to attend sportsHall, create your own set of exercises by identifying problem areas on the body. With a sagging belly, you need to swing the press. In many women, the lack of a figure after the second birth, and often after the birth of the first child, is the divergence of the rectus abdominis muscles.
This problem can disappear in half a year itself, but in order to speed up the process, you can perform a simple exercise:
Lay your back on the floor;
Bend the legs in the lap, put the feet on the floor;
Between the legs, hold a thick book, and squeeze it as hard as possible, trying to keep your knees together.
Women who have a weak spot after childbirthSteel hands, will help exercise with dumbbells. First you can use a device weighing 1.5 kg, then gradually you can increase the load. Standing straight, spread your hands to the sides, back and forth, so you can strengthen your arm muscles in a short time.
Recovery after childbirth Implies and correction of posture. To do this every morning, get near the wall, touching the back of the head, shoulder blades, buttocks, heels, remember this position of the back for the whole day.
To straighten the spine, perform this exercise:
Lie down on the floor with your stomach, place your hands under your shoulders;
Try to slowly lift the whole body with your hands, keeping the weight of the straight trunk as long as possible, leaning on the floor with socks and palms;
Repeat as many times as you can.
Restoration of the figure is almost impossible without sports. Every day doing the feasible exercises, youYou can again have an ideal figure, despite pregnancy and childbirth. It is known that postpartum changes do not bypass the female breast, but you will be engaged in it after the lactation process has ended.
Use the postpartum bandage
It is possible to restore sagging abdominal muscles withUsing a proven means, such as a postnatal bandage. You should correctly choose a bandage and wear it from the first day after childbirth. Use a bandage for tummy tuck can be no more than 10 hours a day for two consecutive months. You can take off the postpartum bandage for the night. To properly use this tool, you need to wear it in a reclining position, because the muscles are as relaxed as possible.
The use of cosmetics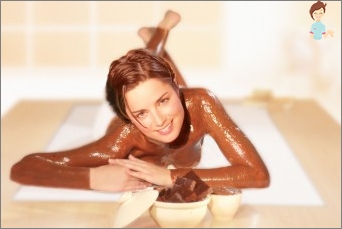 Another method, how to restore the figure afterChildbirth, if a woman has experienced minor changes, are special cosmetic means for caring for the body. But do not forget that all cosmetics, aimed at burning fat, tightening the skin, eliminating stretch marks, will be effective only in combination with physical exertion.
Creams, gels and lotions will be an excellent addition to the rest of the methods, with their help you can have again the ideal figure after giving birth.
You must understand: to restore your body and return the body to its former forms, it will take time. With maximum effort, you will be proud to rejoice at the result!